SWINE FLU (H1N1) UPDATES
To view this site, you need to have Flash Player 8.0 or later installed. Click here to get the latest Flash player.
Case suspected in Derry; four others possible in Londonderry
A Derry resident is New Hampshire's latest probable case of swine flu.
And as the virus apparently hit close to home yesterday, Londonderry School Superintendent Nate Greenberg said he has notified state health officials about four suspected cases at Londonderry Middle School.
Three students and an adult have experienced symptoms, but those cases are still unconfirmed, Greenberg said.
The unidentified Derry resident, an adult, is recovering at home, according to Kris Neilsen, spokeswoman for the Department of Health and Human Services.
For full story, click here.
26 more Mass. residents have swine flu
BOSTON (AP) — Massachusetts public health officials say the number of confirmed swine flu cases in the state has jumped by 26 to 71.
The state Public Health Department said Thursday they are not surprised by the dramatic increase. They say it's consistent with what has been seen in other states and reflects increased scrutiny and testing for the illness.
Of the 26 new cases, only a child under 1-year-old required hospitalization, and that child from Middlesex County has since been discharged.
The new H1N1 cases include the first two in Essex County and the first in Hampden County. They also include 14 more in Middlesex County; five in Norfolk County; three in Suffolk County; and one in Worcester County.
Nearly all the new cases are in children.
Experts: Mild swine flu could quickly turn deadly
WASHINGTON (AP) — A flu virus is a powerhouse of evolution, mutating at the maximum speed nature allows. A mild virus can morph into a killer and vice versa.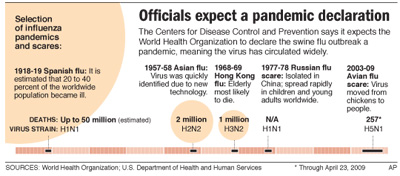 One change already made this year's swine flu more of a problem, helping it spread more easily among people. The big question is: What mutations are next? That's why scientists are watching it so closely.
"There are no rules to flu viruses; they are just so mutable," said Dr. Paul Glezen, a flu epidemiologist at the Baylor College of Medicine in Houston. "The fact that it changes all the time really confounds our efforts to control it."
Think of flu's evolution like a family tree: In the current flu's distant ancestry are last century's three pandemics. But its more immediate relatives are swine flu strains that were no big deal to humans.
The good news right now is that this flu has lost some of the most dangerous genetic traits of past pandemics. The bad news is that it's gained something its parents didn't have: the ability to spread from human to human.
WHO: up to 2 billion people might get swine flu
GENEVA (AP) — The World Health Organization says up to 2 billion people could be infected by swine flu, if the current outbreak turns into a pandemic.
WHO flu chief Keiji Fukuda says the number wasn't a prediction, but that past experience with flu pandemics indicated one-third of the world's population gets infected.
Fukuda says that with a world population of 6 billion people, it's "reasonable" to expect that kind of infection tally.
He said WHO is unable to know what the future holds, and it is impossible now to say whether the pandemic would be mild or severe.
WHO has said it believes a global swine flu outbreak is imminent, and last week it raised its alert to five, one step short of a pandemic.
Mass. stops advising schools close for swine flu
BOSTON (AP) — Massachusetts officials say they are following new federal guidelines and no longer recommending that schools close if a student or staff member has swine flu.
State health and education officials said Tuesday that instead, those with flu symptoms stay home until they are no longer contagious, at least seven days. The federal government announced its new policy on Tuesday.
Officials said since the flu is both milder and more widespread, closing schools isn't practical and causes hardships for working parents and students.
A total of 34 cases have been confirmed in Massachusetts, more than half of them children. All are recovering. No public schools have closed.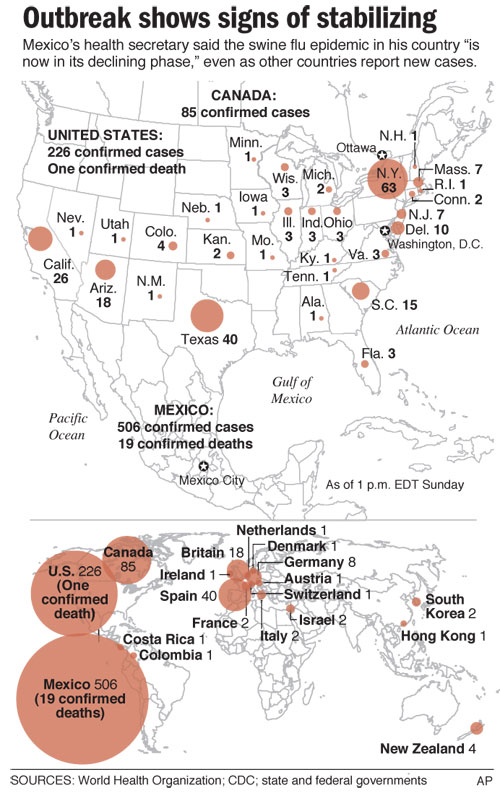 Key Developments
According to Centers for Disease Control and Prevention, World Health Organization, and government officials:
About one in 10 Americans have stopped hugging and kissing close friends or relatives because of concerns about swine flu, according to a Harvard study.

Deaths:Deaths: 45 in Mexico and two in the U.S., both in Texas. One of those who died in the U.S. was a toddler from Mexico. Canadian officials say an Alberta woman in her 30s with swine flu died April 28, but she had underlying medical conditions and it's unclear the disease played a role in her death.

Confirmed sickened: 3,440 in 29 countries, including more than 1,300 in Mexico, at least 2,254 in the United States and 242 in Canada.

US confirmed cases: New York, 90; Illinois, 82; California, 99; Washington, 58; Texas, 41; Massachusetts, 34; Delaware, 33; Arizona, 49; Oregon, 21; South Carolina, 16; Indiana, 15; Colorado, 10; Michigan, eight; Louisiana, North Carolina, Maine and New Jersey, seven; Missouri and Nebraska, six; Florida, Nevada, Ohio and Wisconsin, five; Alabama, Connecticut, and Maryland, four; Hawaii, New Mexico and Virginia, three; Kansas, New Hampshire and Tennessee, two; and one each in Georgia, Idaho, Iowa, Kentucky, Minnesota, Oklahoma, Pennsylvania, Rhode Island, and Utah.

Japan reported its first three cases Saturday, an airport quarantine official told The Associated Press. Public broadcaster NHK said the two teenage boys and a teacher were returning from Canada. Australia reported its first confirmed case Saturday.

President Barack Obama sought to reassure Hispanics that swine flu won't lead to epidemic of discrimination in the United States just because Mexico has been the center of the outbreak.

CDC says only about 10 percent of Americans with swine flu are believed to have gotten it during trips to Mexico.

WHO says up to 2 billion people could be infected by swine flu if outbreak turns into pandemic over months or years. But WHO flu chief Keiji Fukuda says it's too early to tell how widespread or severe the outbreak will become.

Filipino boxing champion Manny Pacquiao says he'll return to Manila as scheduled, ignoring advice from Philippine health officials to self-quarantine in the United States to help prevent the spread of swine flu.

Mexico's U.N. envoy says nations need common rules for responding to flu outbreaks to prevent discrimination and unfair trade restrictions; says Mexicans unfairly singled out.

Swine flu survivors in Mexico complain they've been shunned and discriminated against.

High schools and universities reopen across Mexico on Thursday as teachers and parents carefully check returning students for flu symptoms. Primary schools will reopen next week.

U.S. Embassy in Beijing says two Americans quarantined in China have been allowed to leave, while two others are still being kept in isolation. China also lifts its quarantine early for a group of Canadian students.

U.S. health officials said Tuesday they are no longer recommending that schools close because of suspected swine flu cases since the virus has turned out to be milder than initially feared.

World Health Organization says it's starting to ship 2.4 million treatments of antiflu drugs to 72 countries most in need.

Mexico says epidemic has cost its economy at least $2.2 billion; announces $1.3 billion stimulus package, mostly for small businesses and tourism.

Centers for Disease Control and Prevention says about a third of confirmed U.S. cases are people who had been to Mexico and likely picked up the infection there.

Hong Kong, where severe acute respiratory syndrome killed 299 in 2003, ordered weeklong quarantine of downtown hotel where a Mexican tourist was confirmed to have the illness, trapping 274 guests and employees inside.

High schools, universities, dance halls, movie theaters and bars have reopened across Mexico. Primary schools will reopen next week.

About one in 10 Americans have stopped hugging and kissing close friends or relatives because of concerns about swine flu, according to a Harvard study.

World Health Organization says slaughtering pigs unnecessary because virus is being spread through humans; says swine herd in Canada likely infected by farmworker who returned from Mexico.

U.S. Meat Export Federation, which represents pork and beef interests abroad, estimates that U.S. pork exports have dropped about 10 percent since the swine flu scare started.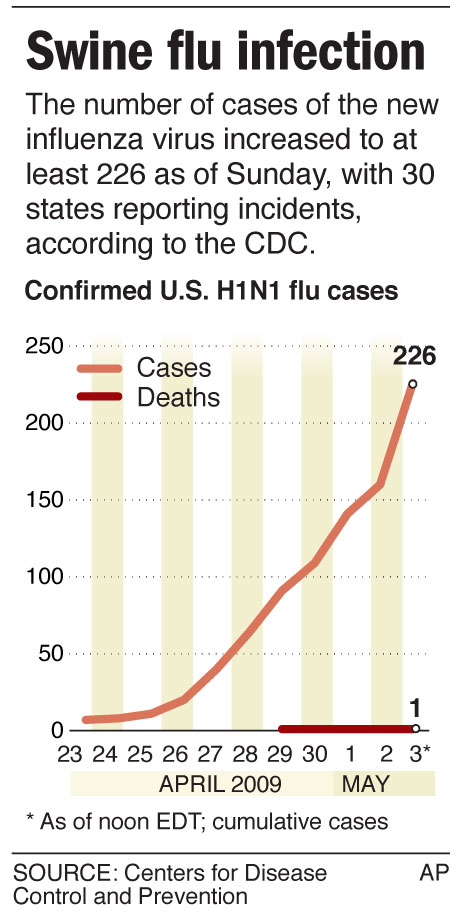 Leading US health expert urging cautious approach
WASHINGTON (AP) — A leading U.S. health expert said Monday that while "there are encouraging signs" of a leveling off in the severity of the swine flu threat, it's still too early to declare the problem under control.
"I'm not ready to say that yet," Dr. Richard Besser, acting director of the Centers for Disease Control and Prevention, said when asked about indications by Mexican health authorities that the disease has peaked there.
Besser did tell network television interviewers that "what we're seeing is an illness that looks very much like seasonal flu. But we're not seeing the type of severe disease that we were worrying about." He noted that roughly 36,000 people die each year in this country from the winter flu, so it's still a serious matter.
Mexico gets some bustle back after flu shutdown
MEXICO CITY (AP) — Mexico began a cautious return to normal Tuesday, traffic picking up in the capital and cafes reopening while Cinco de Mayo celebrations were called off throughout the country.
The canceled events included the biggest one of all â€" a re-enactment of the May 5, 1862, victory over French troops in the central state of Puebla. And health experts warned that Mexico and the rest of the world needed to remain on guard against the virus.
Official: US flu victims may be infecting others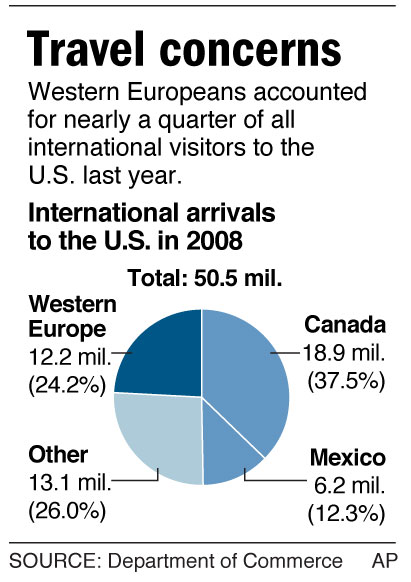 The swine flu epidemic crossed new borders Tuesday with the first cases confirmed in the Middle East and the Asia-Pacific region, as world health officials said they suspect American patients may have transmitted the virus to others in the U.S.
Most people confirmed with the new swine flu were infected in Mexico, where the number of deaths blamed on the virus has surpassed 150.
But confirmation that people have been infecting others in locations outside Mexico would indicate that the disease was spreading beyond travelers returning from Mexico, World Health Organization spokesman Gregory Hartl told reporters on Tuesday in Geneva.
Hartl said the source of some infections in the United States, Canada and Britain was unclear.
The swine flu has already spread to at least six countries besides Mexico, prompting WHO to raise its alert level on Monday but not call for travel bans or border closings. On Tuesday, countries, including Canada, Israel and France, warned their citizens to avoid nonessential travel to Mexico.
"Border controls do not work. Travel restrictions do not work," Hartl said, recalling the 2003 SARS epidemic that killed 774 people, mostly in Asia, and slowed the global economy. "There was much more economic disruption caused by these measures than there was public health benefit."
Hartl said WHO is advising countries to provide sick people with treatments such as Tamiflu, and make sure national plans are in place to ease the impact of a larger outbreak.
A timeline of events in the swine flu outbreak
December 2005 to January 2009: The Centers for Disease Control and Prevention receives reports of 12 cases of human infection with swine flu. Five of these 12 cases occurred in patients who had direct exposure to pigs and six reported being near pigs. Exposure in one case is unknown.

March 28: Believed to be the date of the earliest onset of the swine flu cases in the U.S., Dr. Nancy Cox of the CDC said in an April 23 press briefing.

April 2: A 4-year-old boy contracted the virus before this date in Veracruz state, Mexican Health Secretary Jose Angel Cordova later said citing test results. A community in Veracruz has been protesting pollution from a large pig farm.

April 6: Local health officials declare a health alert due to a respiratory disease outbreak in the Mexican town of La Gloria in Veracruz state. Health officials record 400 cases of people who sought medical treatment in the previous week in the town. About 60 percent of the town of 3,000 are affected.

April 17: CDC determines that two children in adjacent counties in southern California had illnesses caused by infection with swine flu. Both children became sick in late March.

April 22: CDC confirms three additional cases of swine flu in California and two in Texas, near San Antonio.

April 22: The Oaxaca Health Department indicates that 16 employees at the Hospital Civil Aurelio Valdivieso have contracted respiratory disease.

April 24: Mexico's Minister of Health confirms 20 deaths from swine flu, but 40 other fatalities were being probed and at least 943 nationwide were sick from the suspected flu. Mexico City shuts down schools, museums, libraries, and state-run theaters across the capital.

April 26: The number of confirmed cases in the U.S. climbs to 20 in five states. Mexico reports suspect clinical cases have been reported in 19 of the country's 32 states. Canada confirms six cases.

April 27: The World Health Organization raises its pandemic alert status to Phase 4, meaning there is sustained human-to-human transmission of the virus causing outbreaks in at least one country.

April 28: Cuba suspends flights to and from Mexico, becoming the first country to impose a travel ban.
Amid flu fears, USDA says pork is safe to eat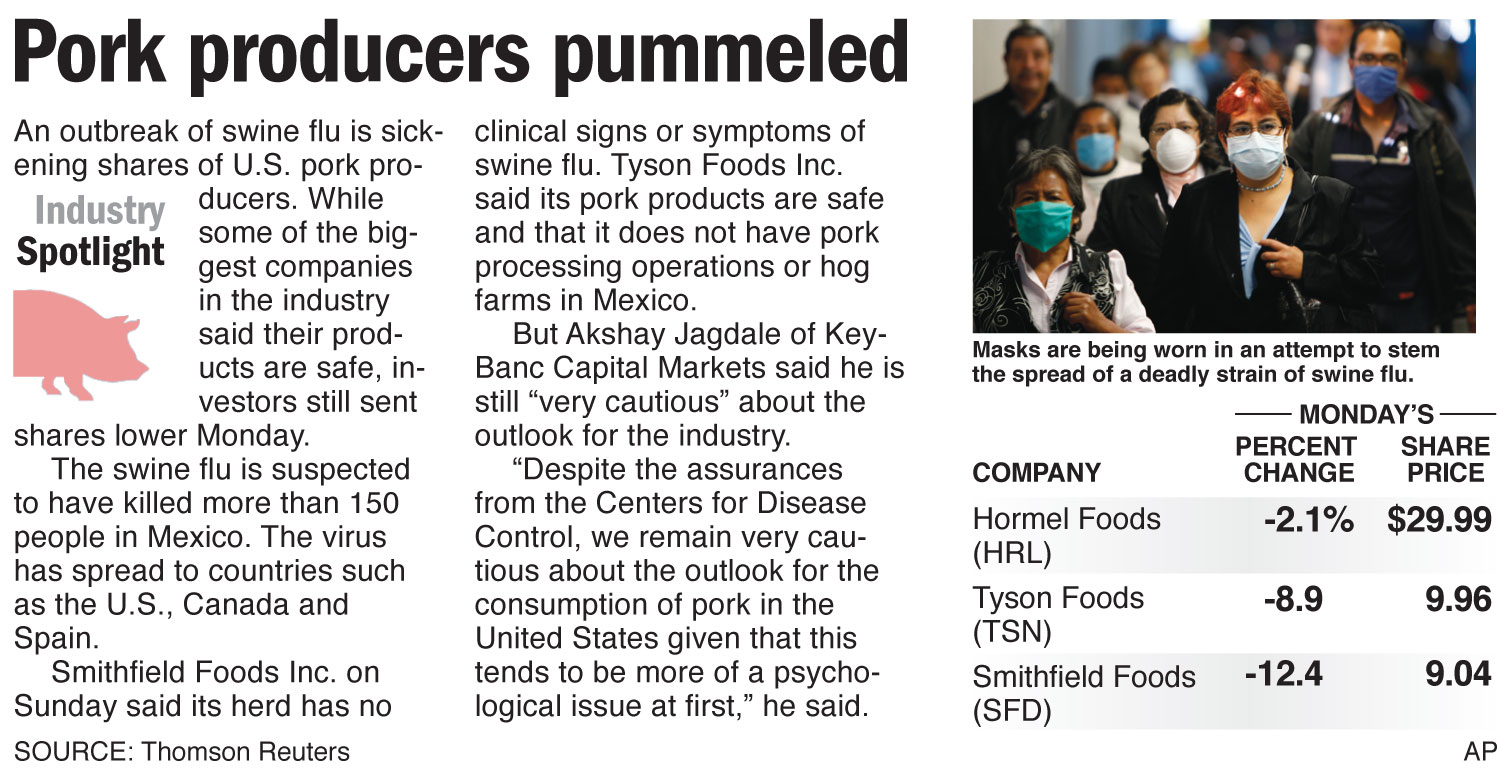 Fear of swine flu is a good reason to wash your hands, but not to take pork off the menu.
Federal health officials say the virus that has triggered fears of a flu pandemic is not transmitted by food, and that all food-borne germs are killed when pork is cooked to the recommended internal temperature of 160 F.
There also is no evidence so far that American pigs are infected with the virus, or that people can become infected by touching uncooked pork, the U.S. Department of Agriculture said Monday.
Swine flu can be spread the same way seasonal viruses are, mainly through sneezing, coughing and touching surfaces contaminated with the virus, as well as through contact with infected pigs, according to the Centers for Disease Control and Prevention.
When cooking pork, internal temperature is a better indicator than color to determine whether the meat is safely cooked. Cooked pork sometimes will still be pink at the center depending on cooking method and other ingredients.
Thomas Griffiths, an associate dean at the Culinary Institute of America in Hyde Park, N.Y., says smaller cuts of pork, such as chops or medallions, should be cooked until they hit 160 F.
But large cuts, such as a loin, can be removed from the heat at about 152 F or 153 F, then allowed to rest. Larger cuts of all meats continue cooking off the heat and will reach 160 F.