A look at the issues

surrounding the

health reform debate
Change is coming to health care.
Health care reform was a major plank in President Barack Obama's campaign, and now the president is pressing Congress to deliver — and quickly.
But members of Congress, home for their August recess, have run into protests at their "town hall" meetings and public gatherings.
People are asking, "What will this change mean for me?"
"Will I be able to keep my current health insurance?"
"Who will be covered? Will illegal aliens get free care? Will Congress be covered under the same plan members are writing for the rest of us?"
"What's this I'm hearing about 'end-of-life' decisions? Will the old or the severely handicapped be denied care to save money?"
"Will I have to wait months for treatment, as people do in Europe and Canada? Who decides if I'm eligible for a given procedure?"
"How much will this cost and who will pay for it?"
These are not easy questions to answer. Over the next several weeks, The Eagle-Tribune will look into these questions and attempt to find the answers.
The answers may not always be clear-cut.
"Health care reform" — the words seem simple and direct but in reality refer to a reshaping of one-sixth of the American economy. To achieve it requires more than just a simple command. It takes reams of legislation.
Right now, there is no single bill that could be called the definitive version of health care reform. There are several bills working their way through congressional committees.
In the Senate, there's a bill before the Health, Education, Labor and Pensions Committee that's commonly referred to as the HELP bill after the committee's name.
The Senate Finance Committee is also working on a plan, few details of which have yet been made public, that is known as the "Gang of Six" bill. The name comes from the six senators — Max Baucus, D-Montana; Kent Conrad, D-North Dakota; Jeff Bingaman, D-New Mexico; Charles Grassley, R-Iowa; Olympia Snowe, R-Maine, and Michael Enzi, R-Wyoming — who are meeting in closed session to hash out what's being described as a compromise plan.
In the House, three committees have passed versions of a health care reform bill. But the main piece of legislation, the one most people are referring to when they're debating health care reform, is H.R. 3200 — the America's Affordable Health Choices Act of 2009.
This is the bill, more than 1,000 pages in length, that few in Congress admit to having read in full.
What's in the bills?
What's in these varying pieces of legislation?
According to Edwin Park, senior fellow with the Center on Budget and Policy Priorities, the bills have much in common.
"In terms of conceptual structure, there's similarity across the bills," Park said. "The complexity is in the details. But all of them share the same framework."
According to Park, most of the plans under consideration include:
A mandate on employers to provide insurance or pay a penalty.
A mandate on individuals to acquire health insurance — either through their employers or on their own — or pay a penalty.
Subsidies to help low- or moderate-income people pay for insurance.
New regulations on insurers mandating what coverage must be offered.
A "public option" — that is, a government-run insurance plan to compete with private insurance plans.
An "exchange" through which people could compare rates and select coverage from a range of private plans or the public plan.
What's the cost?
The cost of this package of reforms? An estimated $1 trillion over the next 10 years, two-thirds of which President Obama says can be achieved through cost savings.
The rest may have to come from increased taxes. Some House members support a plan to place a surtax on upper-income Americans.
It is over the details of these major reform points that the debate rages.
Written in what the conservative-leaning Heritage Foundation calls "maddeningly elastic language," the real-world effect of H.R. 3200 is wide open to interpretation.
Will the existence of a public insurance option make it more cost effective for employers to drop their own plans and let their employees fend for themselves?
How will the pressure to control costs affect the quality of care in the United States?
Is the cost estimate for reform accurate? Will the tax hikes needed to support it creep down into the middle class?
These and other questions will need to be answered to Americans' satisfaction as the debate continues through August and when members of Congress return to Washington to finish crafting their bills.
SEND US YOUR QUESTIONS
Do you have a question about health care reform that you'd like to see answered? Then send it to The Eagle-Tribune. E-mail your question to kjohnson@eagletribune.com with the words "Question on health care reform" in the subject line. Or mail your question to: Ken Johnson, The Eagle-Tribune, 100 Turnpike St., North Andover, MA, 01845.
Both sides agree that

a major overhaul is needed
Can't health care reform be simpler?
Isn't there a way to cover the uninsured and control costs without a massive rewrite of health care by the federal government?
The short answer from those on both sides of the yawning divide over President Barack Obama's vision of reform is the same: No. .... Click to read the complete article.
How to spend a trillion dollars
Paying for health care reform could be the biggest doctor's bill ever.
Providing insurance for the 47 million uninsured, offering a public insurance option to the range of private plans, and subsidizing premiums for the poor will be enormously expensive — around $1 trillion over the next 10 years.
Yet President Obama insists we can have reform without adding to the federal deficit or raising taxes on most Americans.... Click to read the complete article.
Waiting for care under

health reform proposal
Will waiting lines at doctors' offices, labs and hospitals get longer if President Barack Obama's vision of health care reform becomes a reality? And who will decide if a patient is eligible for a treatment or procedure?
It will probably come as no surprise that expert opinion on that is divided — sharply divided — between those who support the president's initiative and those who don't. And there is no way to predict the future with certainty.
But essentially, it is yet another debate over rationing — longer waits for care would be a ... Click to read the complete article.
Public health insurance:

Dead or alive?
Will President Barack Obama's proposed health care reform bill contain a government-funded insurance plan, commonly known as the "public option"?
Nobody knows for sure.
A number of Republican legislators have declared that the public option is dead.
And President Obama, who said for months that a public option was an essential element of health care reform, suddenly backed off of that last month. At a town-hall-style meeting in Colorado, he said that while he strongly favored it, it was not essential.
"The public option, whether we have it or don't have it, is not the entirety of health care reform," he said. "This is just one sliver, one aspect of it."
The president said he was open to an alternative being developed in the Senate — a nonprofit health cooperative.
But that brought heat from prominent Democrats like ... Click to read the complete article.
'They're coming for Grandma':

Behind the death panel hysteria
It was an extraordinary, unprecedented moment in American history: the president of the United States, on stage in Portsmouth, N.H., trying to assure people that the government does not intend to kill their grandmothers.
And not everyone was convinced.
Few issues in the debate over health care reform have gotten Americans, to use President Obama's turn of phrase, "all wee-weed up" as has the idea that reform means "death panels" will determine who is worthy ... Click to read the complete article.
Reform bars coverage of illegals,

but enforcement is lacking
Would President Barack Obama's proposed health care reform require taxpayer-funded coverage for illegal aliens?
No, but...
And that makes the matter both contentious and confusing.
There is nothing in any of the current drafts of the 1,018-page bill that expressly calls for government-funded insurance of illegal aliens. In fact, Section 246 of the House bill, titled, "No federal payments for undocumented aliens" states the following: "Nothing in this subtitle shall allow federal payments for affordability credits on behalf of individuals who are not lawfully present in the ... Click to read the complete article.
Keeping current insurance

depends on employer
Will people be able to keep their own, current health insurance plans under the health care reform being considered in Congress?
Like so much else involved in health care reform, the answer depends on interpretation.
There's nothing in the health reform plans under consideration that directly eliminates employer-provided health insurance. Both the House version of health care reform — H.R. 3200, the America's Affordable Health Choices Act of 2009 — and the Senate version from the Health, Education, Labor and Pensions Committee envision the continuation of employer-provided, private insurance backed up by a government-run, "public option" health insurance plan.
"That's the intent, to build on employer-sponsored insurance," said Edwin Park, senior fellow with the Center on Budget and Policy Priorities. "If you're getting coverage now through your employer and your employer continues to offer, you'll get your coverage that way."
The Center on Budget and Policy Priorities examines and advocates for ...Click to read the complete article.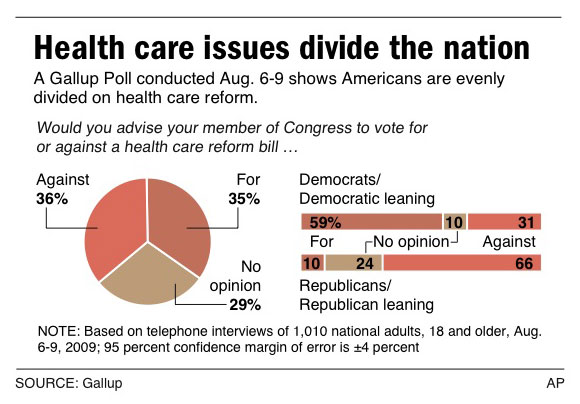 Related news from the Associated Press
To view this site, you need to have Flash Player 8.0 or later installed. Click here to get the latest Flash player.
Biden: Health care bill may be in by Thanksgiving
Vice President Joe Biden asserted Thursday that a health care bill will be done by Thanksgiving because President Barack Obama has "re-centered debate" and there's an emerging bipartisan consensus for change despite fights over details like the government-run option....Click to read the complete article.
Obama disapproval on health care up to 52 percent
WASHINGTON (AP) — An Associated Press-GfK poll says that public disapproval of President Barack Obama's handling of health care has jumped to 52 percent.
The same survey shows that 49 percent now disapprove of his overall performance as president. In July, just 42 percent disapproved of how he was handling his job.
The grade people give Obama on health care has also worsened since July, when just 43 percent disapproved of his work on the issue.
The poll was released hours before a nationally televised speech before Congress in which the president plans to make a renewed case for overhauling the nation's health care system. The survey, conducted Sept. 3-8, underscores how the political climate shifted against Obama during the summer.
Obama regrets delaying details for health plan
In retrospect, President Barack Obama now says, he should have offered more details about health care proposals a few months ago, rather than give critics all summer to criticize them, often with baseless claims. Such missed opportunities are one reason for Obama's prime-time speech to Congress Wednesday night in which he ...Click to read the complete article.
Fines proposed for going without health insurance
Americans would be fined up to $3,800 for failing to buy health insurance under a plan that circulated in Congress on Tuesday as President Barack Obama met Democratic leaders to search for ways to salvage his health care overhaul. In advance of what Obama hopes will be ...Click to read the complete article.
Obama aims to take control

of health care debate
Hoping to salvage his politically endangered health care overhaul, President Barack Obama will give a State of the Union-style address featuring fresh and more detailed arguments for revamping the system.
Scheduling of the speech for Wednesday, just a day after lawmakers return from their August recess, underscores the determination of the White House to confront critics of Obama's overhaul proposals and to buck up supporters who have been thrown on the defensive. Allies have been urging the president to be more specific about his plans and to take a greater role in the debate, and aides have signaled he will do that in the address to a joint session of Congress in the House chamber.
The speech's timing also suggests that ...Click to read the complete article.
Kerry says he'll carry on Kennedy health care push
Sen. John Kerry said Wednesday he would take up one of Sen. Edward Kennedy's key political fights, pledging to the thousands who attended his town hall meeting to push for the health care overhaul championed by his longtime Democratic colleague.
More than 2,000 people turned up for Kerry's first public meeting since Kennedy's Aug. 25 death from brain cancer at age 77. A line of supporters and opponents of health care reforms snaked out of the Somerville high school and down two blocks.
Kerry quickly invoked Kennedy's memory and promised to push for the best health care reform ...Click to read the complete article.