As dawn broke Friday in Lawrence, Andover and North Andover, 18,000 homes were without power and schools were closed in all three communities after Thursday's natural gas explosions and fires.
Officials said it will be at least a day if not longer before many residents will be allowed to return to their homes. Police were out overnight and again Friday morning patrolling neighborhoods to look for looters and any other activity related to the evacuations and explosions.
A total of 8,000 homes must be inspected one at a time for problems with their natural gas systems before normal activities can resume in the homes, officials said. Some inspections began overnight, officials said.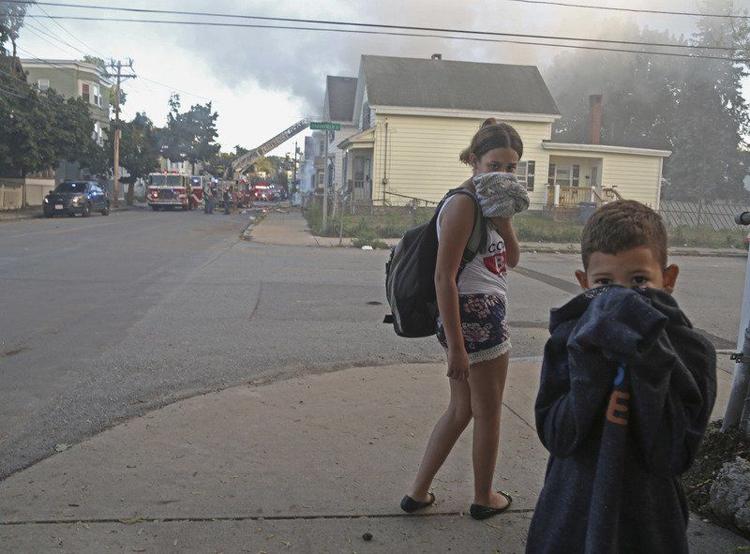 Residents of the neighborhoods affected are being urged to stay away from their homes and instead use emergency shelters that are open in the communities. Those centers include schools.
A statement released Friday morning by the Columbia natural gas company, which serves the neighborhoods involved, said an "extensive restoration effort" will be required before the neighborhoods can return to normal. No other information on a timeline or work required was immediately available from the company.
Drivers on Interstate 495 passing through the region were able to move at a regular pace Friday morning, except that they were prohibited from using exits leading to Route 28, Route 114, Massachusetts Avenue and Marston Street.
Train commuters were also affected Friday morning. MBTA officials said trains in the region are operating only between Reading and North Reading. Buses are transporting commuters from the Haverhill and Bradford train stations to other stops so they can reach destinations farther down the line. Train commuters are encouraged to consider using the Lowell or Newburyport train stops as an alternative.
On Friday morning, police in the neighborhoods affected by the explosions and fires were going door to door to see if any residents were home and to check on buildings.
Haverhill police Chief Alan DeNaro and his officers, as a precaution, shut off gas service at the exterior connection to about a dozen homes on Bradford Street near the North Andover line on Thursday. DeNaro said those homes are serviced by Columbia Gas, which was the source of the gas leaks in Lawrence, Andover and North Andover.
A release from Mayor James Fiorentini said the Haverhill Fire Department sent five fire trucks on Thursday night to help with the gas emergency: Engine 4 from the Bradford Fire Station; the Fire Department's air-tank refilling vehicle; Ladder One; Engine One and Engine 9.
Engine One originally was dispatched to North Andover. Firefighters on that crew worked on three house fires in North Andover before heading to a staging area in Lawrence, officials said.
Haverhill's fire trucks, equipment and firefighters stayed in Lawrence until nearly 3 a.m. Friday, according to Haverhill Fire Chief William Laliberty, who was on the scene along with DeNaro.
Fiorentini said he is in contact with Lawrence Mayor Daniel Rivera and town managers in Andover and North Andover to offer help. The city has also offered the Citizens Center on Welcome Street as a shelter to anyone affected by the disaster who needs shelter, but no one has used center as of noon Friday.
Watch eagletribune.com for continuing updates on the fallout from the explosions and fires.