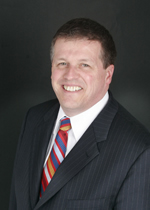 A Message from the Publisher...
Dear Reader,
You might be confused as you view this section. Why would your local newspaper be presenting advice on running a business during these difficult times?
Very simply, we are not just in the newspaper business. This newspaper is a direct reflection of our community. People naturally associate the newspaper with news. But the advertising contained in the newspaper is very much a part of what a newspaper delivers to readers. That makes us partners with our advertisers.
Five strategies for handling a recession
Drawing on his academic and business experience, Professor Joseph Stasio provides the following five strategies ....Click here to read more
'Factoring' can help businessess with cash flow when loans are tight


Dear Professor Bruce: I'm a small business owner and am finding it difficult to get a bank loan. I've heard of something called factoring...Click here to read more
When evaluating location, review 'SPACE'
First-time small-business owners, or those looking to relocate in increase space or save money, will find that now is a great time...Click here to read more
Forget fear: Find ways to excel
Sometimes the best offense is a strong defense, and I'm not talking football. This is not about job searching...Click here to read more
Yes, it's really happening: Now do something about it
Change is not "in the air." It has hit the ground running, or should I say...Click here to read more
Keeping up workplace morale helps retain workers through tough times
As the stock market has so ably demonstrated, investors hate uncertainty. Employees hate it too...Click here to read more
Great salespeople put customers first
Dear Professor Bruce: I'm a small-business owner and have never had any formal training in selling. What can I do to be better at...Click here to read more
Strong marketing during recessions means stronger business
It may be human instinct to hoard cash in tough times, but it can be a self-destructive one if it means cutting back on advertising...Click here to read more.
The complete special section Weathering the Storm, published in The Eagle-Tribune on Sunday, Jan. 25, 2009, is available for download by clicking here.
Breakfast series
Expert advice to take back to work with you
There's no escaping the facts of the current economic downturn. But that doesn't mean you have to stand by helplessly. One way to take immediate action to help your business not only survive, but thrive, is to attend the Weathering the Storm Business Survival Breakfast Series in coming weeks at The Eagle-Tribune.
The workshops will offer targeted advice for businesses like yours from experts who know your struggles firsthand. The series is sponsored by North of Boston Media Group, Suffolk University, The Merrimack Valley Chamber of Commerce and the Greater Salem Chamber of Commerce.
To register, please call Lillian Toohey at 978-946-2000, ext. 2111, or e-mail her at ltoohey@eagletribune.com
Speakers
The Four Ps: Price, Promotion, Product and Place
Thursday, Jan. 29, 8 to 9:15 a.m.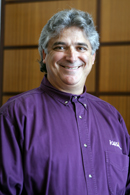 David Hartstein, President, KaBloom
David Hartstein, founder and CEO of KaBloom flowers, was born in Israel, the son of Holocaust survivors.
He came to America in 1982 to attend Suffolk University, then shortly after returned to Israel when his father died.
Hartstein would go on to earn a bachelor's degree and MBA from Suffolk in just four years, while also working full time. Over the course of his career... Click here to read more
Click here to watch excerpts from his interview.


Below is a video excerpt of his talk at The Eagle-Tribune.
Get Your Message Out Online
Thursday, Feb. 12, 8 to 9:15 a.m.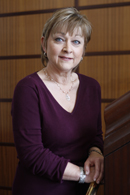 Lu Ann Reeb, President, Skyways Communications, LLC
Lu Ann Reeb is president of Skyways Communications, a new media marketing firm in Norwood.
Prior to founding her company 10 years ago, Reeb was an Emmy award-winning executive producer who worked in television news for more than 20 years.
As a TV journalist, she produced nightly news programs and documentaries and covered a wide range of news stories. With Skyways Communications, she uses that experience to help businesses tell their stories. Click here to read more
Remain Visible and Valuable
Thursday, Feb. 26, 8 to 9:15 a.m.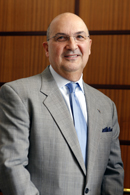 Michael Barretti, Director, Institute for Executive Education, Suffolk University
Professor of Marketing Michael L. Barretti, Suffolk University's director for the Institute of Executive Education, was a longtime businessman before moving into academia in 1997.
He began his career after serving in the U.S. military with Polaroid company, then moved into the medical device industry.
Barretti has experience with difficult economies, having been through downturns in the early 1980s, the early 1990s and the dot-com bust.
"In each occasion I was responsible for running a small to medium sized business," he says. "So I've learned some lessons." Click here to read more