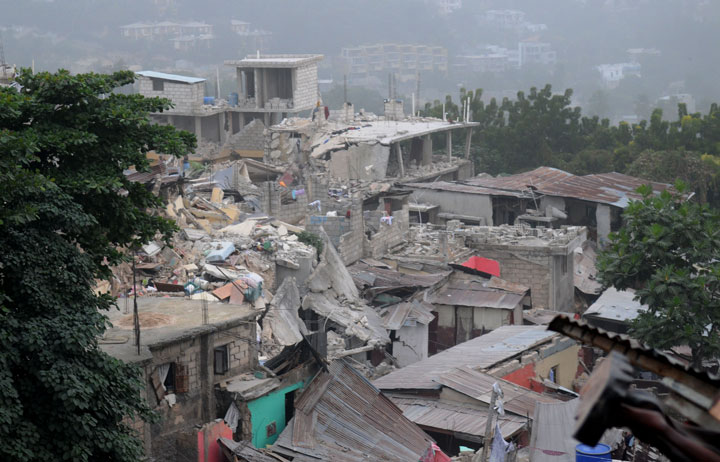 DEVASTATION IN HAITI
To view this site, you need to have Flash Player 8.0 or later installed. Click here to get the latest Flash player.
How those in the region can help
Cash donations: Any Sovereign Bank will accept checks in care of Pro Haiti Relief Fund Committee; The Savings Bank, 17 Burnham Road, Methuen; Checks for Convoy for Hope, in care of Zion Bible College, 320 S. Main St., Bradford, MA 01835; or International Medical Equipment Collaborative, 1600 Osgood St., North Andover, MA 01845. Write Haiti Disaster Relief on memo line.
Donations of canned foods, medicine and cleaning supplies can be dropped off at City Hall, 200 Common St., or General Donovan School, 50 Cross St.
The Archdiocese of Boston will take a second collection Jan. 30 and 31, which will be forwarded to Catholic Relief Services, who will coordinate with local and international agencies on how to best provide help.
Catholic Charities Boston is working with the local Haitian community to assist local families who have loved ones impacted by the earthquake.
American Red Cross of Massachusetts Bay, Attn.: International Response Fund, 139 Main St., Cambridge, MA 02142-1530.
Local stories from

The Eagle-Tribune:
Quick Links
Aid, rescue efforts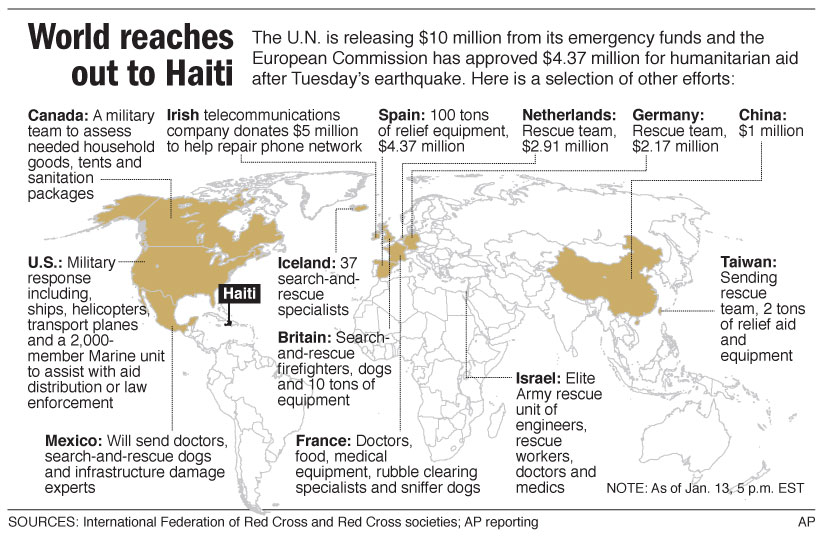 Trapped Haitian girl dies despite rescue effort
Trapped beneath the crumbled remains of her home, the cries of the 9-year-old girl could be heard begging for rescue as neighbors clawed at sand and debris with their bare hands. It had been two days since ... Click here to read full story
UN: 6,000 tons of food to be handed out in Haiti
Some 6,000 tons of food aid will be distributed shortly in Haiti, a U.N. spokeswoman said Friday, adding that reports that U.N. warehouses in Haiti had been looted were overblown. Officials checked four U.N. food agency warehouses in the ... Click here to read full story
Struggle to aid Haitians as fears of unrest rise
Hundreds of U.S. troops touched down in earthquake-shattered Port-au-Prince overnight and were soon handing out food and water to stricken survivors, as relief groups struggled to deliver aid Friday and fears spread of unrest in Haiti's fourth day of desperation. ... Click here to read full story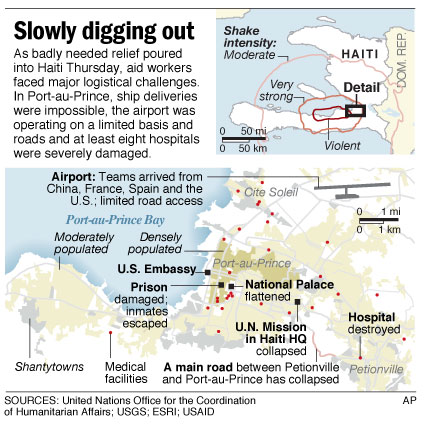 Aircraft carrier, more US troops arrive at Haiti
Hundreds of U.S. troops and an aircraft carried have arrived at the Haiti relief effort, and the commander on the ground said Friday that food, water, medicine and other emergency relief supplies are being rushed to victims. Thousands more troops and sailors were en route. ... Click here to read full story
Aid groups struggle to get food, water to Haitians
Aid workers hoping to distribute food, water and other supplies to a shattered Port-au-Prince are warning their efforts may need more security Friday as Haitians grow increasingly desperate and impatient for help. Hundreds of U.S. paratroopers arrived overnight to back up the relief effort.
Hard-pressed government workers, meanwhile, were burying thousands of bodies in mass graves. The Red Cross estimates 45,000 to 50,000 people were killed in Tuesday's cataclysmic earthquake.
More and more Friday, the focus fell on the daunting challenge of getting food and water to millions of survivors. Click here to read full story
Aid workers in Haiti face 'logistical nightmare'
Roads full of hungry, homeless people. An estimated 50,000 dead. A ruined port and an overwhelmed airport. Hundreds of crumpled buildings and little heavy machinery. Few working phones. Relief supplies and emergency experts started pouring into Haiti from around the world Thursday, but aid groups said the challenge of helping Haiti's desperate quake survivors was enormous. Click here to read full story
Related news
Quake aid trickles through Haiti's cramped airport
U.S. military air traffic controllers are scrambling to keep earthquake aid flowing into the Haitian capital without the use of a control tower or radar, and amid struggles over fuel, tarmac space and even staircases to access planes. With all the hurdles facing rescue and relief efforts in this shattered city, it appears the first to overcome are at its major entry point for supplies.Click here to read full story
UN: Looters break into UN warehouses in Haiti
Looters have broken into U.N. food warehouses in Haiti's crumbled capital, an official said Friday, as security and logistical challenges mounted for groups trying to feed at least 2 million people reeling from a devastating earthquake. The U.N. World Food Program ... Click here for full story.
US reports dozens of Americans at embassy in Haiti
WASHINGTON (AP) — The State Department says that at least 66 Americans have made their way to the American Embassy in Haiti for medical attention or other assistance in the aftermath of the devastating earthquake.
State Department spokesman P.J. Crowley says that another group of about 160 Americans is at the airport outside the capital of Port-au-Prince, seeking a way to leave the Caribbean nation.
Crowley said Wednesday that U.S. C-130 military aircraft are expected to begin evacuating Americans in the coming hours and days.
UN: Haitian capital's main jail collapsed
GENEVA (AP) — The United Nations says the main prison in Haiti's battered capital of Port-au-Prince collapsed in the massive earthquake.
A U.N. humanitarian spokeswoman says the U.N. has received reports of escaped inmates.
Spokeswoman Elisabeth Byrs says she had no further details.
US Red Cross is out of medical supplies in Haiti
WASHINGTON (AP) — A spokesman for the American Red Cross says the aid organization has run out of medical supplies in Haiti.
Red Cross spokesman Eric Porterfield said Wednesday that the small amount of medical equipment and medical supplies that were available in Haiti has been distributed.
The Red Cross is sending more medical supplies to Haiti, but Porterfield says he does not know when they will arrive.
Porterfield says he doesn't know if the depletion of medical supplies is preventing victims in critical condition from being treated.
A devastating earthquake struck the Caribbean nation on Tuesday.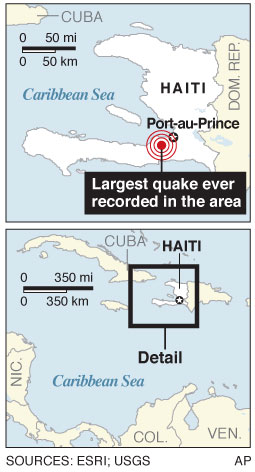 How to help
Want to help victims of the earthquake in Haiti? Here's a list of organizations accepting donations:
InterAction, a coalition of U.S.-based international non-governmental organizations, has a list of agencies responding and how to donate to them. Find it here: http://www.interaction.org/crisis-list/earthquake-haiti

To donate $10 to the American Red Cross, text Haiti to 90999. The amount will be added to your next phone bill. The organization is also accepting donations through its International Response Fund, www.redcross.org

To donate $5 to Wyclef Jean's Haitian Yele charity, text 501501. The money will be added to your next phone bill.

To find out how to help the International Rescue Committee, visit www.theIRC.org or call toll free, 1-877-REFUGEE.

To donate through Oxfam's emergency appeal, visit www.oxfam.org.uk
International aid pledges for Haiti quake relief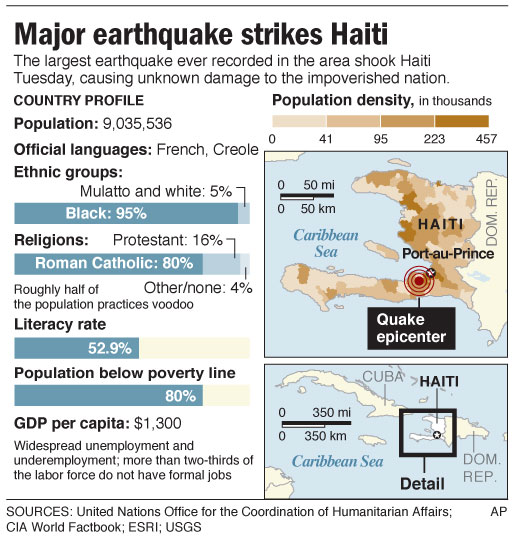 A glance at some of the international aid pledges for victims of the earthquake in Haiti:
The United Nations is releasing $10 million from its emergency funds.

The Irish telecommunications company Digicel said it would donate $5 million to aid agencies and help repair the damaged phone network.

The European Commission has approved euro3 million ($4.37 million) with more funds likely.

Spain has pledged euro3 million ($4.37 million), and sent three planes with rescue teams and 100 tons of emergency relief equipment.

The Netherlands has donated euro2 million ($2.91 million) and will send a 60-person search-and-rescue team.

Germany gave euro1.5 million ($2.17 million) and sent an immediate response team. Another team with 20 rescue dogs is on standby.

China will donate $1 million, according to Xinhua News Agency.

Sweden has offered 6 million kronor ($850,000) along with tents, water purification equipment and medical aid.

Venezuela has sent doctors, firefighters and rescue workers.

Mexico will send doctors, search-and-rescue dogs and infrastructure damage experts.

France is sending two planes with doctors, food and medical equipment.

Britain has sent 64 firefighters with search-and-rescue dogs and 10 tons of equipment.

Iceland is sending 37 search-and-rescue specialists.

Taiwan is flying in 23 rescue personnel and 2 tons of aid and equipment.

Israel is sending an elite army rescue unit including engineers, rescue workers, doctors and medics.
The science behind Haiti's quake
The earthquake in Haiti had a preliminary magnitude of 7.0 and it appeared to have occurred along a strike-slip fault, where one side of a vertical fault slips horizontally past the other, scientists say. California's San Andreas fault is also characterized as strike-slip.
It was the strongest earthquake since 1770 in what is now Haiti. In 1946, a magnitude-8.0 quake struck neighboring Dominican Republic and shook Haiti, killing 100 people, most of them in the tsunami that followed. In that case, according to the U.S. Geological Survey, the death toll was light because the quake struck in the afternoon on a holiday.
Tuesday's quake was centered about 10 miles (15 kilometers) west of Port-au-Prince at a depth of 5 miles (8 kilometers), the USGS said. Since then, more than 30 smaller quakes have shaken the island, with magnitudes ranging from 4.5 to 5.9.
Pictures from Haiti