DERRY — Many people have kept scrapbooks detailing life moments, special occasions and historical events.
Derry Public Library is now on the preservation bandwagon, taking on projects to preserve past memories, town and library history while keeping it safe on digital files for patrons to enjoy.
Library staff members recently discovered several scrapbooks compiled by past librarians and directors, filled with newspaper clippings, photos, letters, and special community programs that describe Derry's history dating back decades.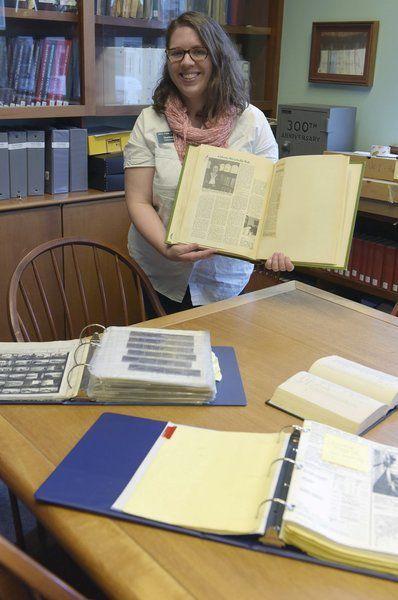 Reference librarian Courtney Wason said it's the library's goal, as well as the goal of many libraries today, to preserve historical documents and artifacts in digital form and make them available online — making it easier to access the information.
The library's New Hampshire Room, opened to the public in 1990 when an addition was built onto the original 1927 library building, is one space where much local and state history is already kept very secure in books, binders and on shelves. That includes town and state records, photos, yearbooks, news sources, books, and other periodicals that are often called upon when someone needs to do family research or other historical work.
"It's a wide breadth of information," Wason said.
Shelves are full of town and school reports, burial records, American Legion war records, Pinkerton Academy yearbooks, and histories of Derry and surrounding towns. There are also papers and documents on Alan B. Shepard Jr., and poet Robert Frost, and now digital issues of The Eagle-Tribune's sister publication, the Derry News, dating back to 1891.
The scrapbooks, dating back to the 1920s, will also be put into digital format, according to Wason. Finding the added bits of library history in the classic scrapbooks was a great discovery, showing the effort past library staff took on to preserve history, Wason said.
"But we don't know who actually made them," Wason noted.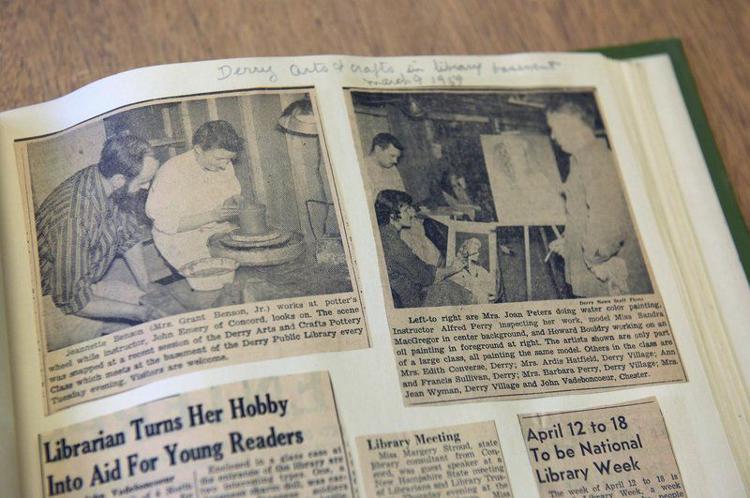 Derry Public Library got its official start in 1905, opening through a $1,000 gift from Rosecrans W. Pillsbury. A room was provided for the library at the Adams Memorial Building until the current building was built thanks to the Henry McGregor family. The MacGregor coat of arms is displayed in a stained glass window in the New Hampshire Room.
There are references to past librarians in the scrapbooks, including Edith Hall and Elsie Gaskin. There are letters written to Hall to thank her for support of the World War II war bond movement in 1945.
A scrapbook also gave two pages to a visit to town by American poet Robert Frost in 1952. Frost called a Rockingham Road farm his homestead for about a decade while teaching English at Pinkerton Academy.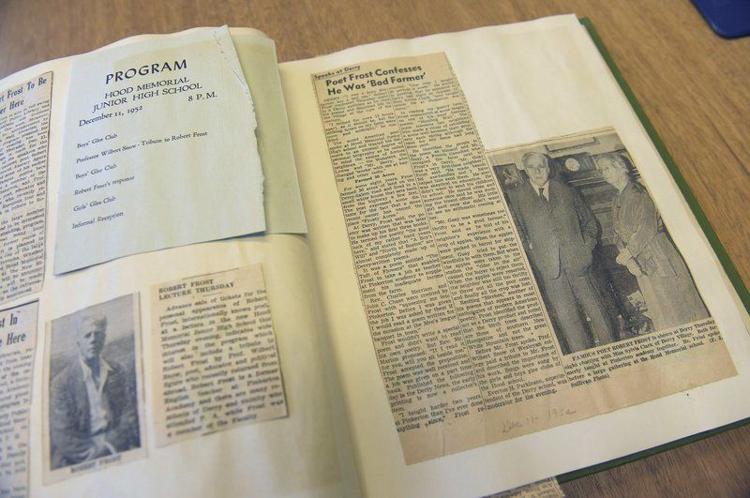 By 1952, Frost and his family had left Derry, but he returned that year to speak at the former Hood Memorial Junior High School. The newspaper headline in the scrapbook clipping stated that the poet confessed "he was a bad farmer."
"You get to see what was important to someone else," Wason said about the clippings in the scrapbook.
Another library project, Wason said, is to take volumes of historical home information and photo negatives and put that information into an updated format. Negatives will be scanned to go along with the records of each home noted in the books.
That home project stems from a 1986 historic survey of the town of Derry, where the homes were documented with pertinent information as when built, where located, etc. All the information will land online eventually, Wason said.
"People call us and ask about the history of their home," she said, "and a lot of homes were surveyed, over 800."
The library is readying for the 300th anniversary of the original Nutfield settlement in 2019 and will most likely have special events planned to go along with that historical milestone. A time capsule sits in the New Hampshire Room, set to be opened that year for the big birthday of Nutfield. Wason said other projects are in the works to prepare for that anniversary.
Wason said all the projects to bring Derry Public Library up to date for its patrons are key to its future success, while the past is also kept safe and secure for everyone to enjoy.
"It gives me an appreciation for the history of this library," she said. "People in this town are really lucky to have it."