HAVERHILL — The City Council approved a third special permit for a retail marijuana shop Tuesday night, but not before negotiating a set of conditions intended to benefit the city and the neighborhood.
Robert DiFazio, a service-disabled U.S. Navy veteran from Amesbury, plans to open a cannabis store called CNA Stores in a small business plaza at 558 River St. where two other businesses, Natural Stone Plus and Vaporlicious, also operate.
DiFazio said he also plans to open a retail shop in Amesbury, along with a cannabis cultivation and growing facility.
The council recently approved special permits for Full Harvest Moonz, which plans to open near the Plaistow line, and Haverhill Stem LLC, which plans to open at the site of the former Sons of Italy at 124 Washington St.
---
Approved Haverhill marijuana retail locations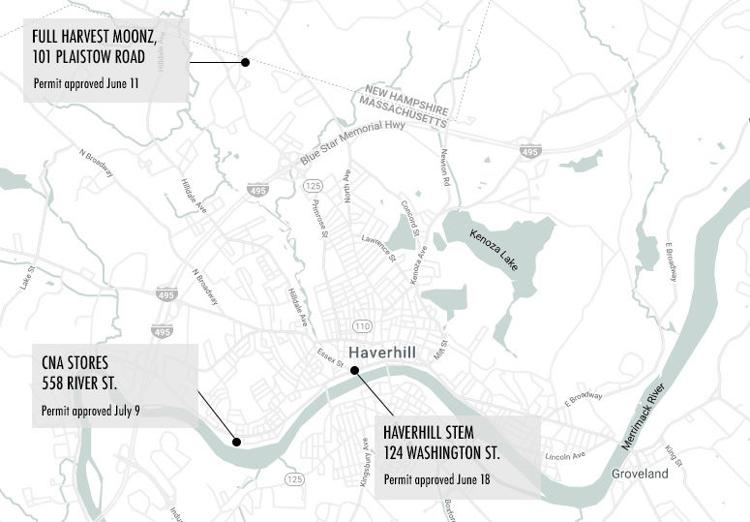 ---
Two others have applied for special permits, according to City Clerk Linda Koutoulas. They are Mellow Fellows, which wants to open a shop at the former Seafood Etc. restaurant at 330 Amesbury Road, and Haverwell Market LLC, which proposes a shop at 399 Amesbury Road behind the Mobil station.
DiFazio said he is in business with his friend, Billy Haggard, who is also a Navy veteran and lives in Dallas.
Haggard was unable to attend the meeting due to a death in his family, DiFazio said.
DiFazio and Haggard served in the Navy as nuclear engineers on submarines and aircraft carriers, DiFazio told The Eagle-Tribune.
"We're a service-disabled, veteran-led company that is looking to hire veterans in Haverhill," DiFazio said. "We're creating jobs for veterans."
During the public hearing for the special permit, former Haverhill resident and Hillie Melissa Cerasuolo spoke out in favor of granting DiFazio a special permit, commending him for wanting to hire veterans to work at his business.
She also noted his plan to donate $25,000 to local charities, including $12,000 to Veterans Northeast Outreach Center in Haverhill.
"I've seen the site and I think it's spectacular and will be good for the city of Haverhill," Cerasuolo said of the location DiFazio chose for his shop.
Five residents spoke out against DiFazio's location of a cannabis store in their neighborhood, including Margin Street resident Lynn Wedge.
"This neighborhood has experienced high illegal drug activity, and even though that element has been removed, I see it every day ... people pulling up side by side and passing drugs," she said. 
Wedge noted concerns with parking along side streets in the area where DiFazio plans to open his shop, and how parked cars reduce visibility for residents pulling out onto River Street, the main street that passes by the small plaza.
"I just don't think it's the right spot," she said. 
Wedge's concerns about drug dealing in the neighborhood, as well as a possible reduction in home values, were shared by other residents.
DiFazio and his security consultant, Michael Allen of Rochester, New Hampshire, outlined an extensive set of security precautions, including outdoor security personnel who would check every driver coming into the lot for the proper appointment paperwork, along with indoor security guards. Only people age 21 and over with proper identification and an appointment would be allowed in the building.
DiFazio said he plans to hire veterans and former law enforcement for the security jobs, and plans to employ veterans for other jobs in the shop.
A "sophisticated" video surveillance system would be tied into the police dispatch center for around-the-clock monitoring of suspicious activity.
DiFazio said he plans to work closely with police to make the neighborhood safer and that his head of security would also serve as the neighborhood's liaison.
"We developed a very comprehensive plan that in some cases goes above and beyond what is required," Allen said.
DiFazio explained that deliveries by a small van would take place two or three times a week and that the vans would pull into a bay and unload inside the building in a secure area. All products would arrive prepackaged and ready for sale, he said.
DiFazio's traffic expert noted that the impact the shop would have is minimal, noting the daily traffic volume on that stretch of River Street ranges between 17,000 and 19,000 vehicles.
DiFazio intended to serve five customers every 15 minutes, but at the request of Councilor William Macek, he agreed to reduce that to four customers per hour, with the agreement that those numbers would be reviewed by a committee that will include police, fire officials and the city engineer.
To respond to neighbors' concerns, DiFazio agreed to reduce his operating hours on Mondays through Wednesdays from 10 a.m. to 6 p.m., instead of closing at 8 p.m. on those days as originally proposed. His hours for Thursday through Saturday would remain at 10 a.m. to 8 p.m. and his Sunday hours would be from noon to 6 p.m.
At the request of City Councilor Melinda Barrett, DiFazio agreed to install outdoor security cameras pointed at Margin Street and Florence Avenue, where neighbors said drug transactions have been taking place.
And at the request of Barrett and Councilor Tim Jordan, DiFazio agreed to donate $22,000 per year, which school physician Dr. John Maddox will put toward the city's annual youth risk survey, drug education or another effort Maddox deems important to the city's youths. 
Voting in favor of the special permit were Macek, Barrett and Jordan as well as Colin LePage, Thomas Sullivan, Mary Ellen Daly O'Brien and council President John Michitson. Councilor Michael McGonagle did not take part in the hearing, citing a conflict of interest, while Councilor Joseph Bevilacqua voted against the special permit.