BOSTON — A freshman lawmaker is thrusting Massachusetts into the thorny debate over childhood vaccinations by proposing a statewide ban on religious exemptions.
A new proposal by Rep. Andy Vargas, D-Haverhill, would eliminate a provision of the state's vaccine law which declares that "no child whose parent or guardian states in writing that vaccination or immunization conflicts with his sincere religious beliefs shall be required" to submit proof of vaccination in order to enroll in school.
His proposal comes amid a national debate prompted by a measles outbreak in two dozen states that has been attributed to unvaccinated children.
Vargas, who is Catholic, said he "understands and respects" peoples' religious beliefs, but he said the health and safety of other schoolchildren is paramount.
"Our first priority needs to be public health," he said Monday. "Nobody has a constitutional right to infect another person's child with an illness because of their religious beliefs."
His proposal is likely to win support from the Massachusetts Medical Society, which two weeks ago adopted a policy opposing vaccine exemptions for school-age children for non-medical reasons.
The society's president, Dr. Maryanne Bombaugh, said the physicians group looks forward to working with lawmakers "who believe that the public should make use of a proven and safe way to prevent disease that can be quite serious" to approve Vargas' measure and send it to Gov. Charlie Baker for consideration.
Massachusetts, like most states, requires students to be vaccinated for major illnesses such as diphtheria, pertussis, tetanus, measles and poliomyelitis to attend public schools, though parents may cite religious reasons, in addition to medical ones, for opting out of the requirements. The rules apply to private school students as well.
Parents who object to vaccination for non-medical reasons must notify their child's school in writing of the conflict with their religious beliefs.
Parents' religious views were cited for 687 children who attended kindergarten in the 2017-18 school year without the required vaccinations, according to the state Department of Public Health. Non-medical reasons were cited for 738 children who enrolled that year in state-funded child care and preschool programs.
It's not clear whether the measure, which had five co-sponsors including Vargas as of Monday, will garner support in the Legislature. There is currently no Senate version of the bill.
What's more, efforts to ban the exemptions are expected to draw fierce opposition -- and likely legal challenges -- from conservative groups that argue they violate religious liberties.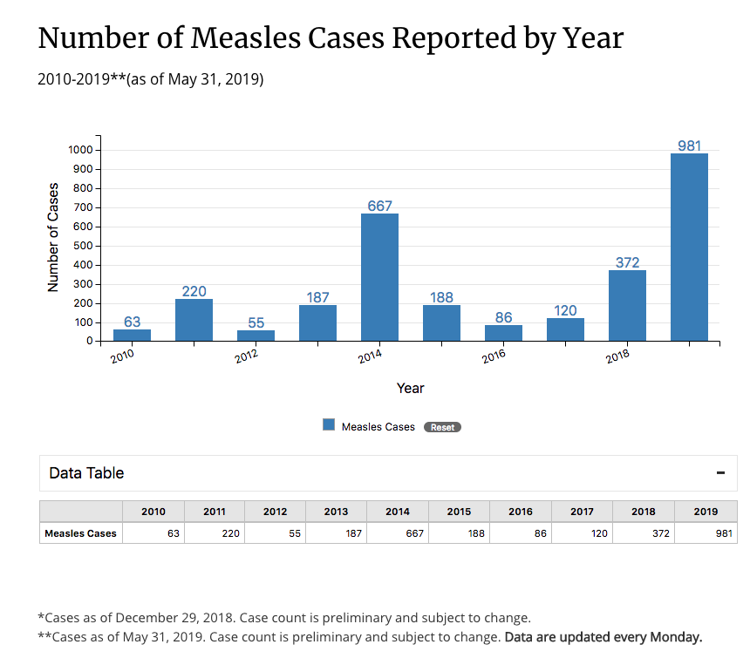 The Catholic Action League of Massachusetts says banning non-medical exemptions would "violate the religious freedom rights of Hasidic Jews, orthodox Catholics and others who find the use of fetal tissue from aborted children, used in the production of the measles vaccine, to be morally objectionable." Some vaccines — including those for rubella, chicken pox and hepatitis — are propagated in cells taken from legally aborted fetuses, according to the Food and Drug Administration.
But physicians groups say claims by religious objectors that vaccines contain a significant amount of human fetal tissue are misleading.
Recent measles outbreaks have prompted health officials across the country to highlight the need for parents to get their kids vaccinated. The highly-contagious disease, which can be deadly, was once common but gradually became rare after vaccination campaigns began in the 1960s. It was declared eliminated in the U.S. by 2000.
But more than 900 cases of the disease, spread by an airborne virus, have been reported since January, according to the U.S. Centers for Disease Control and Prevention. There are ongoing outbreaks in New York and Michigan.
Massachusetts, New Hampshire and Connecticut are among 26 states that have reported measles cases in 2019, but none have met the threshold of three or more cases required to be considered an outbreak.
Physicians say the anti-vaccination movement, driven in part by debunked studies linking vaccines to autism, has played a role in parents choosing not to get their kids vaccinated.
While all states have laws requiring vaccinations for children enrolled in school or day care programs, only California, Mississippi and West Virginia do not consider exemptions based on religious or other non-medical reasons.
At least 10 other states are considering stricter laws in response to the surge in measles cases, which is being called the worst in 25 years, according to the National Conference of State Legislatures.
In California, which banned personal belief exemptions for vaccinations four years ago, immunization rates for children are nearing an all-time high, according to recent studies.
"The science is clear -- vaccines that children receive upon entering school have been one of the most successful public health initiatives, saving countless lives," Vargas said. "I fully respect everyone's right to practice their religious beliefs, but nobody has the right to infect another person's child."
Christian M. Wade covers the Massachusetts Statehouse for North of Boston Media Group's newspapers and websites. Email him at cwade@cnhi.com.