Hundreds of dead fish are littering the shores of the Merrimack River from at least Haverhill to Dracut, but environmental officials say human pollution is not to blame. 
The river is experiencing a fish kill — a localized die-off of a significant number of fish.
While the kill has raised concerns among residents, officials with the Massachusetts Division of Fisheries & Wildlife said Monday that water samples taken from Haverhill last week indicate no hazardous materials in the water. Instead, the fish — almost exclusively carp — likely died of natural causes from stress while spawning, compounded by higher water temperatures and depleted oxygen levels. 
"It was a natural event. The fish do go under a lot of stress when they spawn," said John Sheedy, Mass Wildlife's northeast district fisheries manager. "All of the these environmental factors (temperature and oxygen), along with the spawning stress, is basically what we believe caused it."
Rocky Morrison, president of the Methuen-based Clean River Project nonprofit, said he began noticing "hundreds" of dead fish last week, and that the number of carcasses has only grown since then. Monday morning, Morrison posted a warning on the nonprofit's Facebook page.
"We noticed it a week ago and we are still asking parents not to let their kids play by the river," Morrison said, due to the "bacteria and disease coming off the fish."
Sheedy said fish kills are not uncommon, and noted that they've documented a "couple" of "minor" kills over the winter, when ponds froze; but Morrison, who spends most days on the water, said it's "once in a blue moon you might see something like this."

The maximum temperature allowed for surface water under the state's water quality standards is 83 degrees Fahrenheit. As of noon on Monday, the temperature of the river in Lawrence was about 80.9 degrees. From July 4 to July 6, the water temperature in Lawrence was at or above the quality limit. It spiked again to just above the limit for a brief time on July 8. 
As water temperatures rise, the water cannot hold as much oxygen. Fish travel to shallow waters to spawn, where temperatures are higher than in deeper waters and where oxygen levels are even lower. The environmental stresses, coupled with the stress of spawning, can kill the fish, Sheedy said.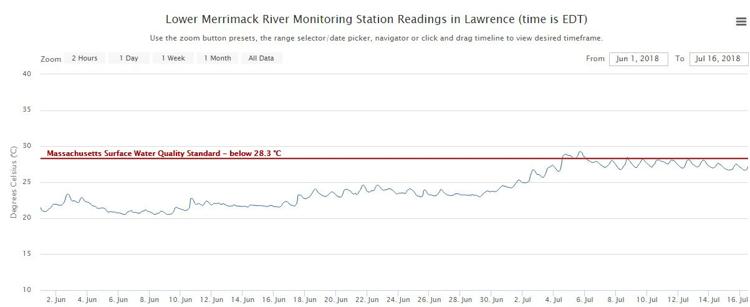 "If it were multiple species of fish and they were in various stages of death, decay, stress ... then we would know that there was something, probably a pollutant of some sort," Sheedy said. The Department of Environmental Protection received results Monday from a Haverhill water sample that showed no hazardous materials present in the water, Sheedy said. 
Marion Larson, information and education chief for Mass Wildlife, noted that disease could also be involved: a similar fish kill occurred in the Mystic River around July 4, she said. 
"Just like there's different strains of diseases that affect different people, there are different strains that affect different fish," she said. "When we have a lot of fish, a lot of different species of fish that are getting wiped out at the same time, that raises red flags."
Sheedy said that despite the stench that those along the river may have to deal with — especially in slower-moving parts of the river, like that in Methuen — the water quality has not been adversely affected. 
"I'm sure there's probably going to be the smell of dead, rotten fish for a little while, but the condition of the water is as normal as could be," Sheedy said.