LAWRENCE – It's an hour before sunset on a January afternoon as Bob and Dana Fox step into their Subaru carrying binoculars and notepads to pursue the massive flock of crows about to descend after a day foraging as far away as Plum Island and beyond.
The couple drives north on Route 114 to the Merrimack River and over the Falls Bridge on the way to the two historic hilltop cemeteries on the city line with Methuen. Here the crows have been staging by the thousands late in the day for about a week, waiting for sunset before flying off again in one whole swoop under cover of dark to a roost somewhere else for the night.
Where is uncertain, like so much else about them that the Foxes hope to discover. 
The first of the crows already is passing overhead as the couple approaches by car, funneling above as they converge into one of the state's most densely settled cities from every direction in scattered handfuls or by the hundreds.
Notoriously crafty and smart, the crows have been shifting their staging areas regularly since they began arriving in Lawrence late in the fall, exhibiting a typical crow behavior that ornithologists suspect is an attempt to throw predators – great horned owls are chief among them – off their trail. 
As it has for at least 30 years, this flock of mostly American crows arrived here in November and first staged in the row of silver maple trees between the Merrimack River and the New Balance shoe factory and in surrounding parking lots in an improbable mix of urban and wild. The flock moved its staging grounds in late December to the frozen river behind the Great Stone Dam for several evenings, then moved again downriver a few hundred yards to Pemberton Park, then upriver to the ice and trees around Lawrence's water treatment plant, then to the two adjoining cemeteries.
On Feb.4, they moved again, beginning another succession of one-night stands that eventually brought them to a site in Andover near where Interstate 93 crosses the Merrimack River. At least for now.
"Every night, it's like, where's Waldo? Where are they going to stage tonight?" Dana Fox said in a mix of exasperation and infectious enthusiasm, keeping her eyes on the sky while her husband kept his on the road as they followed the birds on this afternoon. The chase is tricky because crows can move, well, as the crow flies. But Bob Fox, who is 90, must keep to the streets and weave through rush-hour traffic as he steers his Subaru in pursuit, while Dana, 79, rides shotgun with her binoculars at the ready.
On this January afternoon, the birds return to Section J of the Immaculate Conception cemetery and descend in waves amid the tombstones as the Foxes pull up. Unfolding as they step from the car is a stark and spectacular display of sight and sound, like something from the mind of Edgar Allan Poe or Stephen King: a massive swarm of as many as 15,000 crows, a sky blotted black by their numbers, a graveyard, frozen snow-covered earth, the dead of winter, a crescendo of cawing that slowly fades to an eerie silence, night closing in.
And plenty of mystery.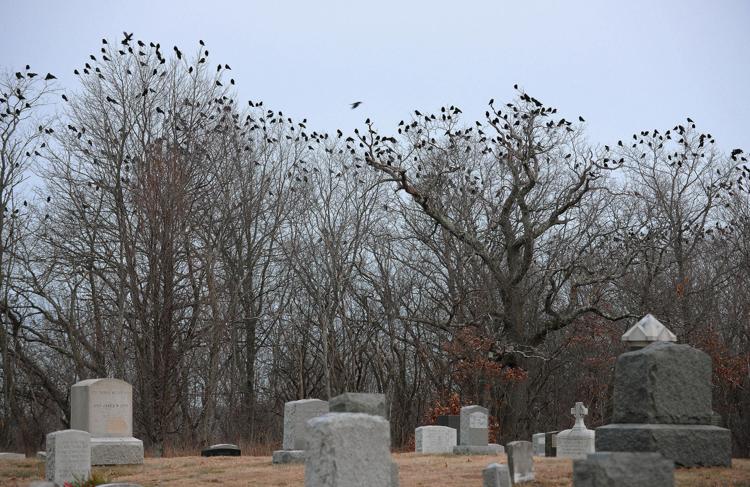 For almost a month of winter twilights in the two rolling hilltop cemeteries, this flock of crows – like scores of other flocks around the world, many much larger – carried out some of the primordial behaviors that still puzzle the amateur birders and professional ornithologists who study what many of them believe are the world's most clever and social birds. Possibly only ravens, their close cousins, may be more sly. 
What brings these thousands of crows – a mix of residents and seasonal migrants from as far as the St. John's River in Canada — to places like Lawrence for the winter from November to March?
What causes them to continually shift their staging grounds, sometimes by just a few hundred yards, sometimes by half a mile?
Where do they roost elsewhere for the overnight after leaving their staging grounds?
ON A TREASURE HUNT
Hoping to help solve all that, Dana Fox, a retired biology teacher, and Bob, a former school superintendent in Hamilton and Manchester-By-The-Sea, have been sending observations about their hometown flock for five years to birding magazines, professional ornithologists and wildlife biologists from Boston to Washington state who have taken an interest in this flock.
The Foxes are hardly amateurs. The couple from North Andover have birded in 30 countries on four continents through more than half a century, logging 6,500 of the world's 10,000 or so species. Four years ago, Bob Fox co-authored "The Birds of New Hampshire," a 473-page illustrated book that chronicles all 427 species living in that state. 
This winter they're joined by Craig Gibson, the Roman Catholic chaplain at Lawrence General Hospital, who set aside other work observing other birds in Lawrence — including the peregrine falcons nesting in the Ayer Mill clock tower and the bald eagles hunting for fish at the juncture of the Spicket and Merrimack rivers — when the Foxes invited him to join their pursuit of the crows. He recently interrupted the pursuit to join another birding expedition in Costa Rica, but the Lawrence crows stayed on his mind.
"It's a treasure hunt," said Gibson, who has documented the Lawrence flock of crows with hundreds of photographs this winter. "No other bird species I know behaves in a similar fashion. It's very difficult to know why. That's part of the mystery that keeps our rapt attention. This is local. It's in our backyard. It's easy to track. A real treasure hunt."
Besides tracking the crows, the three have been gathering the pellets the birds excrete, hoping for clues about their diets that might reveal where they're spending their days before flocking back to Lawrence and now Methuen each evening.
The pellets have yielded evidence.
Tom French, a director with the Massachusetts Division of Fisheries and Wildlife, examined them and reported his findings last week. Most significant is the salt marsh snail he found amid the berries and seeds, the bony remains of mice and songbirds and the ketchup wrapper from a McDonald's restaurant. From Lawrence, the nearest salt marsh is Plum Island, at least 25 miles east.
"These birds are coming in from a long way away," French said. "At least 15 to 25 miles from every direction. The snail confirms that some make it all the way to the coast."
Other mysteries are harder to solve in the Lawrence flock and in flocks now staging and rousting across the United States. Among them: Why do small families of crows – typically a couple and their first and second generations – leave their nests every fall and converge by the tens of thousands in places like Lawrence, Gloucester, Springfield and Martha's Vineyard (where the wintertime flock commutes daily from the island to the mainland).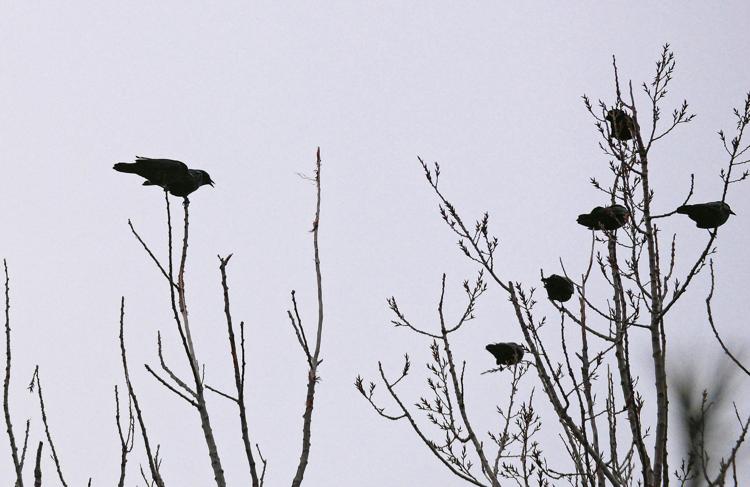 'IT BLOWS YOUR MIND'
Why do they stage so massively in the evenings, then fly off together in the dark to roost elsewhere, then scatter in the morning to forage for food as far as 50 miles away, then return to stage and roost for another night?
Wayne Petersen, director of the Massachusetts Audubon Society's Important Bird Area program, suspects that after leaving the singular sanctuary of their nests from hundreds of miles away in the fall, crows seek out each other for the collective sanctuary of the flock against great horned owls, red tailed hawks and other predators. Petersen believes flocking also allows crows to exchange information vital to survive the winter, including where food can be found. The fattest and healthiest birds often are the first to fly from the roost at sunrise, trailed closely by the lesser birds.
"The concept is safety in numbers," Petersen said. "The chances are a predator will knock off one of their neighbors first, so they're playing the odds. And for highly intelligent species like crows, the flocks may be information centers, particularly about food supply during the day. When they come together at night, younger members will pay attention to other birds. And when they leave the roost before first light, they'll follow them to see where they've been feeding."
Peterson also has a theory about what crows do to divert predators from the thick congestion of their staging areas.
"They're so wily, they just don't want to tip their hands (to predators)," he said. "They're a hugely conspicuous and noisy gang of birds. They need to do something that will provide a certain degree of decoy-ism. By constantly moving their positions, changing their behavior, it's more difficult for anything that wants to get them to know where they're going and when they're going to get there."
"It blows your mind," Dana Fox said as she huddled beside her husband in the cemetery to watch the crows descend along with the sun and bitter cold on this late January evening. Even after five years of tracking their daily descents and departures around Lawrence, her love of the spectacle and the adventure hasn't waned.
"Thousands of them," she said, raising her binoculars to the bare branches of a tree drooping under the thick weight of the crows, their black winged frames silhouetted against the flickering background light. "They just keep rolling in."