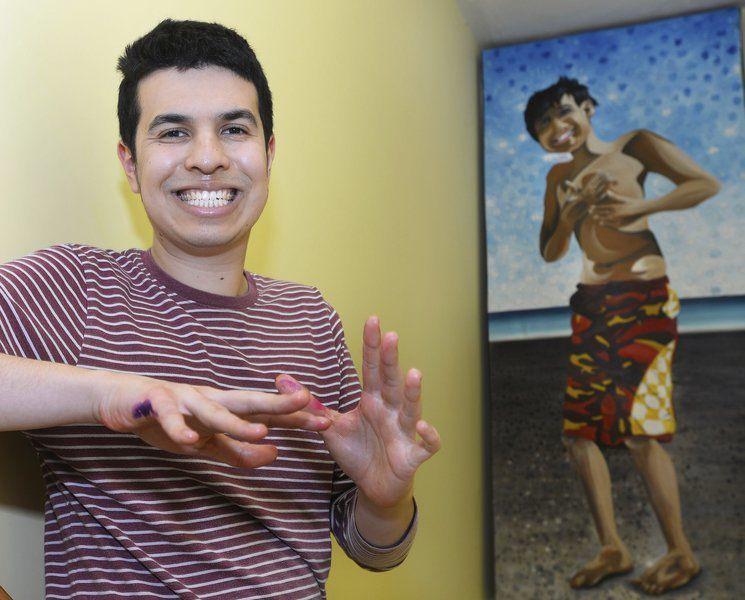 There's no silver bullet for Alex Schwartz's autism, but when he reaches for a purple marker, his attention is rapt.
On this late afternoon, he's at home in his basement studio in Andover, surrounded by art-filled canvases and drawing pads. 
This is where he created more than two dozen canvases that are now hanging in the gallery at Lawrence Heritage State Park. He had a reception there on Feb. 3, the afternoon of Super Bowl Sunday. His show remains up through Feb. 27.
This is his third art show. Earlier, his work was on display at Memorial Hall Library in Andover.
The 26 canvases in the Lawrence gallery reveal progression, a more unified composition in some works. His colors are bright, his pieces inviting.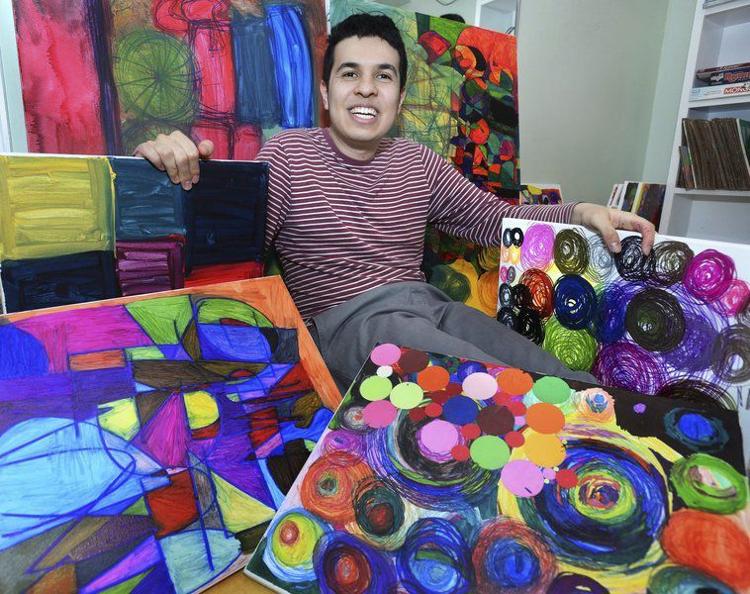 He listens to CDs while he works, much of the music from his parents' collection, including Billy Joel and Al Green.
Janet and Michael Schwartz's son is a happy and forward young man, and sensitive to people's feelings and moods. If he senses someone is sad or not feeling well, he soon asks, "Are you OK, are you OK?"
He has an irresistible smile and, at times, the 24-year-old seems taken with an impish delight, that quality we so like in comedians — ironic detachment followed by unexpected remarks, though that's not likely his intent.
Alex tends to repeat things he says, and repeat what others say. It seems like it's his way of making sure he is doing the right thing. He is prone to habits, say, changing a shirt or pair of pants before he eats dinner. He likes to bake. He cooks tasty almond-flour bread and muffins and follows the recipe his parents have taped to the inside of a kitchen cupboard.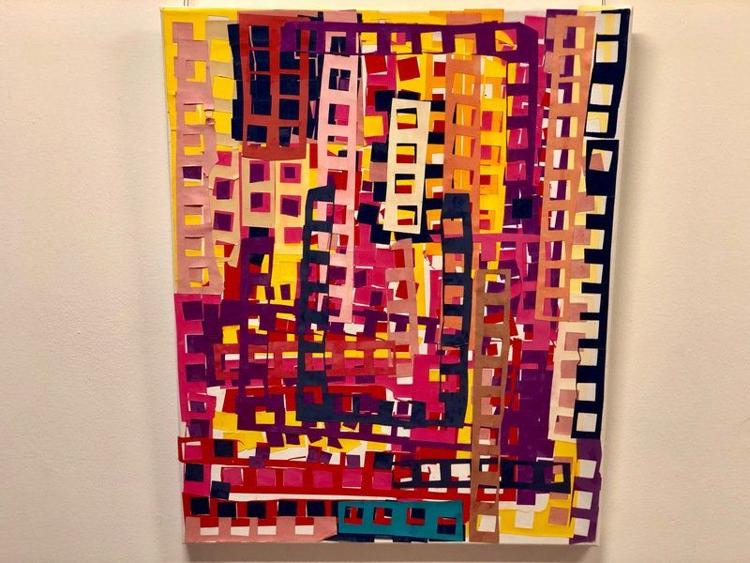 Finding therapy in art
This Monday afternoon in his studio, he's sitting at a low desk within easy reach of trays of colored markers. 
He first shades purple, then brown on the few remaining white spots on a canvas that is otherwise bursting with fuchsia and pink and blue, and set with geometric patterns.
He works quietly and intently.
The studio walls are painted light green, almost pastel, giving the room a soft feel.
Alex draws or paints every day for about 60 minutes, usually around 6 p.m. Structure is important to him and change can be unsettling, his parents said.
They have pursued every treatment to make their son's life better, to improve his social and communication skills. His mom is a nurse and his dad a retired software engineer. 
Their son was diagnosed with pervasive development disorders at about 2 years old. Someone with that condition has difficulty communicating and knowing how to interact.
His parents became frustrated with the mainstream treatment for their boy's condition. They have pursued multiple alternative methods, and pay close attention to his health and nutrition. It is hard to say what has or has not helped, his father said.
His father believes strongly that some day there will be a cure for people with conditions such as his son's.
The father also believes, with all his being, that his son has found a lifelong pursuit in his art.
Art, as a therapy, makes sense intuitively to Michael Schwartz. He grew up in Russia; actually, it was the Soviet Union then. His mother was a pianist and teacher. His father's brother was an artist until he was killed in World War II, fighting against the Germans.
Janet and Michael's daughter, Sasha, a 2015 graduate of Andover High School, has long been enamored of the arts and stage design. She is now a senior, majoring in stage design, at Carnegie Mellon University in Pittsburgh.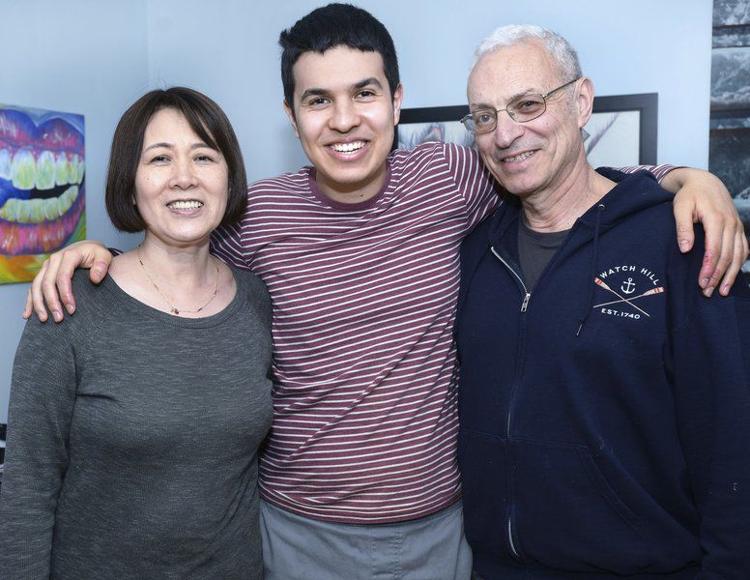 When she was a youth and living at home, her brother, Alex, followed her around while she worked on her stage design projects. 
On the wall above the stairs that lead to the basement at their Chestnut Street home is a tall painting she did of Alex while she was a student at Andover High. It's based on a photograph of her brother when he was 8 or so and at the beach.
He has a delighted expression. In the background, his sister painted a series of puzzle pieces, based on the primary symbol for autism. 
'Intricate and unexpected'
These basement stairs lead to the art room, where once or twice a week, for two or three hours, Alex works with art teacher Andrew Royce Fournier, a graduate of the Rhode Island School of Design who lives in North Andover.
When Fournier started working with Alex, it was simply an exercise in learning to focus his attention on something, anything, not for practicing art. His teacher would make lines or shapes and Alex was able to stay focused for 15 minutes, tops.
That would change. 
One day, instead of prompting Alex to draw numbers or letters, Fournier sat back while his student made a picture.
The teacher showed the parents the work their son had done and they were flabbergasted.
He has continued to create. The art focuses his mind and allows him to communicate through the language of color and design.
"I think his art helps him express himself," his mom said. "When I see art so beautiful, it's ... I understand him. He expresses his feelings through his art."
His mom, who is originally from China, works for Lahey Clinic as an intravenous nurse.
During the day, Alex attends Coastal Connections in Amesbury, an agency that provides support and training for people with disabilities.
When he gets home, he has a routine that includes art.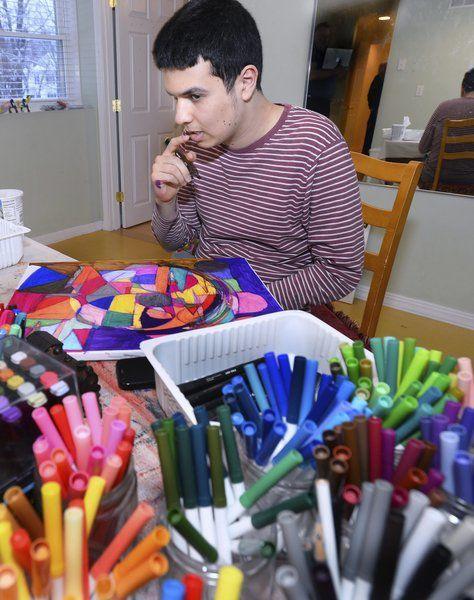 His art teacher says Alex communicates through his colorful and abstract language. It is a skill he has honed largely on his own, making it refreshing and personal.
"His art is layered, intricate and unexpected," Fournier said.
Alex's mom said her son has gained confidence through his art.
She and her husband like the initiative their son demonstrates when he is creating his pieces.
"What is exciting for me is Alex is making decisions," his father says.
He pauses and continues with his thought: "In any real art, people are making decisions. They are very independent people."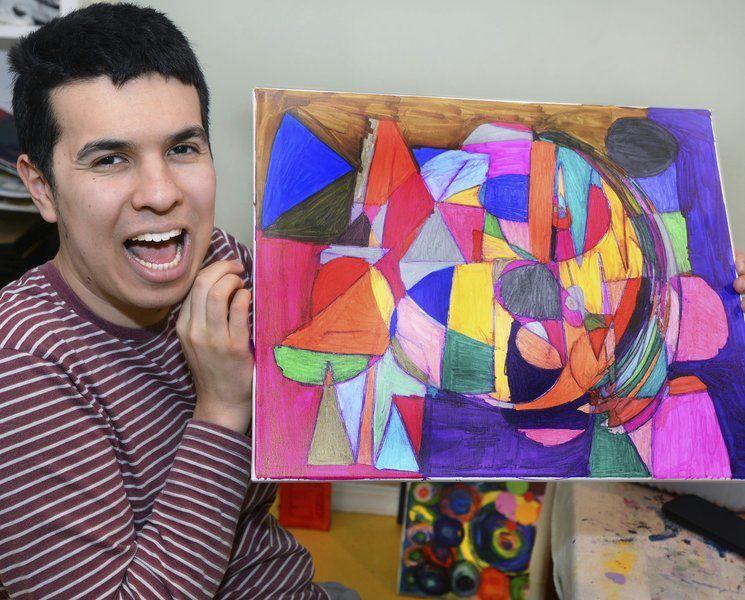 IF YOU GO
What: "The Art of Alex Schwartz"
When: Through Feb. 27
Where: Lawrence Heritage State Park, third-floor gallery, 1 Jackson St., Lawrence
How much: Free admission
More information: 978-794-1655, mass.gov/locations/lawrence-heritage-state-park