LAWRENCE -- Massachusetts House Speaker Robert DeLeo on Thursday stepped into the belly of the beast of the state's mounting addiction crisis, touring two buildings on the city's north side where the addicted come to fight their habits for as long as six months or just find a bed for a night.
DeLeo began the two-hour tour at Pegasus House, a residential treatment facility that has cared for up to 15 women at a time since opening on Lowell Street in 1985.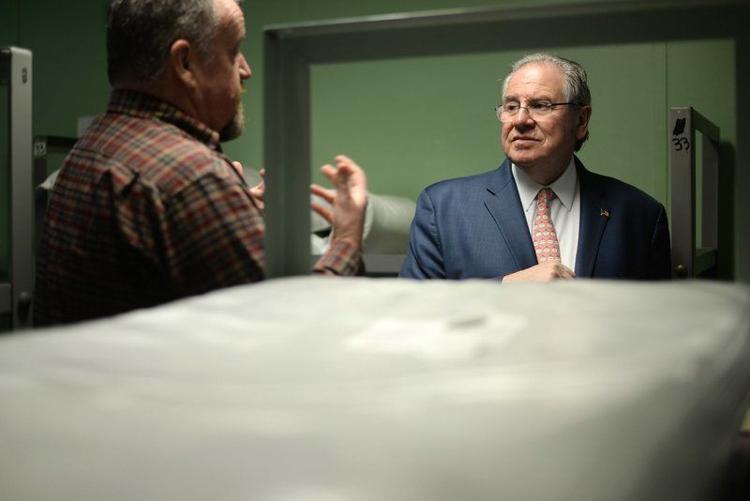 His next stop was the Daybreak Shelter a mile or so away on Winter Street. Daybreak is an overnight shelter with 50 beds for both men and women that takes in anyone over 18 --  addicted, homeless or mentally ill. Daybreak is one of just three shelters in Massachusetts that will admit intoxicated individuals.
DeLeo was joined on the shelter tour by state Rep. Diana DiZoglio, D-Methuen, and Reps. Frank Moran and Juana Matias, both Lawrence Democrats.
Both shelters are operated by the nonprofit Psychological Center on Union Street, which also runs another residential treatment facility for 15 women on Haverhill Street called Women's View.
The $2 million annual budget for the three facilities is funded almost entirely by the state, and getting more was a focus of the discussion at both buildings Thursday. As the tour wrapped up, DiZoglio told DeLeo that she would seek to restore a $50,000 earmark for Pegasus House that Gov. Charlie Baker cut from this year's state budget to manage a deficit. She said she would ask for $20,000 more for Daybreak.
DeLeo did not respond during the tour, but afterward emailed a statement through an aide that noted the state has increased funding for addiction services 65 percent since 2014 and promised to make the services a priority in the upcoming budget. DeLeo did not say whether the funding in the new budget would include the $70,000 DiZoglio is seeking for Pegasus House and Daybreak.
At both facilities, DeLeo peppered managers with questions about their programs and clients. At Pegasus House, he asked about the daily routine for residents. Women there receive counseling and other support services and every woman must eventually be in school or hold a job. He asked when their children may visit and where the women come from.
Fewer than half are from Lawrence and Methuen and some come from as far away as Cape Cod, said Nichole Hardy, the program director for Pegasus House. She described a 90-minute documentary about Andover's heroin problem that high school senior Kaegan Casey produced in 2015. That led to a discussion about how the heroin and opiate epidemic is spreading from poor cities to wealthy suburbs nationwide.
DeLeo said he hears that from other representatives in Boston and reads about it in his hometown newspaper in Winthrop.
"I'm tired of going to wakes," DeLeo said. "I'm tired of looking at obits and seeing kids I coached. I pick up the obits and look at the young faces, trying to figure out how many were drug overdoses."
He said there are clues to that, including the words "died unexpectedly."
"It's one of the most frustrating issues we deal with," DeLeo said, referring to the work at the Statehouse. "Attention is paid on this issue in every corner of the building. But it's frustrating."
In Lawrence, Pegasus House and Daybreak are vastly different places with missions that overlap only in that both serve addicts.
Pegasus House serves only women 18 to 25 years old who are recovering from addiction and must accept treatment and counseling. Daybreak accepts anyone at least 18 years old, although most suffer from addiction or mental illness or both, said Andrew McMahon, the director of the facility. Residents do not have to accept treatment, but it's offered.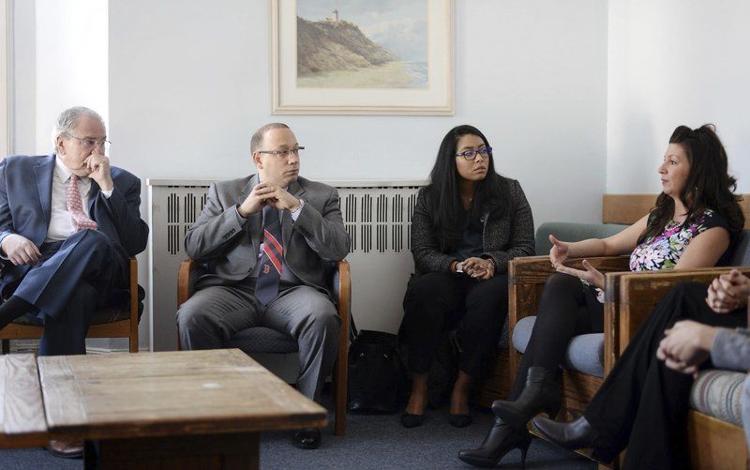 Pegasus House operates from a comfortable, oversized, Victorian-style home built in 1925 and surrounded by a white-washed fence in a neighborhood of similar homes. A public school is across the street and a church is next door. Most of the residents have just one roommate or two. Besides the counseling and the mandate that every resident enroll in school or hold a job, the women are expected to enroll in physical education programs at the YWCA. Within limits, women set their own schedules. Each can stay for up to six months.
Conditions are sparser and the rules are stricter at the Daybreak Shelter, which operates out of several patched together trailers assembled in 1999 in an industrial neighborhood of warehouses and body shops. The lighting is fluorescent. The mattresses are wrapped in plastic. Meals are served at picnic tables. Conditions are jam-packed.
Up to 35 men sleep on bunk beds in a single dorm room, which is next to another dorm room where up to 15 women sleep, also on bunk beds. All 50 must be up at 6 a.m. and out by 8. Most pass the day at friends' homes or at the library, McMahon said. The door reopens at 4 p.m.
"Think of us as hospital triage," McMahon said. "We're a sort of last-chance ranch."
Addiction has always been the most prevalent condition among the men and women who sleep at Daybreak, followed by mental illness, McMahon said. Among the recent trends he's seen, McMahon said the number of women seeking a bed spiked a few years ago and hasn't abated, possibly due to the spread of heroin and other opiates. He said he struggles to make his budget, especially during cold winters when the drafty trailers leak their heat.
"The numbers keep going up," McMahon said about his residents. "The resources don't."