LAWRENCE — A police officer working a detail on South Broadway heard the hiss of natural gas and saw smoke shooting into the air. It was the beginning of a major gas leak that would force South Lawrence residents out of their homes and into early morning darkness Friday.
City, state and Columbia Gas officials said later in the day that a water contractor working in the area inadvertently turned off a gas valve, and punctured a gas main, leading to the leak.
The discovery of the gas leak in a new, high-pressure line at 3:15 a.m. prompted immediate evacuations of homes and buildings in the area. Electricity was shut down and locals were instantly reminded of the crippling Merrimack Valley gas disaster just a tick over a year ago Sept. 13, 2018.
Hundreds of people were forced to leave their homes Friday, many in their pajamas and only able to grab a purse or wallet, and headed to the north side of the city.
There, the Arlington School was set up as a shelter, with Red Cross, Salvation Army and other staffers and volunteers shuttling in everything from diapers, to bottled water, food and more.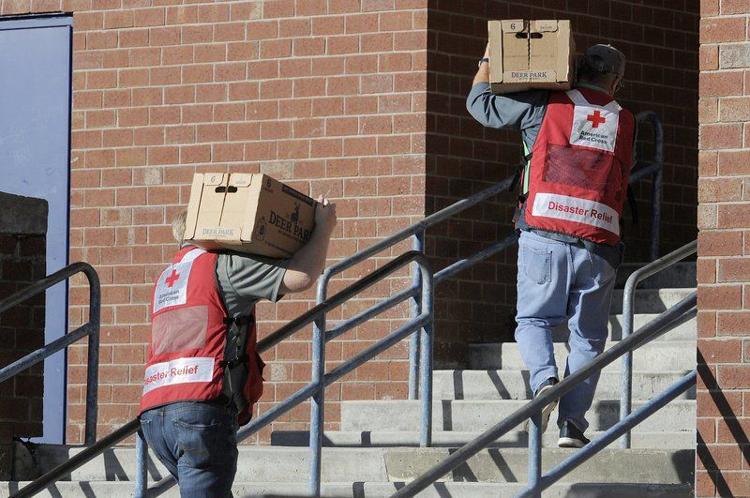 "Here we go again. This is 100 percent frustrating," said Lori Martin, a cancer patient who was evacuated and went to the shelter.
She was also evacuated from her home off South Broadway during the gas disaster last year and went without gas for four months.
Dressed in sweatpants, a blue T-shirt and flip flops, Martin had just a small purse strung over her shoulder. She didn't have any of her medications, including blood pressure and diabetes prescriptions. And she missed a doctor's appointment Friday morning.
"My anxiety hit the roof," Martin said, recalling firefighters banging on her door at 4 a.m. telling her to get out of her house.
Nearly 12 hours later, Friday at 3 p.m., residents and business people were allowed to go back to their homes and businesses, after the area was deemed safe.
Between 25 to 50 residents who live on South Broadway and Carver Street were not allowed back to their homes, though. Arrangements were being made for them to stay overnight at the shelter at the Arlington School or in hotels, said Mayor Daniel Rivera.
Unlike last year's gas disaster, caused by gas line over-pressurization, no fires or explosions occurred. A 93-year-old woman who was evacuated Friday morning collapsed, possibly suffering a heart attack, and was taken to Lawrence General Hospital for treatment. Details on her condition were not available Friday, officials said.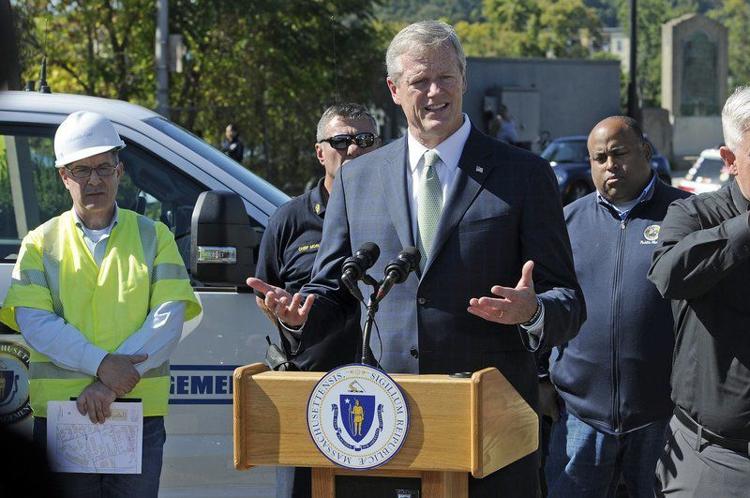 "There is no public safety issue at this point related to gas," said Gov. Charlie Baker at a 1:30 p.m. press conference a short distance away from where the gas leak occurred.
Numerous officials questioned also would not say why a police detail officer was working in the area so early in the morning.
Rivera lauded the officer's "professionalism" detecting the leak, notifying firefighters and police and "getting people to the scene to handle the matter."
"I am relieved the source has been found and they are in the process of fixing it," Rivera said.
He said another gas leak reported Friday on Lenox Circle, which is not near the evacuation area, was not related to the larger leak and involved "just a loose connection at the meter."
Baker said state utilities officials will remain in the area, as Columbia Gas repairs the leak and will keep a close eye on all work done.
"It (the leak) is not something that's happening across the footprint of last year's issue," he said. "We wouldn't let people back home if there was a bigger issue."
Earlier this week, federal regulators met in Washington, D.C., to discuss the Sept. 13, 2018 gas disaster, which affected the communities of Lawrence, Andover and North Andover.
A teen was killed, thousands displaced and damage costs reached $1 billion.
New, high-pressure gas lines were installed in South Lawrence after the gas disaster.
The federal National Transportation Safety Board, in its findings released Tuesday, said the Columbia Gas and its parent company, NiSource, were not prepared to handle such a disaster and maps of the gas system were not available for first responders.
However, on Friday, Columbia Gas Mark Kempic said maps of the gas system were immediately available for police and firefighters.
"We do really value our partnership with them," Kempic said of first responders.
A grim reminder
Lori Cosme and her husband, who is legally blind, were among those evacuated Friday morning. And like Martin, her neighbor, it was the second time she was put out of her own home due to a gas leak.
Cosme thought she smelled gas but once she stepped out of the house "it hit me instantly."
Friday's morning evacuation was an unwelcome reminder from last September, when she and five other adults and two large dogs were forced to seek refuge in a hotel room.
"I don't even want to hear their name," she said of Columbia Gas.
About four hours after he was forced out of his South Lawrence home, Luis Torres stood in the sun outside the Arlington School eating a bowl of Frosted Flakes.
Torres said his mother burst into his room at 4 a.m. and told him they needed to get out of their Crosby Street home — again.
It was the second time he and his parents were evacuated from their house due to a gas leak. The family was also forced out for four days after the Sept. 13, 2018 gas explosions and fires.
They live very close to the South Broadway fire station. The gas leak is believed to have originated in that area.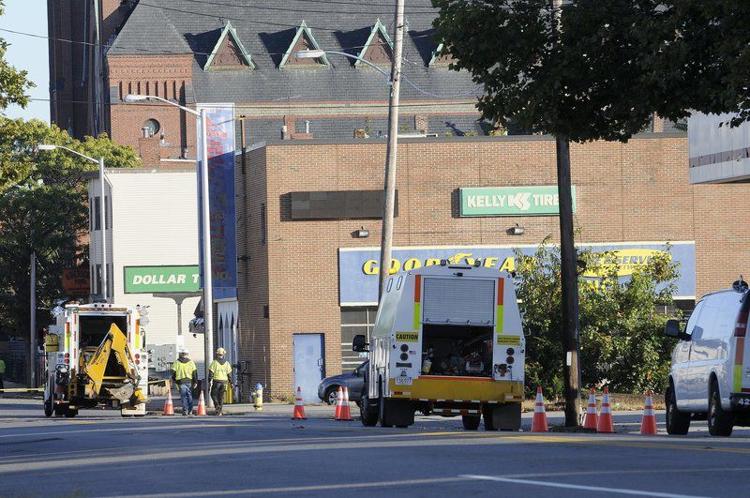 "Here we go again," said Torres, as he ate his cereal outside the Arlington School.
Kingston Street resident Mio Sanchez woke to the sound of her neighbors talking and the smell of gas.
She got a text from a neighbor at 4:10 a.m., telling her there was a gas leak.
"We are being asked to evacuate," the message said.
"I felt nauseated," Sanchez added.
She checked on her cat, then listened for explosions.
"It was a complete deja vu feeling," she said.
Last time she didn't evacuate right away. This time she quickly packed a bag in case she wasn't able to return home Friday evening.
"Last year I really needed socks. (This time) I packed five pairs of socks," she said.
She said there was a key difference with Friday morning's events and the events of Sept. 13, 2018.
"People actually left this time in a hurry," she said. "Knowing the severity last time, people left immediately and took action."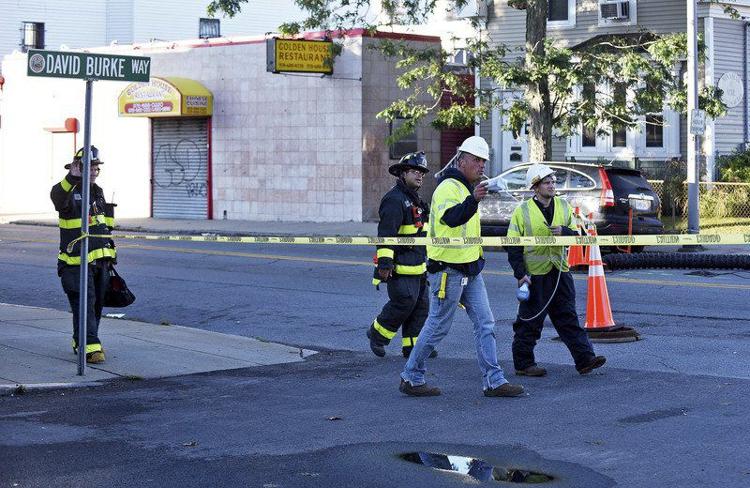 'We are used to it now'
Monica Arias heads to Cumberland's on South Broadway very early each morning to start making food for the day's customers.
But at 4:40 a.m. as she came down Tower Hill from her home and tried to turn on South Broadway, she was blocked by a police officer.
It took some twists and turns, but Arias made it into work. South Broadway was pitch black, she said.
As customers were filing in, some lamented they'd been forced to evacuate their homes.
"I think we saw a little more than usual," said Arias, the food service leader, because of the evacuations.
Kelsey Grondin, who lives off South Broadway, was awakened Friday morning by a text from her sister-in-law inquiring if she, her husband and 2 1/2-year-old son were OK.
"I was like,'What is she talking about?'" said Grondin.
The gas leak did not delay the opening of the Cor Unum meal center near St. Patrick's Church early Friday morning, however.
When asked if he was concerned about what happened, St. Patrick's pastor, the Rev. Paul O'Brien, shook his head no.
"We are used to it now," said O'Brien.
Eagle-Tribune staffers Rosemary Ford, Bill Kirk and Ryan Hutton contributed to this report.
COUNSELING SERVICES AVAILABLE 
In the wake of Friday's gas leak, mental health counseling services will be available Saturday morning from 9 a.m. to 11 a.m. at the Wetherbee School, 75 Newton St., Lawrence, said City Councilor Marc Laplante. 
"People are still on the edge from last year's crisis. The emotional wounds that they felt from that incident have not completely healed. Many have been traumatized again even if they weren't displaced today. Hopefully this counseling will assist them through this ordeal," said Laplante.