LAWRENCE — Voices echo through the empty spaces inside 46 Stafford St., joining the thrum of the air ducts that weave a labyrinth overhead. Daylight spills in from rectangular windows that on the outside look massive, but on the inside only manage to illuminate small pools on the expansive stretches of vacant factory floor.
Jitender Makkar walks along the remnants of the rows where workers once produced textiles for Polartec, until the manufacturer announced its plans to close up shop at the facility that straddles Lawrence and Methuen and move its operations to Tennessee.
Polartec put its 559,868-square-foot, two-building site up for auction last spring. Makkar, a California-based real estate broker who got his start with construction and industrial design in India, bought it for $5.35 million.
Makkar's vision for the facility is as vast as the building is large. Touring the space with his fiance Purnima Dey, the two spoke of their plans to turn the facility into an innovation hub and community gathering place. Fittingly, Makkar has renamed the building IndusPAD.
"We want to create an ecosystem where these innovators really thrive," Makkar said.
The IndusPAD facility includes a basement and two floors of manufacturing and office spaces that Makkar is dividing into 11 "pads" for companies to build out to suit their needs. 
The idea is to have innovators and entrepreneurs come to IndusPAD to "develop their ideas and prototypes and go into manufacturing here," Makkar said, going along with the IndusPad motto: "Innovate. Actualize. Succeed."
There's plenty of room for industrial uses, like a massive space just through the visitor's entrance on the first floor with 31-foot-high ceilings and 15 loading docks, and another expanse leading off of it that stretches deeper into the cavernous building.
Makkar envisions community spaces, too. A row of huge windows on the side of the building facing Stafford Street would be the ideal setting for a restaurant or sports bar. Another space across the building, near the visitor's entrance, would be great for a brewery, he said.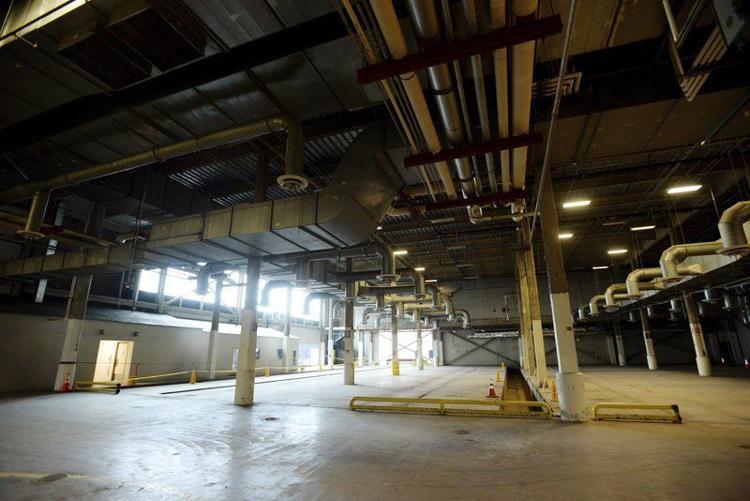 Ultimately, Makkar envisions the building becoming an industrial mall with "different sections, different businesses doing their different ventures," filled with both local entrepreneurs and outside companies wanting to make inroads in the area.
Among those expected to set up shop at IndusPAD is Beyond Organic, a Dutch indoor agriculture company, which is working to open a 30,000-square-foot hydroponic vertical farming facility to produce a range of lettuces and herbs. Makkar said he hopes the company will bring in machines in the next few months to start growing "clean" produce, without the chemicals typically found in fruits and vegetables imported to Merrimack Valley grocery stores, bodegas and restaurants from across the nation and world.
"This is going to feed the Merrimack Valley, that's the idea," said Dey, who is also IndusPAD's public relations director.
Another prospective tenant is working on prototypes to treat diseases affecting the world's banana crop, Makkar said. A medical equipment company has expressed interest in the location, too. 
Makkar and Dey spoke of working with area educational institutions to bolster the young workforce with the skills and technical training that would fit the jobs they hope to bring to IndusPAD. They are keen on bringing manufacturing back to the Merrimack Valley, modernized for the 21st-century.
"The people of Lawrence and Methuen, they're hardworking people," Makkar said. "It is time (for us) to contribute."
Makkar and Dey intend IndusPAD to be a community partner. Already, they've held events for local groups including the Merrimack Valley Chamber of Commerce and the Lawrence Partnership.
They also want to be patrons of the arts by providing studio space for local artists to grow and thrive, and eventually hope to focus on "industrial art," according to Makkar.
IndusPAD already has one artist-in-residence: 24-year-old Jonathan Henriquez, a New York native who moved to Lawrence as a child.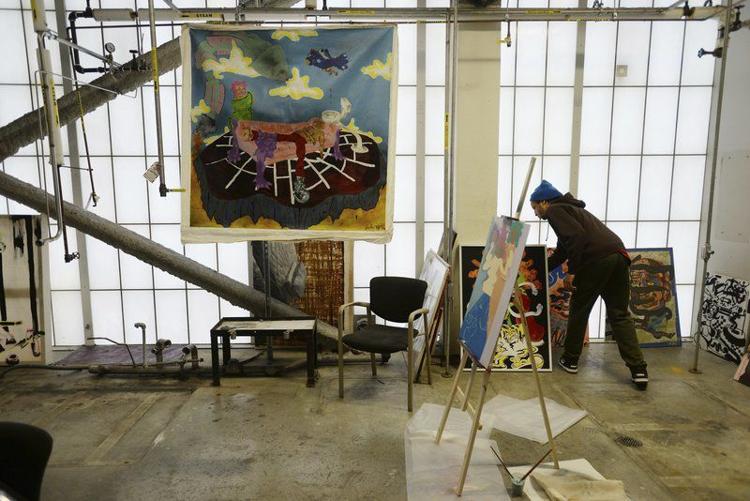 Henriquez, who as an artist goes by Jon Hen, is a painter who creates large, colorful and abstract pieces he said are borne from "what surrounds me, the energy that surrounds me, the ups and downs" of emotion.
IndusPAD is allowing him to use space rent-free for several months as the building is renovated. Henriquez, who also works at cafe El Taller on Essex Street, has already set up a studio on the second floor. 
As deals are being finalized with businesses, crews are working to remove the equipment and scrap materials Polartec left behind.
Some things will remain, however, like the massive air ducts and pipes. They'll be preserved for aesthetic purposes and industrial uses if needed, but will also serve as a testament to the building's manufacturing history.
While Makkar and Dey are new to the Merrimack Valley, they understand the importance of the building they purchased, and how manufacturing was for so long the bedrock of the region. For years, the plant served as "a manufacturing building of great intensity," Dey said, with a nod to the Malden Mills buildings before it, which were infamously destroyed by fire in the mid-1990s.
"It's important to preserve it," she said.
Follow Lisa Kashinsky on Twitter @lisakashinsky.