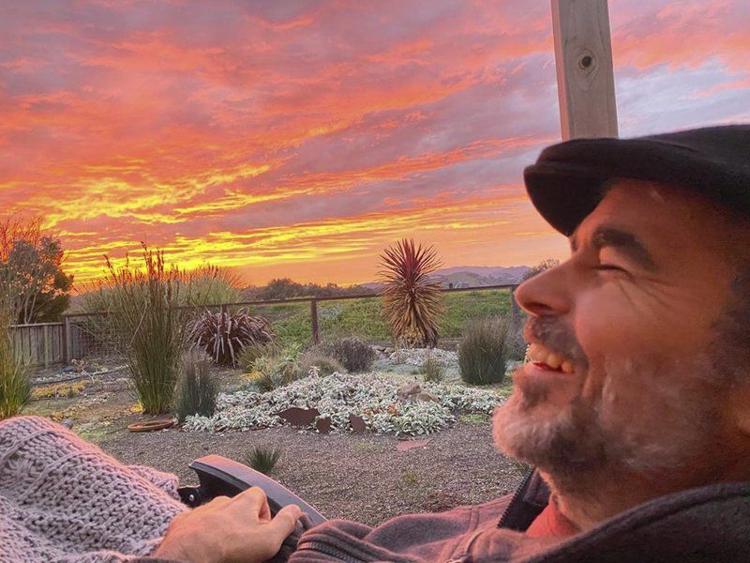 ANDOVER — In the fall of 1989, David Tucker was the kind of kid everyone envied.
He came from a well-known Andover family. His dad, Mike, was a successful businessman. His mom, Susan, was a popular state representative, and later a state senator.
He had good looks, great grades, a pleasant personality and humility. And he was tough. Man, he was tough.
"I have a lot of David Tucker stories on the football field, but the one I'll never forget was the North Andover game," said Pat Finn, who was then Andover High School's quarterback.
"They were undefeated and very good," said Finn. "Hunter Lochman blocked a punt, and David scored two plays later. By the end of the half David had three touchdowns. He got a fourth in the second half. And I don't know how many tackles he made at middle linebacker; it seemed like he made every tackle that game."
Tucker led Andover to an improbable, 41-0 win that night.
"He was a man among boys," said Finn.
Asked to describe his style after that game, Tucker called himself "a punishing runner that tries to hit them harder than they hit me."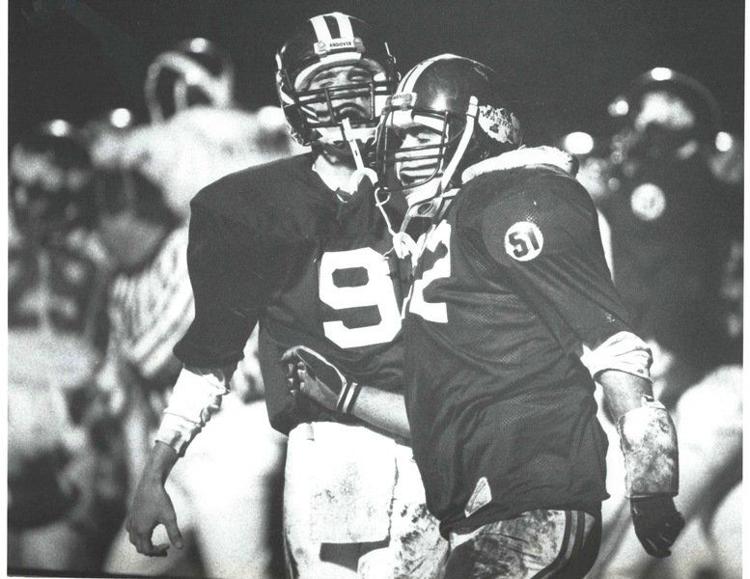 In his book "The Word 'Quit' Does Not Exist," Andover High coach Dick Collins summed him up much the same: "Andover never had a tougher and harder running back than Dave Tucker."
Now, three decades later, Tucker, 49, still has his good looks and pleasant smile. But now he's is the fight of his life.
Tucker has amyotrophic lateral sclerosis, or Lou Gehrig's disease, the same illness that Pete Frates battled. He's weak and can barely speak. He needs the aide of a 24-hour caregiver. When he isn't chair ridden, he's bed ridden.
The stress of the degenerative disease is bad enough. It's been much harder, especially for Tucker's family, due to the pandemic.
And, according to his wife and a doctor who has been giving Tucker experimental treatments, the head injuries he suffered while playing football — particularly due to his rock 'em, sock 'em style — likely had something to do with his contracting ALS.
"I wouldn't wish it upon a worst enemy," said his wife of 14 years, Sabine (pronounced Sa-BEE-nay), who resides in northern California with their two daughters, Siena and Autumn.
"It's a condition that starts to strip you of your everything," she said. "It's vicious. It's terrifying. It starts to take away everything from you."
Tucker's transformation
Tucker's football journey took him to Denison University in Granville, Ohio, where his older brother and fellow Eagle-Tribune All-Star, Mark Tucker, was playing baseball.
His football experience there wasn't as enthralling as high school, however. Tucker was playing in an archaic, single-wing offense, in which he was essentially an offensive lineman.
It was the beginning of a transformation into the next part of his life.
The bruises and concussions that David suffered as an "all-in" footballer took their toll, and at the tail end of his college years they propelled him into an inquiry of healing.
He developed a sense of self, according to his wife, and had a spiritual awakening.
That led him to join the Peace Corps, which he was serving when he encountered Sabine during a chance meeting in Costa Rica.
"It was Thanksgiving in 1995, we were in the capital city, San Jose, at a Peace Corps event," she recalled. "We were both there, said 'hi,' nothing special."
Nearly four years later, both were living in the San Francisco area when they ran into each other again, this time at a gathering of a mutual friend. David was working for a non-profit focused on helping indigenous people in the rainforests in Ecuador.
"I remembered his eyes being so clear," she said. "There was something so sweet, kind and tender about him. He told me about his high school days and love of football, and then his spiritual journey that followed.
"I remembered saying, 'I never would have gone for you in high school,'" she said.
They have been together ever since.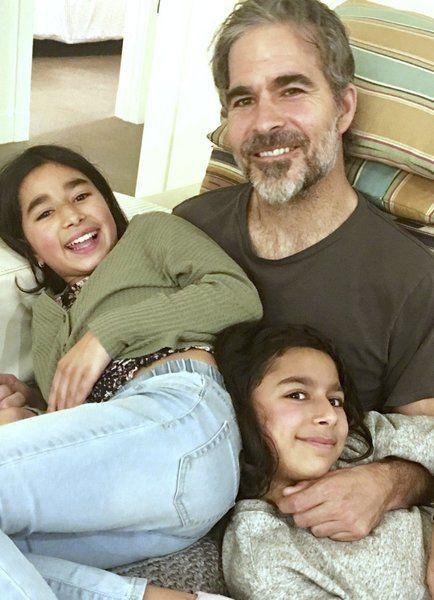 They married about six years later, in 2005. They've had two daughters, Secoya, now 11, and Autumn, 9.
In 2012, they moved to Ecuador, near the Amazon forests, so their girls could experience their parents' connection to nature.
After two "enriching" years there, said Sabine, they returned to San Francisco so the girls could begin attending a Waldorf school, with its heavy emphasis on art and music, and where they could focus on a collaborative community and relationships.
Football was long gone but David held onto exercise — weight training, toning, yoga, running and a natural diet.
Sudden falls
Then, about 18 months ago, around Christmas of 2018, he mentioned problems he was having with his right foot. It sometimes dragged.
"He would tell me, but I wasn't quite aware," said Sabine. "It wasn't anything that stood out or was noticeable to me."
They had gone to a retreat for their anniversary in April 2019 when everything changed. He stumbled to the ground while walking on a small hill.
A week or so later, while at home, he fell again.
They sought out a neurologist, getting an appointment in late May, then another on June 3.
Sabine said she remembers the day because she'd come home early from her father's birthday party.
"They had done some muscle testing. David was quite strong. The fear was that it was ALS," she said. "But they tested for so many things — like mold, Lyme disease, toxic metals, different toxins. He was bitten by a tick two years earlier."
Each month since then has been worse.
"He basically became helpless," said Sabine. "Here was this beautiful, strong man months earlier. Now he can't feed himself.
"Everything happened so quickly," she said.
'I had to do something'
David has had support, though. A close family friend, Catherine Gray, who'd worked in the same non-profit circles, took a lead role in not only helping care for him but also in searching for solutions, including a doctors who would treat him.
Catherine had a family and job of her ow, but she wanted to help with David's care.
"David is one of the nicest people I've ever met," said Catherine. "Everyone that knows him feels the same way. He's a kind, caring man. And this is devastating, tough to see.
"I had to do something," he said.
It wasn't long before David needed 24-hour care. Last fall he moved to a handicapped accessible apartment closer to Catherine and his new full-time caregiver. It's about 40 minutes away from Sabine and their daughters.
"It was not easy being away from us, but it was necessary," said Sabine. "With everything we have at home, especially the girls and school, and my job, it was better that he could be with a caregiver who focused on David. He came home for Christmas, which was wonderful."
Experimental treatment
As it became clear that David had ALS, Catherine started to look for answers.
She'd lost two close friends to the disease, and nothing seemed to work, she said. So she started researching doctors who not only treat the devastating disease but are seeking solutions.
David's supporters found two doctors, including one in particular, Dr. Marc Abreu, whom Catherine said has "developed a cutting-edge treatment that is having miraculous results."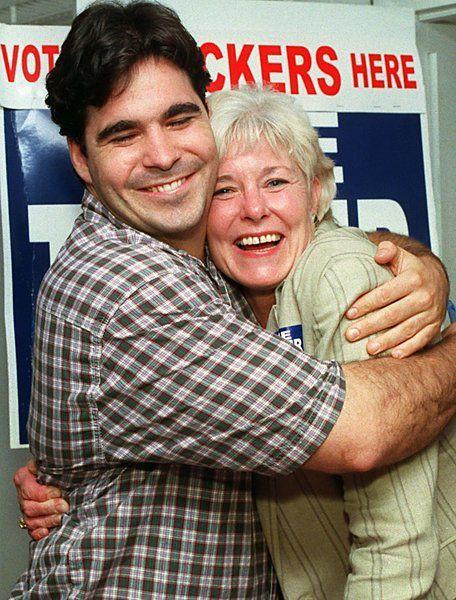 "They are much more than neurologists and experts in their field," she said. "They are kind, sensitive, holy men who are deeply spiritual and understood David the minute they saw him."
Abreu is a neurologist who has spent more than two decades researching the thermal dynamics of the brain. As a Yale University researcher, he was the first to measure brain temperature, non-invasively, in 2003. He has since started a private company, Brain Tunnelgenix Technologies Corp., just outside of Miami, Florida, where he works with patients suffering a variety of diseases, from multiple sclerosis to stroke.
Abreu said David's case is notable because, as with other ALS patients, damage from repeated concussions was not so much the issue as was the "eruption of the brain blood barrier." Without healing after a concussion, he said, the brain degenerates.
"Once you have the compression, once you have any of those injuries, you should not be back on the field within 72 hours," he said. "But what I'm hearing is they immediately went back.
"I believe that is an ultimate trigger for ALS," he said.
Abreu's experimental therapy involves using a thermal tunnel to apply heat to the brain, via a conductor applied to the head, in a process that lasts anywhere from 90 minutes to six hours, he said.
Abreu said he has treated David four times over the past six months, postponing another visit due to the coronavirus.
He said there is potential to restore some of his function.
"David came to us very advanced (with ALS)," he said. "But he has made some progress. His speech has improved some. It's challenging."
So is the cost.
Sabine said monthly expenses for David's care are about $22,000. His cross-country trips and visits to Abreu's offices are another $50,000 each.
"David has insurance, and it covers some things," she said. "But it doesn't cover the caretaker. It doesn't cover a lot of our big expenses, including Dr. Abreu's (services)."
Unbearable
After two decades of a calm, inspiring life together, Sabine said the last six months, particularly the last three, have been torture.
Battling ALS is one thing. The coronavirus often has made it unbearable.
"I cry every day," she said. "The virus has made this 10 times more difficult than it already was. I had to stop working. I had to become a teacher for my girls. And I'm trying to teach while my husband is struggling mightily with ALS.
"It's been the worst experience of my life," she said. "… I have to show a strong face for my daughters. I have to."
Mike, 84, and wife Sue Tucker, 75, are also going through difficult health issues of their own.
They lost their other son in December 2017 to a heart attack suffered while he was vacationing in Florida. David ended up going to Florida, having his brother cremated, and bringing his ashes back with him to the West Coast.
"(Mark's death) was tough on everyone," said Sabine. "David took it really hard. So did his parents. That was a tough time for all of us."
David's prognosis has also been painful for his parents, who still live on Farwood Drive, home to so many sports gatherings back in the day.
"It's been the toughest time of our lives," Mike said recently.
Thousands of miles away, their son, whom his high school quarterback called as "tough as they come," battles on.
"The best part of David, as great as he was, he never cared about the accolades," said Finn. "He never had an ego. That part of David has always been with him — even today."
Bill Burt is Executive Sports Editor of The Eagle-Tribune. Email him at bburt@eagletribune.com.
Supporting David Tucker
Medical costs for David Tucker's fight against ALS have sky-rocketed. Routine care and services offer upward of $22,000 per month. Travel for treatments and the procedures themselves cost thousands more, as a doctor not only tries to slow the growth of the ALS but improve Tucker's quality of life.
Tucker lives in the San Francisco area with his wife, Sabine, and daughters, Secoya and Autumn.
Family friend Catherine Gray has set up a GoFundMe.com page to defrayTucker's medical expenses. See www.gofundme.com/f/jwxfy-support-for-the-tucker-family for more information.