This summer marks the first time in a very long time that every Merrimack Valley community will offer fresh local produce to residents through farmers markets, matching a statewide renaissance of the age-old tradition.
In the early 1900s, markets were a ubiquitous staple of American life. But with improved transportation and refrigeration technology, local markets dried up, and people followed urban sprawl all the way to the supermarket.
That is, until the grow-local movement took root. Over the past decade or so, farms in Massachusetts actually have grown slightly — in acreage and numbers —and thanks to farmers markets and community supported agriculture, a lot of what they're growing and selling is staying in-state.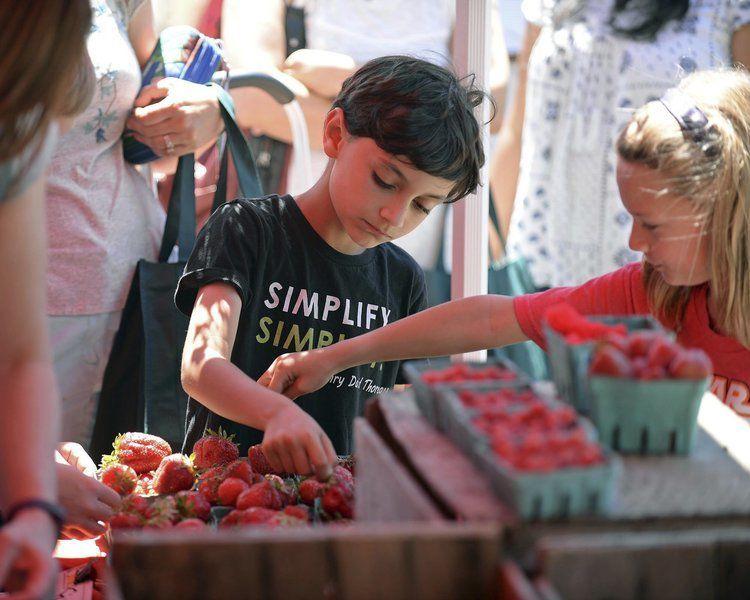 According to the most recent Census of Agriculture data, Massachusetts ranked fifth in the nation for direct market sales in 2012, and the number of farms in the state offering to sell their products directly to consumers increased by nearly a third from 2007 to 2012.
David Webber, the state's farmers market coordinator, said the increase is due in part to a need for farmers to diversify their operations in order to "weather the storm" of a relatively short growing season and dangers of unpredictable New England weather.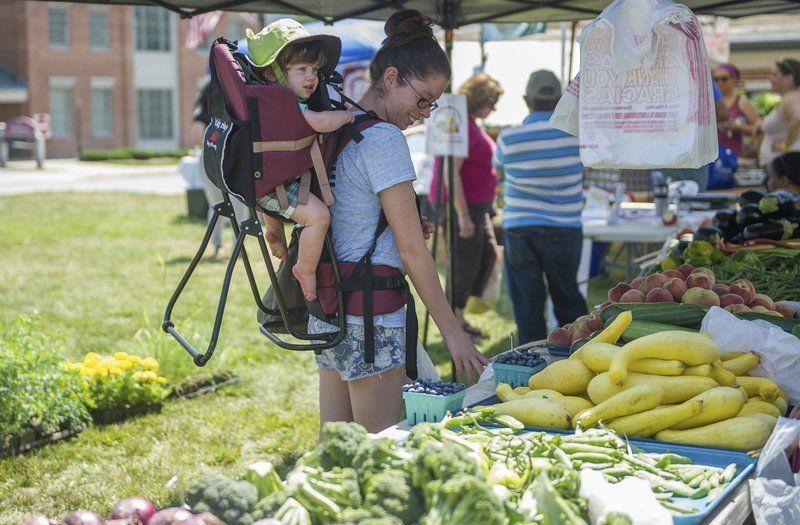 "Many growers in Mass operate pretty diversified farms, so they may market in different ways. There are some farms that only go to farmers markets, but many farms around here also have a farm stand or a CSA, and do a little bit of wholesale as well," he said.
Destination marketplace
Farmers markets in the area don't just offer fruits and veggies. A stop at the Andover market will supply visitors with fresh meat, homemade candles, and a healthy dose of local music. 
Lawrence's market has a fish vendor new this year, and a vendor at Haverhill's market sells homemade dog treats.
The last community to jump on the market bandwagon in the region was North Andover, which launched a market last month, though advocates had been working on it for years.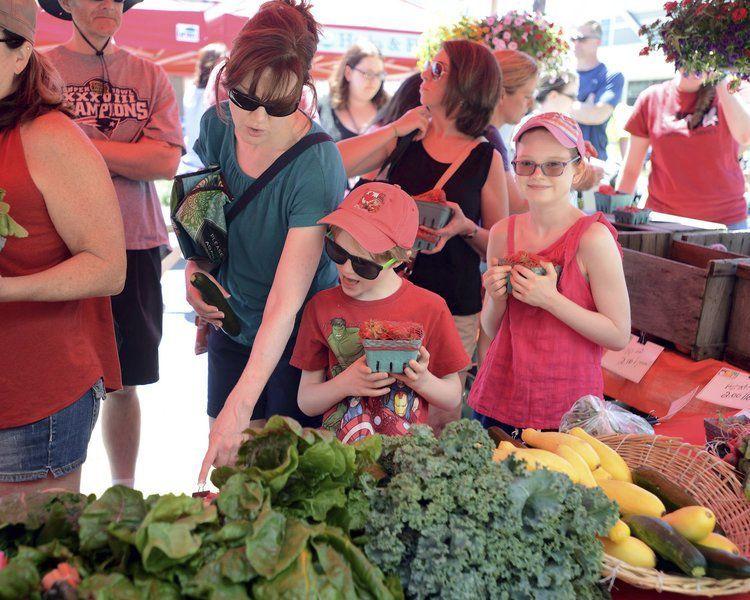 "Every community that surrounded us had a market," said Board of Selectman chair Phil DeCologero, who helped start the North Andover market in his capacity on the market planning committee and the North Andover Merchants Association.
DeCologero said he wanted the market to bring more foot traffic to the downtown area, something Webber cited as a main factor in grassroots efforts to bring a farmers market to a community.
"They start in all different ways," Webber said. "Some markets are started from a local community development angle ... some are sponsored by nonprofit organizations, as well. ... Sometimes it's a health-based organization interested in nutrition and access ... and sometimes it's the farmers themselves."
Increased access to fresh food
Markets in Methuen and Lawrence are fueled by a desire for increased access to healthy foods for all people. They are organized by Groundwork Lawrence, a nonprofit that aims to protect the environment through community partnerships.
"We're trying to increase access to fresh fruits and vegetables for our community," said Rose Gonzalez, community engagement director at Groundwork Lawrence. "We also want to support local farmers, and in terms of local economies, markets keep money local."
Some markets accept Women Infants and Children (WIC), Supplemental Nutrition Assistance Program (SNAP) and senior coupons. 
Methuen's market is sponsored by Holy Family Hospital, which Gonzalez said supports the market as a creative way to address preventative health measures. 
"If they have a patient who comes in with diabetes, they'll give coupons for the market," she said.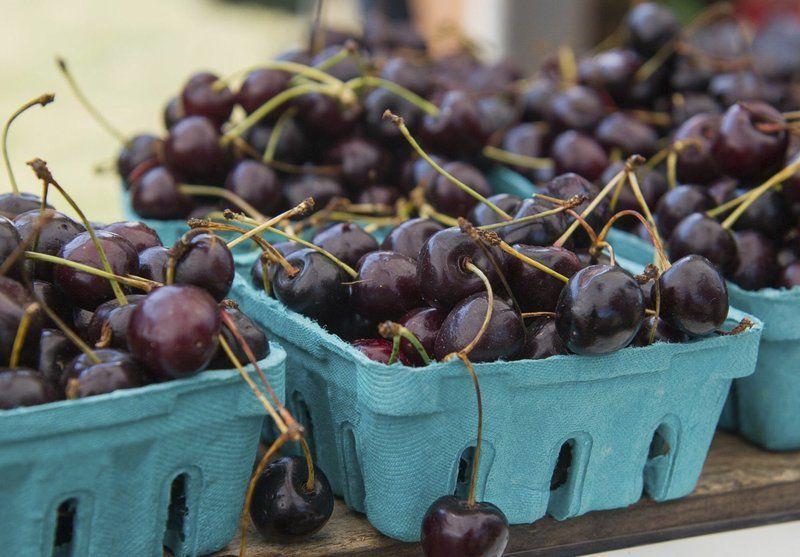 This year the state is piloting the Healthy Incentives Program, which encourages SNAP recipients to buy more fruits and vegetables through local avenues by matching their market purchases dollar-for-dollar.
"They put money back on your card. You're incentivized to shop locally, and its stretching your food dollars because the money you earn back can be spent to get some of your other groceries," Gonzalez said.
Keeping it local
Farmers markets serve different purposes for different farmers. For smaller or newer agricultural endeavors, they can provide the main source of income. And for larger or more established farms, markets can broaden the customer base.
"I think there's a renewed interest in sort of the whole local food movement, buy local, in the last 10 to 15 years there's more interest in local food. It's maybe getting some younger folks or people looking to get back into farming in a new way," Webber said.
Local farmers engage in sustainable and organic farming practices to produce healthy food for people in the community, who in turn provide the money necessary to sustain the farmers. Each shares in the success of the other in a mutually beneficial relationship that has become a model for sustainability, according to the website of the Farmers Market Coalition, a nonprofit dedicated to strengthening farmers markets nationally.
For Michael Smolak, of Smolak Farms, farmers markets introduce more people to the established North Andover destination.
"One thing they do for us is getting us outside of our geographic area and letting people know what we do here," said Smolak, who admitted he had tried participating in farmers markets before but found them not worth the cost for his particular establishment.
He also sits on the Massachusetts Farm Service Agency State Committee, as well as the Massachusetts Agricultural Board, and was involved in planning the farmers market in North Andover.
Smolak said he has seen farmers who were pulling in $30,000 without a farmers market increase their haul to $200,000 after just one year on a market circuit.
"The big agricultural states, the big square states, we're small potatoes compared to what they do," said Smolak. "But Mass. is so innovative that what we've done is taken an area very difficult to grow crops on any large scale, and made it a very viable business."
AREA MARKETS
Andover: 97 Main St., Saturdays 10 a.m. to 2 p.m. WIC and Senior Coupons accepted, EBT-SNAP accepted with select vendors.
Haverhill: 40 Bailey Boulevard, Saturdays 9 a.m. to 1 p.m. WIC and Senior Coupons accepted, EBT-SNAP accepted.
Lawrence: Campagnone Park, Wednesdays 10 a.m. to 3 p.m. and North Parish Road at Winthrop Avenue Saturdays, 10 a.m. to 3 p.m. WIC and Senior Coupons accepted, EBT-SNAP accepted.
Methuen: 254 Broadway, Fridays, 10 a.m. to 3 p.m. WIC and Senior Coupons accepted, EBT-SNAP accepted.
North Andover: First and Main streets, Sundays 10 a.m. to 2 p.m. EBT-SNAP accepted with select vendors.