NORTH ANDOVER — Another teenage girl has come forward with a story of a sexual assault by Eliezer Tuttle that she says happened while both were students at North Andover High School.
The girl says Tuttle raped her in October 2017 when she was 15 years old, according to a police report and an interview with her mother, Michelle Crowe. The case was not prosecuted, Crowe said, because investigators thought her daughter was "too fragile to testify" during trial.
Tuttle, now 18, was arrested last week in Salem, New Hampshire, for allegedly raping a different girl twice in the same day in the back seat of his car. He remains held without bail in Rockingham County Jail.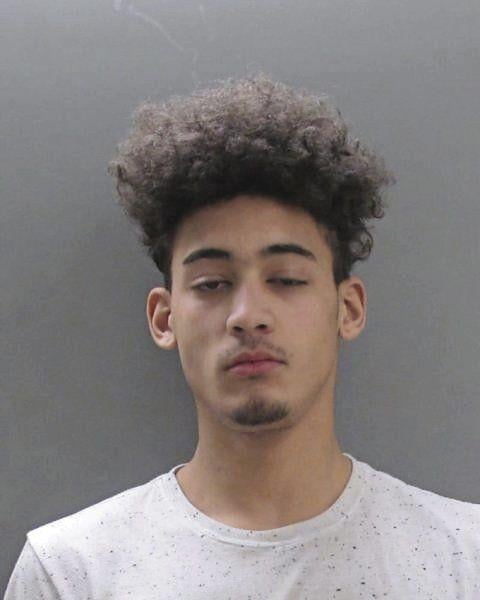 When Tuttle was arrested in New Hampshire, he was on probation for another sexual assault that occurred in April 2018, court documents reveal. The young woman in that case – also a North Andover High student — reported the assault to school administrators.
Tuttle, then 17, was arrested and was placed on probation, but continued to attend classes and participate in sports at the high school. His case in juvenile court was continued without a finding, meaning the defendant acknowledges sufficient facts for a jury to convict, without actually pleading guilty. If the defendant complies with the terms of his probation, the case will be dismissed without record of a conviction.
School officials had the victim in that case sign a contract, which administrators titled a School Safety Plan, that limited her movement around the campus so she would not come into contact with Tuttle. Tuttle signed a similar agreement.
Crowe said school administrators also asked her daughter to sign a School Safety Plan to limit her movements to keep her away from Tuttle. Her daughter did not sign the contract, she added.
The Eagle-Tribune does not name victims of sexual assault without their consent. Michelle Crowe gave The Eagle-Tribune permission to publish her own name, however.
The October 2017 incident involved her 15-year-old daughter, and the police report was filed the day after the incident. Tuttle was 16 at the time. He first denied to police that anything occurred, then a half-hour later said the girl initiated sex, the report reads.
Asked why the case was not prosecuted, Carrie Kimball, spokeswoman for Essex County District Attorney Jonathan Blodgett, said she cannot comment on the case because it involves two juveniles.
Police report details
According to the police report supplied to The Eagle-Tribune by Crowe, the girl and a male friend were at Tuttle's house playing video games and relaxing. Tuttle started to massage the girl over her sweatshirt and eventually slipped his hand onto her bare skin, according to the report.
The girl told police that she "continued to slap and push his hands away and tell him not to touch her."
The male friend, also in the room, announced that he was going to Dunkin Donuts and asked if anyone wanted to join him.
The girl told police that she tried to send "signals" that she was uncomfortable and wanted to leave, but Tuttle pulled at her arm, making her feel like she couldn't get up.
The rape happened soon after the two were left alone, the police report states.
Also according to the report, the girl felt "shocked" and "frozen" while "thinking why is he doing this?"
She reported that she "didn't want to say anything because it wouldn't make a difference. He wouldn't get off me."
She told police that she answered a phone call from a friend during the attack and Tuttle "kept going."
That friend told police during an interview later that the girl sounded "out of it" and upset during the call, and that after the attack, the two met. The girl told her friend the same story she would share with police the next day.
The girl said she told Tuttle "four or five times that she had to go," according to the report, "but he would not answer her."
Eventually, the girl said she was able to get Tuttle off her in order to put her clothes back on. She told police she left the house, where the friend who had left for Dunkin Donuts picked her up.
He told police during an interview included in the report that he could "see it in her face" that something was wrong.
Her eyes watered as she spoke of just being raped, he states in the report.
The male friend told police that looking back, he regretted leaving the girl alone with Tuttle.
Tuttle interview
Two interviews with Tuttle and his mother are also described in the police report. They happened during the same day as the October 2017 girl's interview, at the Police Department, at 2:12 p.m. and again at 3:05 p.m.
Police wrote in the report that Tuttle was asked what he did after school the day before, and that he answered, "I went home to (address)."
He told police nothing happened with the girl, according to the report. He repeated, "as far as I know nothing happened" and that he only gave her a hug.
Within 20 minutes, the report notes that Tuttle's mother invoked her son's right to an attorney and ended the interview.
But at 3:05 p.m., the report states, Tuttle and his mother "decided to speak with us (police) again."
Tuttle told police that the girl had a sore back and he gave her a massage, during which she started to touch him "sexually," according to the report.
"She then kind of made me put it in," the report says. "Then we had sex."
School Safety Plans
Crowe told The Eagle-Tribune that the school presented her daughter with a contract, labeled a School Safety Plan, but that she did not allow her daughter to sign it. 
Her daughter has since transferred out of the North Andover school system and attends a school specializing in teaching students with trauma-based needs. The family relocated out of North Andover.
The family's relocation and the daughter's need for specialized school were fueled by the situation with Tuttle, the mother said, and came after fights with the district about where her daughter should be educated.
"They offered that she could go to night school," Crowe said. "I said I think she's the victim here."
Similarly, the April 2018 victim — who did sign the contract — told The Eagle-Tribune her grades began to suffer and she was in danger of failing to graduate. She began attending night school at North Andover High seven months later.
The school administration issued a new School Safety Plan at that time, mandating that she could not be near the gym, where her attacker participated on the wrestling team after school.
North Andover School Superintendent Gregg Gilligan did not return a call for comment on this story.