Thursday's cataclysmic gas rupture has elicited an overwhelming community response, with first responders, nonprofits and everyday citizens pitching in from across eastern Massachusetts and beyond.
First came the mutual aid, with fire companies and police cruisers trucking in from across Massachusetts and Southern New Hampshire.
Then came the nonprofit aid groups, from national outlets like the American Red Cross and the Salvation Army to local organizations such as Bread & Roses in Lawrence.
"The community's coming together, and that's what we need right now," said Susan Sirois, executive director of Bread and Roses.
The American Red Cross on Friday continued to operate four shelters across the three communities following a series of natural gas-bred explosions and fires that rocked the Merrimack Valley Thursday.
Some 18,000 homes and businesses remained without power across the three affected communities – Lawrence, North Andover and Andover – throughout the day Friday as crews continued to go house-by-house shutting off gas lines.
While many residents were able to find places to stay with local family or friends, or headed for hotels, a couple hundred went to area shelters, according to Deb Duxbury, Red Cross disaster program manager for the territory containing the Merrimack Valley.
The four Red Cross shelters are: Parthum Elementary School, 255 East Haverhill St., Lawrence; Arlington Middle School, 150 Arlington St., Lawrence; North Andover High School field house, 430 Osgood St., North Andover; and the Cormier Youth Center, 40 Whittier Court, Andover.
Duxbury said early Friday the Red Cross was planning to keep its shelters open through Sunday, and is providing food and water to those seeking refuge across the four locations, and at the main emergency command center in Lawrence.
"We're thinking we need to be in sheltering mode until all the cities are back up and running," including restoring power and gas service, Duxbury said.
According to a Red Cross count, three homes in Lawrence exploded and between 40 to 50 homes in the city were affected by fires, some of them major, Duxbury said. About 25 homes in Andover were affected by fires, and about 15 homes in North Andover, she said.
"We can't do damage assessment until we're allowed to go into these neighborhoods," she said.
The Red Cross is also coordinating clothing donation efforts with local nonprofit Debbie's Treasure Chest. Businesses or individuals seeking to donate water, hand sanitizer, paper towels or similar supplies can bring them directly to the four shelters, Duxbury said.
Methuen resident Addyson Plouffe, 10, was among those who showed up to the North Andover shelter to deliver reinforcements. She and her father carried in trash bags of old clothes and stuffed animals she and her younger sister, 7-year-old Mikayla Plouffe, no longer used.
"We want to give it to the kids who didn't have anything," Plouffe said earnestly, adding, "It's just nice to do that."
Louise Daubresse and her family came by with homemade frittatas and pasta salads. While they were redirected to the Lawrence shelters – the North Andover one had enough food at the time – Daubresse, among the North Andover residents unaffected by the gas criss, was happy to help.
"I'm grateful my house is in a safe place. I can't even imagine the devastation," for those affected, she said. "It's unheard of. It's people's homes, their families."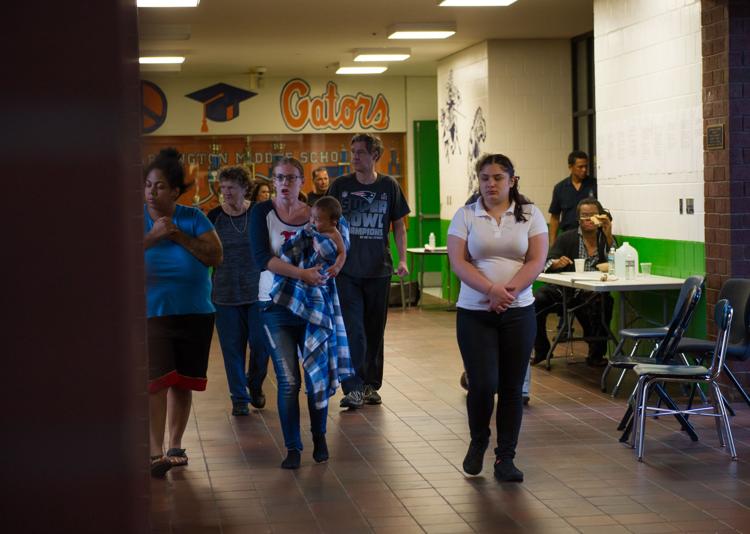 Along with the Red Cross shelters, the Lawrence Senior Center was also open Friday. Bread & Roses was helping to direct supplies there, including hygiene products and medical supplies.
"My kind of overreaching goal is not just to show up at a place with stuff, but to know what they need exactly and to bring it exactly to the door it needs to go in," Sirois said.
For Bread & Roses, providing disaster relief in this situation is personal. Sirois said several volunteers on hand Friday were evacuees themselves.
"We have a former board member who's homeless right now," Sirois said. "Her husband is at home waiting for Columbia Gas, and she's here volunteering."
The MSPCA at Nevins Farm in Methuen was also offering free shelter to animals in need. Spokesman Rob Halpin said at various points there were up to 20 dogs, 17 cats and a parrot taking refuge at the animal shelter and adoption center.
"We are expecting more animals today and have relief staff coming from our two other shelters in Boston and on Cape Cod to help," Halpin said Friday morning.
Then there were the relief funds, most notably the Lawrence Emergency Fund, set up through the Essex County Community Foundation, which was collecting donations to support those affected throughout the Greater Lawrence area.
The rapid community response drew praise from area leaders Friday.
"I've been proud of the bipartisan leadership of the state ... and I'm proud of the people who are going through this. The American spirit that came through at the shelter last night was just incredible," said U.S. Rep. Seth Moulton.
Anyone seeking emergency shelter for their animals can call Nevins Farm at 978-687-7453 ext. 6101. After 5 p.m., call the MSPCA's 24/7 emergency hospital, Angell Animal Medical Center, at 617-522-7282.
Those seeking to donate to relief efforts an contact the Red Cross at http://redcross.org; email breadandroseslawrence@gmail.com or breadandroses2@gmail.com; or go online to http://www.eccf.org/lawrenceemergencyfund.
Follow Lisa Kashinsky on Twitter @lisakashinsky.