SALEM, Mass. — A Lawrence teen convicted of killing and beheading a classmate was sentenced to life in prison with parole eligibility after 30 years — the maximum penalty allowed for a juvenile murderer under state law. 
Mathew Borges, now 18, had an opportunity to address the court during his sentencing Tuesday but opted to say nothing, consistent with his demeanor throughout his murder trial. 
On May 14, Borges was convicted of killing Lawrence High School classmate Lee Manuel Viloria-Paulino, 16, who was last seen Nov. 18, 2016. His remains were found on the Lawrence riverfront on Dec. 1, 2016.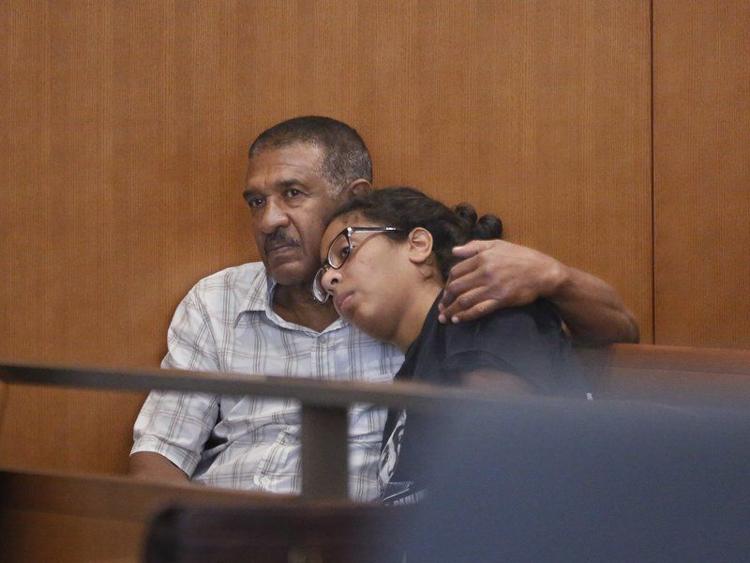 Prosecutors said Borges, then 15, committed the crime because he was both jealous of Viloria-Paulino and had homicidal tendencies.
Viloria-Paulino's head and hands were severed and his body had been stabbed dozens of times prior to his death, according to trial testimony. 
Jurors, agreeing with prosecutors, said Borges murdered Viloria-Paulino with pre-meditation and extreme atrocity and cruelty. 
Viloria-Paulino's mother, Katiuska Paulino, gave a tearful victim impact statement during the sentencing hearing in Salem Superior Court on Tuesday afternoon. She repeatedly referred to Borges as an "assassin" and described her family's enormous loss and struggle to get through each day without Lee. 
As they did during the trial, Viloria-Paulino's family, including aunts, uncles and grandparents, lined a front row on the right side of the courtroom gallery. They wore black T-shirts with Viloria-Paulino's image on the front.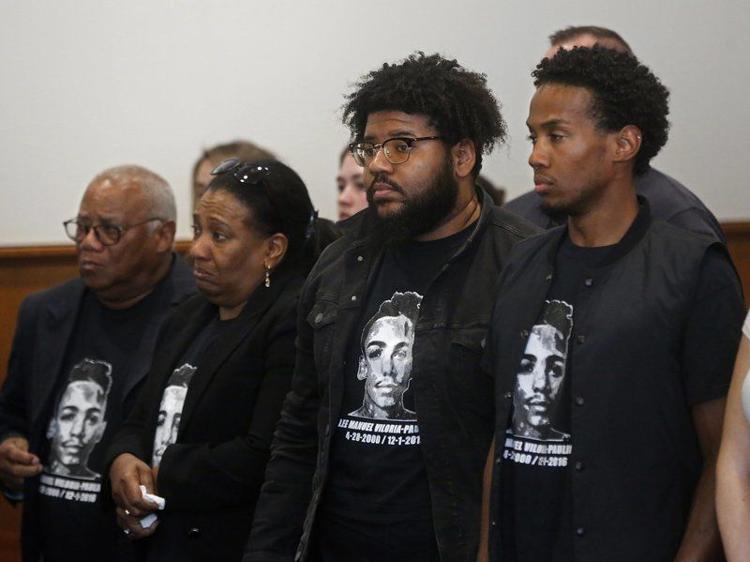 "Sharing a meal with family was one of his favorite things," she said, noting her son disappeared just before Thanksgiving 2016. 
She described her son as a dreamer, poet, and writer who was a "sincere, loving, responsible, charismatic and altruistic young man." 
"Now, with him gone, we feel like we just can't breath," said Paulino, noting no sentence or punishment will bring Lee back to the family. 
Although he was 15 years old when he committed the murder, Borges was tried as an adult.
Normally, an adult convicted under state law of first-degree murder is punished by life in prison without the possibility of parole.
However, in 2013, the state's Supreme Court ruled a life sentence without the possibility of parole was unconstitutional for juveniles. 
Echoing Viloria-Paulino's mother, Prosecutor Jay Gubitose urged Judge Helene Kazanjian to sentence Borges to the maximum penalty allowed under law — life in prison with parole eligibility after 30 years. 
"This is something he was looking forward to, anticipating," said Gubitose of Borges committing murder. "Lee was stabbed dozens of times while he was still alive." 
But Borges' defense attorney Edward Hayden said he felt Borges could be redeemed and asked Kazanjian to consider setting parole eligibility at 25 years. 
"He has been convicted of a horrible offense, but he is not irredeemably depraved," Hayden said. "There is hope for his redemption. He can change his life." 
Addressing the court, Kazanjian said she had taken many things into consideration: Borges' writings about killing, which was trial evidence; the "very, very serious" nature of the crime; the family's impact statement; and "how could a 15-year-old child" kill a friend in this manner. 
She also said, "No one is beyond hope. I always have to look for hope in people." 
Borges, who has been held at Middleton Jail since his 18th birthday, will now be transferred to MCI-Cedar Junction. He was given credit for 948 days he's already served. 
Outside court Tuesday, Hayden noted that Borges, while in the custody of the Department of Youth Services after his arrest, earned his high school diploma at an accelerated rate and also started taking college classes. Also, he had no disciplinary infractions while there in the structured environment.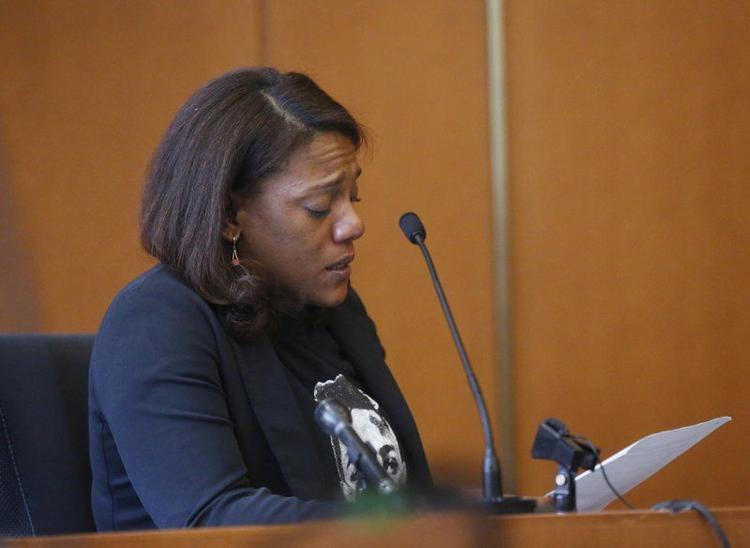 "People do change from when they were 15," he said. 
When asked if Borges was sorry, Hayden said, "He feels badly for the Paulino family." He declined further comment on his client's sentiments.
District Attorney Jonathan Blodgett, in a statement released after the sentencing, said the "vicious murder claimed more than just Lee Paulino's life."
"Its brutality was shocking to the community and tore at our sense of decency and humanity. Most of all, it has devastated all those who loved Lee. His family will never celebrate his graduation or his birthday. They will never know what he would have become. It is a loss that simply cannot be measured. Understanding that there is no number of years that can restore this family's loss, it is my hope that they can now find some peace," Blodgett said in the statement. 
In the spring, a large part of the trial testimony revolved around a break-in planned at Viloria-Paulino's Forest Street home in Lawrence. Numerous family members lived there with him.
Four young men testified Borges was tasked with getting Viloria-Paulino out of his house and to the Lawrence riverfront while they broke in and robbed him of clothing, belts and electronics on the night of Nov. 18, 2016.
After the burglary though, Borges called and told them he had killed Viloria-Paulino, they testified.
After eight days of testimony, the jury deliberated for a little under nine hours before reaching the verdict. Borges did not testify and no witnesses were called in his defense.
The trial spanned 10 days. No one from Borges' family attended the trial or Tuesday's sentencing. 
Follow staff reporter Jill Harmacinski on Twitter @EagleTribJill.