METHUEN — Mildred Maria Reyes stood in line offstage, applauding each student called before her, inching ever-so-slowly toward the stairs. When it was finally her turn, Reyes strode forward to receive her diploma, beaming as Superintendent of Schools Judith Scannell wrapped an arm adoringly over her shoulders.
The 17-year-old's journey to that stage Friday evening wasn't easy. She fell ill her junior year with a disease that attacked her kidneys, leaving her "literally between life and death," she said.
Instead of running track, Reyes started shuttling back and forth to Boston Children's Hospital. A six-month steroid treatment made it hard to sit through class. But she persevered: Reyes graduated from Methuen High School on Friday with highest honors and plans to study biochemistry at UMass Amherst. Her health continues to improve.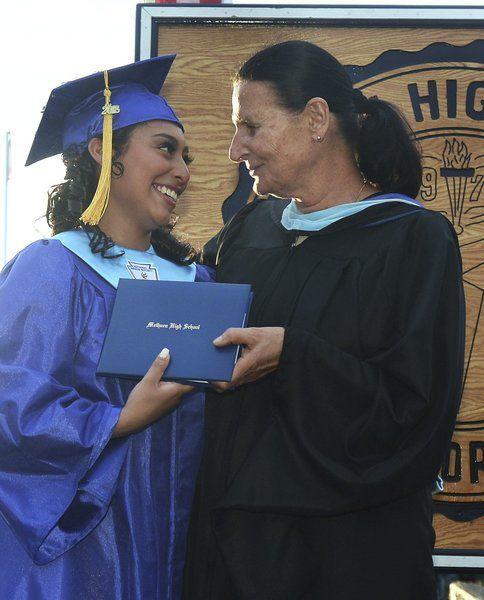 Clad in a Ranger Blue robe and mortarboard, Reyes said it was "shocking" to have made it to this point, but was grateful for the people and opportunities that got her there. 
"Everyone was supportive," she said.
A drizzly afternoon that threatened to postpone commencement gave way to muggy yet dry evening Friday, allowing the 464 graduates of the Methuen High Class of 2018 to receive their diplomas on the Nicholson Stadium field under brief glimpses of sun.  
This year's graduates are a diverse mix. Luana Machado, for instance, was born in Brazil and moved to the United States when she was 8 years old. When she started high school, she didn't even know what college was.
The 18-year-old graduated with honors Friday, with plans to study biology at Tufts University in the fall. She credits Methuen High for "the guidance and support that got me to college."
Samuel DeLap, 17, spent his senior year taking classes at Northern Essex Community College by day and returning to Methuen High in the afternoon for sports like track and hockey. He'll continue at UMass Lowell in the fall studying genetics.
Receiving his diploma "feels amazing," DeLap said. "I never thought this day would come."
Graduation brought mixed emotions for Seth Pare, who followed his older siblings' footsteps into Methuen High. A captain on the football and baseball teams, Pare, 18, will study sociology at Clemson University, where he will participate in ROTC and go on to serve as a 2nd lieutenant in the U.S. Army.
"I'm feeling excited to move on but also sad to leave so many friends and such a great school, and one that's really taught me so much and shaped me into the person I am today," he said.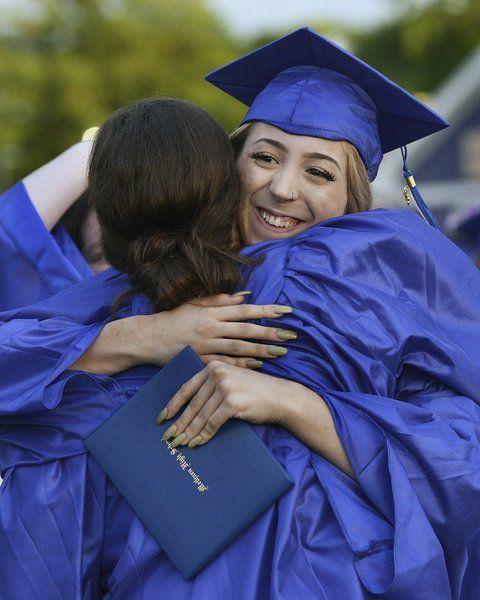 As the graduates reminisced on their years at Methuen High and bid their friends goodbye, speakers encouraged them to live in the present.
"What's important is that we don't worry if we had enough time," honor essayist Julia McCoy said, adding, "If you are given an opportunity, seize it, no matter how significant or insignificant it may seem. Live every day like it's the best day of your life."
Principal Richard Barden implored his former charges to put down their cellphones and do more to stay engaged with family and friends in the real world, not the online world.
"You will never regret spending time with family, but you will undoubtedly regret the time you spend on social media," Barden advised, adding, "Don't miss the beauty of your own journey by trying to live someone else's."
Valedictorian Priyank Patel told his classmates not to focus on the superficial and instead "create moments that enable you to build your legacy."
"Through committing to the moment, to the people around us, we too can leave a legacy worth remembering; by leaving those who we cross paths with just a little happier and a little more hopeful," said salutatorian Kelsey Perry.
As they prepare to navigate their next chapters — for some, college; for others, the workforce; and for 16 members of the Class of 2018, military service — Mayor James Jajuga cautioned graduates to stay true to themselves and not yield to peer pressure.
Scannell told students to "reach for the stars" as she called out dozens of scholarship recipients. More than $3.5 million in tuition and financial aid was awarded during the ceremony, along with $270,000 in local scholarships.
By the time class President Bianca DeSimone took the stage to close out the evening, she could barely start her speech amid cheers from her diploma-holding peers.
As she prompted her classmates to throw their bedazzled and be-flowered mortarboards toward the sky, DeSimone noted how proud she was of the hardships the members of the Class of 2018 overcame to make it to graduation.
"The perseverance I've witnessed is incredible," she said.
Follow Lisa Kashinsky on Twitter @lisakashinsky.