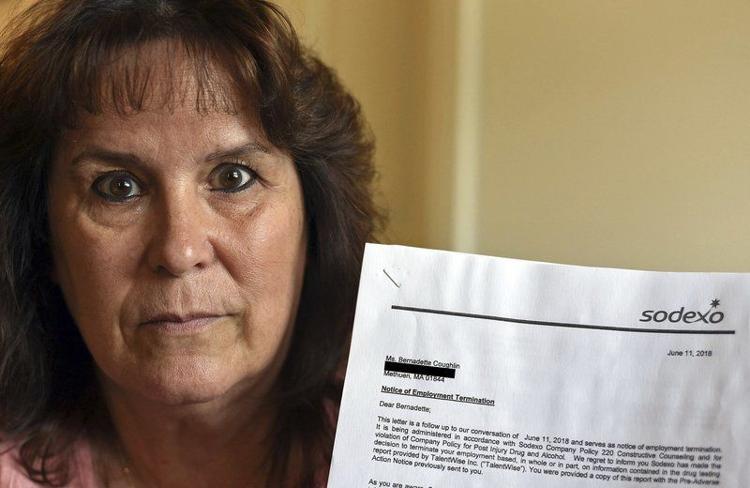 METHUEN — When Bernadette Coughlin used marijuana to unwind after work recently, she didn't expect that she would become embroiled in wrongful termination arbitration with a multi-national company amid the hazy realm of legal weed.
Coughlin, 55, was fired from her job as a food service supervisor with Sodexo, a food contractor at Holy Family Hospital, after a fall at work that led to a drug test last month. 
She said she had used marijuana during off hours a few days before, something she occasionally does after a long day.
"If I have to go to work the next day, I never drink," said Coughlin, because she doesn't want to feel groggy or hungover on the job. 
"I take two puffs off a vape pen, and that's it," she said. "I can't believe they just cut me loose just like that, for that."
Coughlin fell at work Wednesday, May 30, but didn't think she had hurt herself to the point where she needed to report it.
"I don't know if you've ever done it, you just kind of stumble. ... I did that, but I couldn't recover," she said.
When she fell, she wiggled her fingers and checked to see if anything was broken. She felt like she was okay, so she moved on with her day.
"It was just a freak accident," she said. 
When she returned to work after a long weekend, she was still feeling pain, so decided to tell her boss. 
Sodexo ordered her take a drug test, and she said after the results came in she was suspended. Then a  letter of termination came June 11, citing the results of the drug test: positive for marijuana. Coughlin was shocked.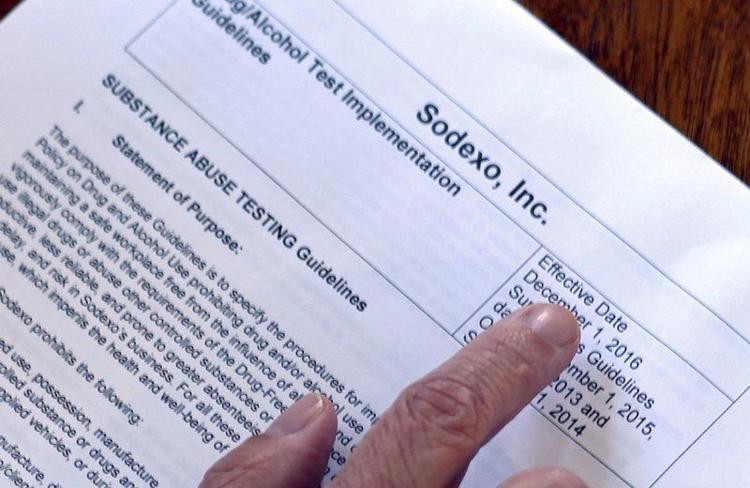 When she went to pick up her final paycheck from her boss, she said she told him how confused she was about the whole thing.
"I was just crying," she recalled telling him. 
Coughlin said the past month has been difficult; she never imagined she would lose a job she said she loved.
"One day working, the next day gone."
NO PROTECTION FOR RECREATIONAL USERS
A spokesperson for Sodexo declined to comment on the specifics of Coughlin's termination due to the active claim, but said the company is taking a look at its policies regarding marijuana use.
"Sodexo complies with the law and recognizes that this is an evolving legal and social issue," Enrico Dinges, director of public relations for Sodexo North America, wrote in an email. "As many employers are currently doing, we are evaluating our policies in light of the changing landscape."
Sodexo, a multinational company, has contracts with hospitals, universities, corporations and the U.S. government.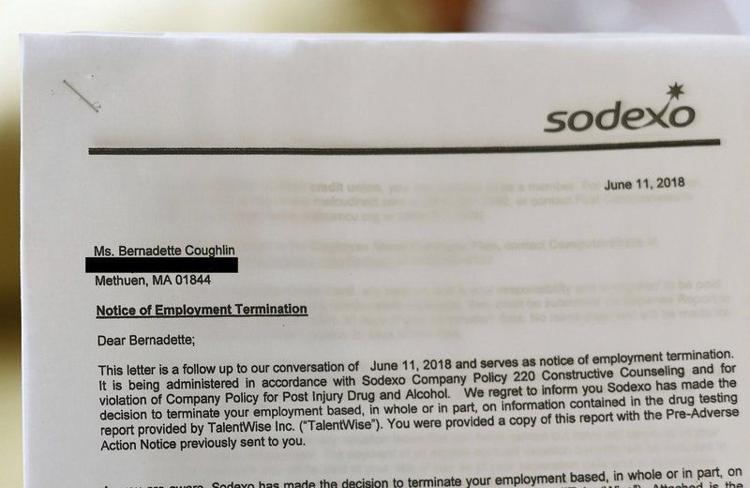 A spokesperson for Holy Family Hospital, operated by Steward Health Care, declined to comment for this report.
Recreational marijuana has been legal in Massachusetts since a referendum in 2016, but the rollout has been slow . There are no recreational pot shops open and the industry regulations were only released earlier this year. 
There are protections in place for medical marijuana users, per a Supreme Judicial Court ruling last year that protects workers with medical cards from being fired for using the drug.
But neither courts nor state lawmakers have put anything on the books to protect recreational users.
"I can't think of anything you could do to prevent a situation like this coming up, other than to seek your legal rights in court. Right now, there's no statute that specifically protects users of recreational marijuana," said David Hadas, Coughlin's attorney.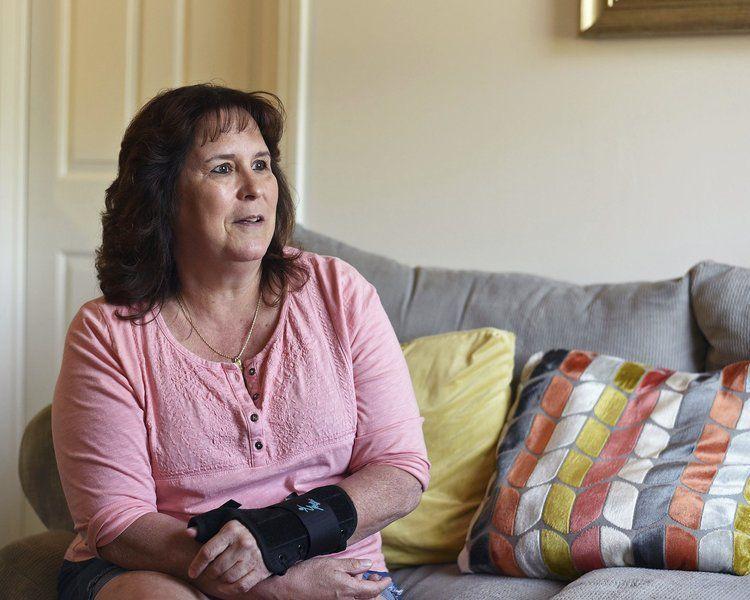 "To the extent that it's treated by employers or landlords or other people in the private setting as something that's still prohibited in some way, then this is going to come up. Even though people aren't being prosecuted criminally for it, there could still be ramifications," he continued.
Andrew Lelling, the U.S. Attorney for Massachusetts, released a statement this week affirming that he would not direct his office's resources to enforce the federal marijuana ban, and instead focus on combating the opioid epidemic. But the statement was geared toward the industry, and offered no guidance for the average marijuana user.
"I'm a lawyer (by trade)," said Bernadette's husband, Mike Coughlin. "I feel bad. She asked me (if it would be an issue for her to use marijuana) and I said no, because it's legal. ...The U.S. attorney for Massachusetts just said, unless you're a marijuana kingpin, we're not even going to enforce marijuana laws. That's why this is just so outrageous."
So when Coughlin used marijuana off-hours, she said she wasn't thinking about the federal ban, or the fact that her employer operates under the federal jurisdiction.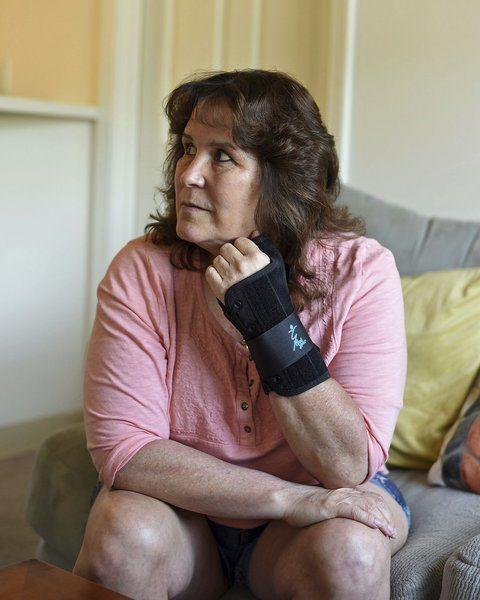 The way the laws are written today, the recreational user has no protections if an employer decides to fire them for using. Want to ensure you won't get fired? Get a medical marijuana card, wait and see if the federal government decides to lift the ban, or petition local lawmakers to write protections for recreational consumers.
That last avenue is something the Coughlins are considering, while they privately arbitrate for damages with Sodexo.
'I PLANNED TO STAY THERE UNTIL I RETIRED'
Under the terms of Coughlin's employment with Sodexo, disputes like hers must be arbitrated privately rather than in civil court, her attorney Hadas said.
The arbitration request alleges discrepancies with how Sodexo handled her drug test, compared to their policy.
Sodexo policies prohibit marijuana use on duty, and in off-duty cases where it may affect performance or safety, none of which Coughlin was accused of, according to the claim.
Any employee who is injured on the job must submit to drug and alcohol testing, but only if "the employee's assigned duties involve hazardous work" or "drug and/or alcohol use by the Employee could have contributed to the incident/injury," according to Sodexo policies listed in the arbitration request.
Coughlin was an administrator, primarily overseeing the hospital's patient room service program, and at times the cafeteria and catering services. She managed the kitchen staff, and maintains her job was not dangerous.
Hadas said nobody has made the allegation that Coughlin was impaired at work and that her coworkers would testify that she wasn't. 
"I suspect the reason (Sodexo has) this policy in place, specifically that they will drug test anyone who experiences an accident at work, is designed to potentially challenge the workers comp claim," he said.
Coughlin said she was initially told by Sodexo that they would be challenging her worker's compensation claim, but she received a check from the company's insurance provider for compensation this week.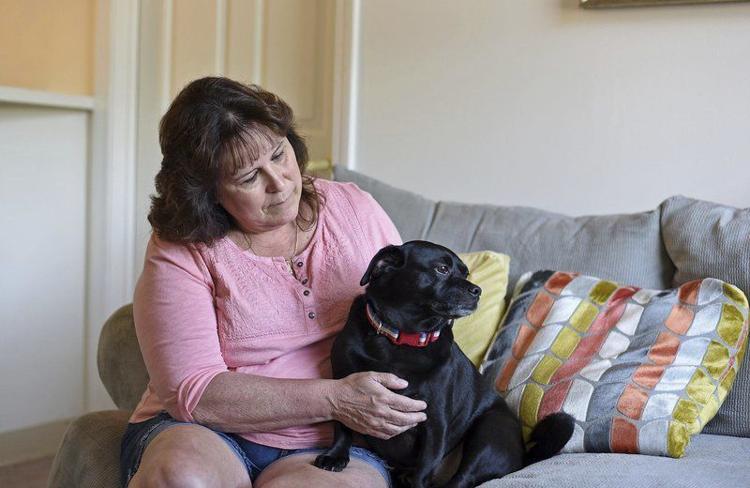 Coughlin, not a native of the Merrimack Valley, said she was recruited by Sodexo for the job. She moved to Methuen to work at Holy Family Hospital.
"I loved my job," she said. "I planned to stay there until I retired."