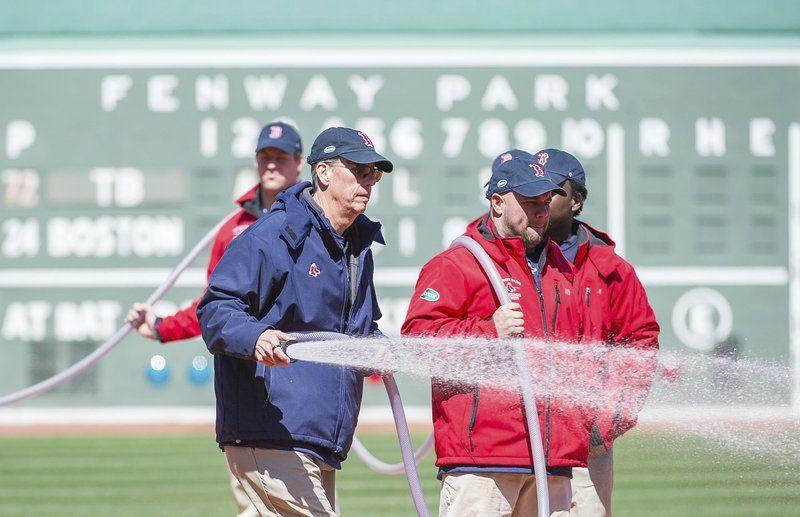 BOSTON — In Red Sox Nation, Thursday was a holiday on Yawkey Way.
Like Catholics who show up for two Masses annually – Christmas and Easter – the Fenway Park equivalent for Sox fans is Opening Day.
For many, that's their game, maybe their only game.
That's where Dave Mellor comes in. It's his job to make peoples' jaws to drop when they walk up one of the runways to the stadium.
Mellor is charged with making Fenway Park look like the fairways at Augusta National. In Thursday's case, even in 34-degree temperatures. He pulled it off.
Green. Green. And more green.
"This place is gorgeous," said Tampa Bay Rays manager Kevin Cash, who was a backup catcher with the Red Sox for parts of three seasons, standing in the Rays dugout before the game.
Unlike the head groundskeeper of one of the most famed golf courses in the world, Mellor's got some obvious hurdles, as in 5 feet of snow (3-plus feet in March) and an abnormally cold and windy winter.
Mellor's crew also oversaw a complete sodding of the infield and outfield grass — in February.
"To be honest, we were lucky we had about 10 straight warm days after we laid the sod on February 20, and that allowed the grass to take root," said Mellor.
Boston is not Mellor's first rodeo when it comes to weather. 
In his previous job as head groundskeeper of the Milwaukee Brewers' Milwaukee County Stadium for 16 years, in five of his last seven seasons it snowed the night before the home opener.
Slideshow: Red Sox Opening Day
The Boston Red Sox welcomed the Tampa Bay Rays for their windy, cold 2018 home opener at Fenway Park on April 5th. The game remained without a scoring hit until the top of the 8th with a 2-run homer-tun by Tampa Bay. The cold may have been trying but it did not deter the Red Sox from tying the score in the bottom of the 9th inning taking the game into extra innings. 3 extra innings later the Red Sox sealed the deal with a big hit from Hanley Ramirez and a walk-off win of 3-2.
Staff photos by Amanda Sabga
"Talk about being stressed," said Mellor, 55.
Over the last decade, Mellor's duties have grown. He isn't simply head groundskeeper of a baseball park, because Fenway's field has turned into a year-round mecca.
Over the last 14 months, the park has hosted 16 hockey games, 10 concerts, three college and three high school football games, a marathon, two community festivals and about 300 tours.
"One of the best parts of my job is creating memories for people," he said. 
"We welcome all of those events," Mellor said. "A lot of planning goes into every one of them, sometimes a year in advance. We are prepared."
Mellor, who is in his 18th season as the head groundskeeper at Fenway and replaced the legendary Joe Mooney, uses "we" a lot.
There are four full-timers, including Mellor, and another 55 seasonal staffers.
Thursday, 21 workers were making Fenway look great.
"It's everybody here, including ownership, management, my staff, the vendors. ... It's so many people," said Mellor. "Our expectations are very, very high and we couldn't do it without so many committed people. I'm so lucky."
So were 36,000 or so other people yesterday.
Augusta National, which is hosting a golf tournament this weekend about 1,000 miles away, had nothing on Fenway Park.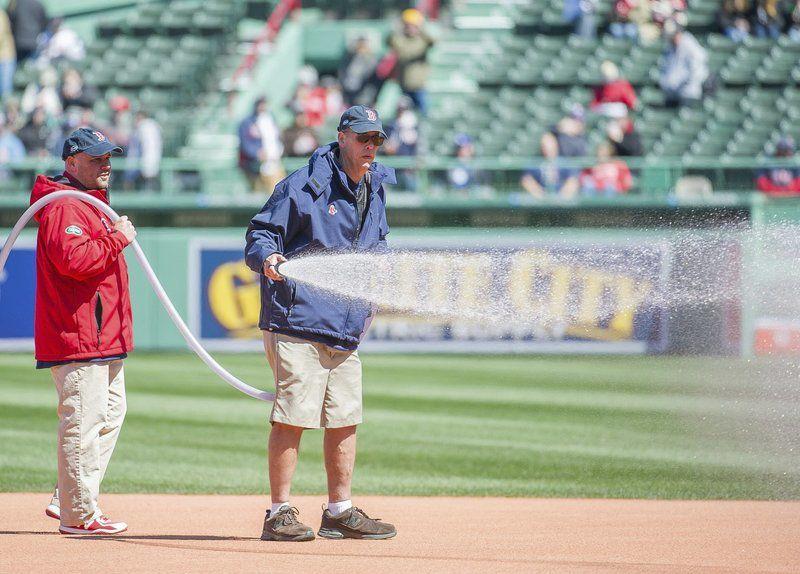 "Dave cares more about Fenway Park than any other employee," said Red Sox team president Sam Kennedy. "I worked with the Yankees and Padres (as an intern), and I saw huge battles with the people that took care of the field and management. 
"We don't have that problem here," Kennedy added. "Dave has our core values at heart, creating memories for all our customers. In our eyes, Dave is a Hall of Famer."
The Red Sox did their job, winning a nail-biter in 12 innings, 3-2. And, of course, Mellor and his crew did theirs.
"I love Opening Day," said Mellor. "But to be honest, I get goose bumps every day I come to the park."
Fenway Park and goose bumps seem to be part of the experience.
You can email Bill Burt at bburt@eagletribune.com.
***************BREAKOUT BOX
Sox groundskeeper offers lawn tips
While the grass at Fenway Park is already in mid-season form, most lawns in the greater Boston area have yet to be tended to.
Red Sox head groundskeeper Dave Mellor offers some tips to having a thick, green lawn like Fenway's:
Service your mower: "This is the perfect time to get your lawnmowers serviced. Get the oil checked. And get new spark plugs. Your mower running properly is very important."
Rake the lawn on warm day: "The first thing people should do is pick up any dog toys, rocks or branches before raking. Then you should rake briskly when the weather is warm. Doing it with a rock-hard surface doesn't do a good enough job."
Get blades sharpened: "This might be the most important part. Personally, we sharpen our blades constantly. For a typical homeowner, I would say once a month, at least. Sharp blades cut the grass more cleanly and the grass is greener."
Follow fertilizer instructions: "It's important to feed the lawn with fertilizer. But it's more important to follow the directions. Some people will put too much fertilizer down. That can be harmful. Just follow the directions and the lawn will be great."