Andover's first call came in Thursday afternoon at 4:19 for a stove fire at Grassfields restaurant on North Main Street.
A stove fire. Fairly routine.
But within two minutes a barrage of fire calls flooded dispatch. Andover Fire Chief Michael Mansfield was driving in Methuen, monitoring his emergency communications on his way home.
Similar emergencies blared from the radio: reports of fires breaking out in Lawrence and North Andover, too.
What was going on?
He turned his vehicle around and headed back to Andover, thinking, trying to understand.
"We knew we had a problem, a big problem," Mansfield said on Saturday while standing in the lobby of the Andover Public Safety Complex, reflecting on the past three days. 
What ensued was 38 fires in Andover. Many of them rising from basements. Similar fires broke out in North Andover.
Lawrence was hit the hardest. A teenager died as a result of an explosion. Dozens of people were injured. Fires roared amid gas explosions — not on one street, not in one neighborhood but across a city and two towns.
Police and firefighters in all three communities called in backup from all around the region to deal with the emergency.
Ever so quickly, they needed to process the situation — to try to figure out exactly what was happening. 
And then there was frustration among the police, firefighters, local and state politicians, and most especially frightened, displaced residents.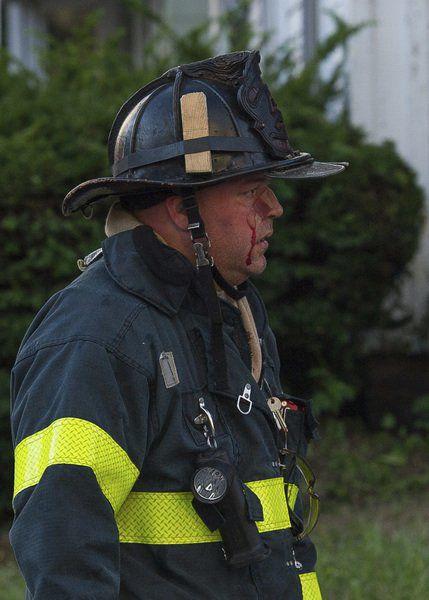 The disaster caused dozens of fires in the three communities and three homes exploded. Leonel Rondon, 18, was killed at an explosion on Chickering Road in Lawrence when a chimney fell onto the vehicle in which he was sitting. The gas over-pressurization prompted leaks that threatened 8,600 homes. Thousands evacuated South Lawrence, Andover and North Andover as power was shut off to reduce the threat of additional explosions.
Questions were originally posed to Columbia Gas.
"We were asking, 'What areas, what streets have you cleared and shut off the gas? What areas have not been shut off?'" Mansfield said.
He needed this information to keep the public informed about when they could expect to get back in their homes.
The public's frustration was the fire and police departments' frustration.
"A big part was not just a lack of information, but a lack of factual information," Mansfield said.
It was only Saturday at noon that the frustration began to lift, after Eversource Energy took over the recovery operation from Columbia Gas per the order of Gov. Charlie Baker. At a Friday press conference he and Lawrence Mayor Daniel Rivera blasted Columbia for a poor performance, lack of communication and wasting response time.
Rivera said the company was "the least informed and the last to act."
Once the decision was made to put Eversource in charge, real progress could be witnessed Saturday. 
"We started feeling comfortable about two hours ago, when we started getting answers to questions we were asking," Mansfield said.
Waiting for action, and answers
At the peak in Andover, displaced residents from 2,000 homes needed their homes checked to see when it was safe to return. About half had been cleared at noon Saturday, and Mansfield was confident the remaining half would be checked and the electrical power restored by sundown. 
Altogether, in the Merrimack Valley, about 8,600 customers had been affected.
At the Friday press conference, Rivera accused the Columbia Gas of "wasting last night" and of "hiding from the problem." 
Gov. Baker declared a state of emergency in the Merrimack Valley.
Residents evacuated from their homes stayed in shelters, hotels and with friends and relatives. The Red Cross helped coordinate the efforts, along with Bread and Roses and other organizations. Some hotels offered free rooms, which filled up quickly.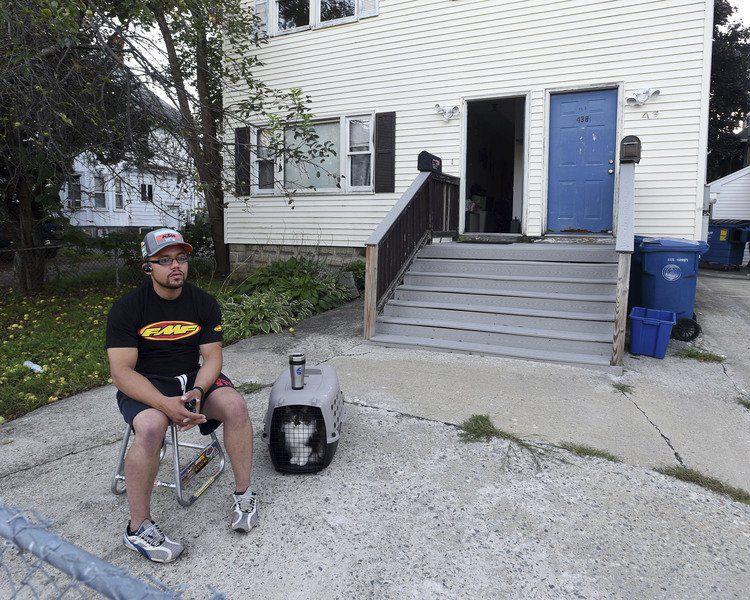 Problems remained throughout the three towns Saturday, especially in Lawrence where many streets were cut off by police barriers and residents walked the sidewalks with water, blankets and bags.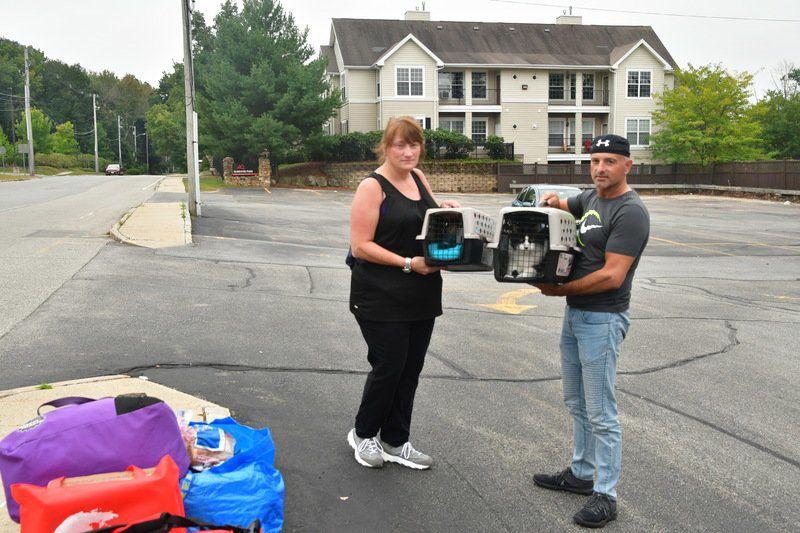 Saturday at noon in Lawrence by the North Andover line, Dollie Scalzitti, 53, sat at the curb on Winthrop Street just outside the drive-up lane at Boston Market.
She had just returned to her residence, TGM Andover Park apartments, to pick up her pets, a cat, Mister Kitty, 10, and a ferret, Lo Mein, 2. She and her boyfriend, Paul Walker, 51, of Amesbury, waited for the city bus to take them to the MSPCA's Nevins Farm in Methuen, to drop off the pets. Nevins had offered to shelter animals there until their owners could take them back.
Scalzitti has been staying at the Arlington shelter in Lawrence and craved a return to normalcy.
She said she is grateful for her safety and the work that firefighters and police have done.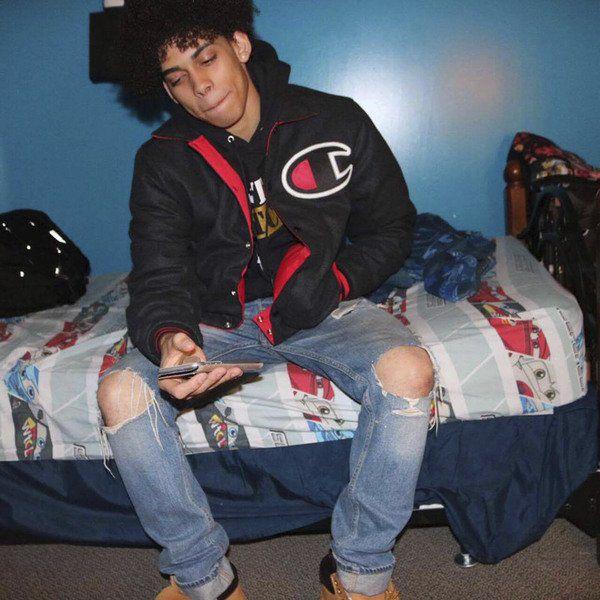 She is also sad.
"I feel bad for the boy who lost his life," she said.
Leonel Rondon had just gotten his driver's license and headed over to a friend's house on Chickering Road in Lawrence to celebrate. A house near where he had parked exploded and a chimney fell on the roof of his vehicle, crushing him. Rondon, 18, died later at Mass General.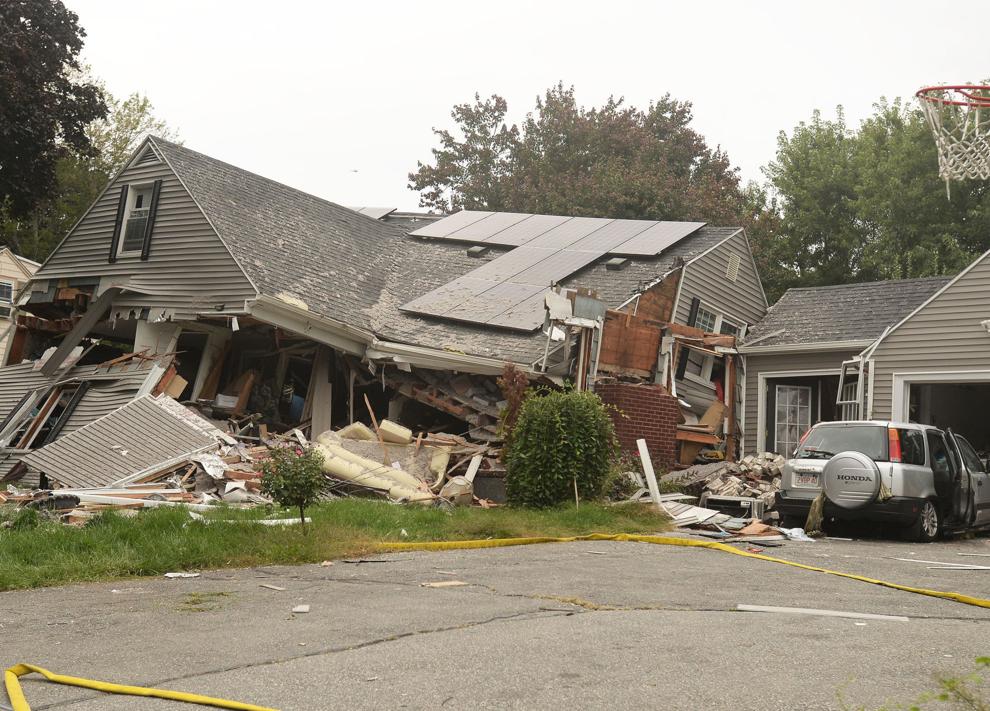 Personally, Scalzitti feels displaced and wants to understand what happened.
"I feel safe, just aggravated and want to get back in my apartment, back to my life," she said.
Unprecedented scope
Thursday afternoon, the disaster erupted in houses, one by one and seemingly at random. 
The explosions and fires hit here and there in Andover, North Andover and Lawrence. It was soon clear that something extraordinary was happening.
The unprecedented gas catastrophe would shake three towns and fuel at least three emotions over three days: fear, anger and sadness.
North Andover residents gathered at First and Main streets Friday morning, where they failed to get answers from Columbia Gas after the explosions, fires and evacuations.
The main question from residents and business owners was, "Is it safe to return?"
"I get that you are in a terrible situation, but give us something," pleaded Michael Foresta, a business owner at the First and Main plaza.
North Andover residents Chris Allen and her husband, Larry, and their son, Patrick, live only a five-minute walk away from the plaza, in a Belmont Street home with Chris' 91-year-old mom.
They all spent the night at a relative's house in Haverhill.
Painful emotions lingered Saturday afternoon as did the feeling of uncertainty for the thousands of displaced people in the aftermath of the fires, the injuries and the death of a teen.
Lawrence General Hospital's CEO Dianne Anderson said Friday that one patient remained in serious condition from the gas explosions and fires.
"We received 13 patients with injuries ranging from minor smoke inhalation and also blast trauma," Anderson said.
"We med-flighted one critical patient to a Boston trauma center and the remaining patients were treated here at Lawrence General."
Those with minor injuries were treated and released. A few of the patients also had pre-existing conditions.
The hospital made sure these treated patients had a safe place to go if their homes were unavailable due to the disaster, Anderson said.
At least two of the hospital's employees, including a nurse, were affected by the disaster, their homes either destroyed or damaged.
As it turned out, fewer people were injured than might have been, given the scope of the disaster.
"We expected many more casualties than we had — which was a miracle," Anderson said.
Anderson said she was pleased with how everyone responded to such an unprecedented situation.
"What was so scary was you never knew where these fires were cropping up," she said. "Houses exploding, and people wandering the streets."
'Things are exploding'
Patrick Allen, a Merrimack College student and personal trainer, was coaching a client when he started receiving texts from friends.
He called his mom who was returning home from work.
"He told me, 'Things are exploding around us,'" Chris Allen said.
She has co-workers in the Carolinas and Thursday was worrying about their safety with the approach of Hurricane Florence.
Then she came home to this catastrophe.
"The last thing I expected was to be evacuated from my home," she said.
The Lawrence History Center's Amita Kiley, who grew up in Lawrence, said people have always come together in times of crisis in the city.
What comes to mind is the response to the 1860 Pemberton Mill collapse, which killed 145 workers and injured 166 people.  Help and donations came in from all over.
And the help and donations in response to the textile workers strike of 1912 came from far and wide.
Perhaps in 100 years or so, people will remember the natural gas disaster of 2018 in the same way.