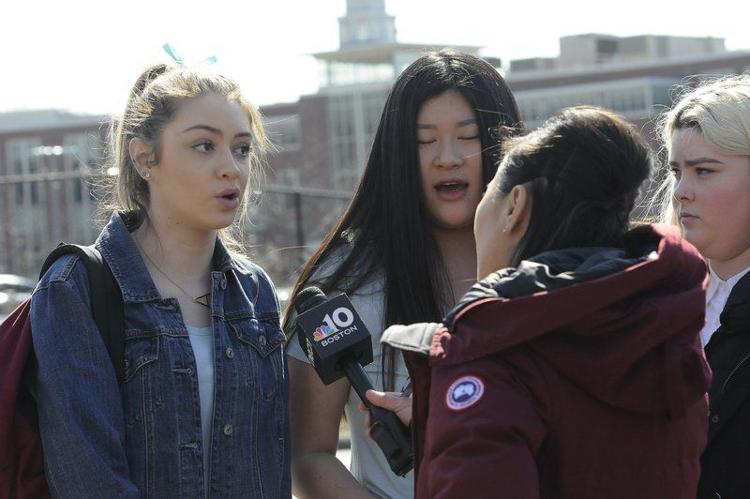 NORTH ANDOVER — Police officers were positioned at every entrance to North Andover High on Wednesday morning with orders to keep reporters off school property while students protested the district's treatment of sex assault victims.
Three seniors involved with organizing the walkout made their way across Osgood Street, where members of the media were gathered in front of an assisted living facility out of sight of the student protesters. Students encouraged media coverage of the walkout by sending flyers to local news outlets earlier in the week.
A police officer standing outside of his cruiser in the high school driveway told The Eagle-Tribune that his orders came from Police Chief Charles Gray, who was also on campus. Students said Superintendent Gregg Gilligan and high school principal Chet Jackson attended the protest, too.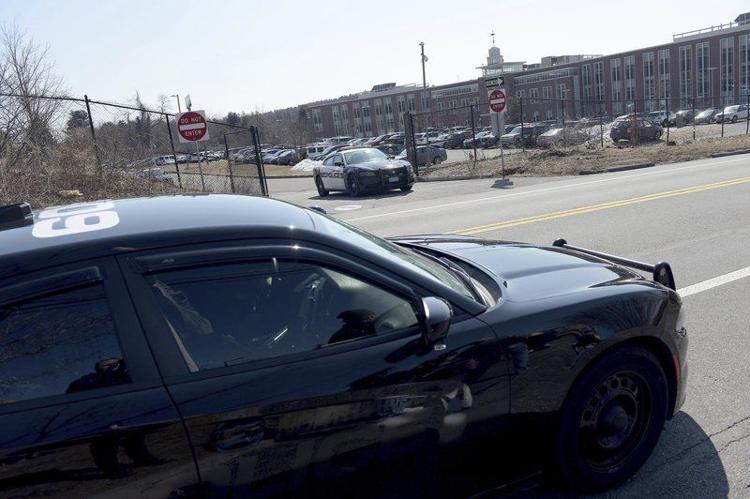 When a reporter called Gilligan after being denied access to campus to cover the walkout, he said: "If it's a school event, it's a school event." 
Neither Gilligan nor Jackson answered calls from a reporter after the walkout.
Jackson sent a letter to "parents, guardians and caregivers" Tuesday afternoon that explained school officials were aware of the students' plans. That statement, nor any other statements issued by the district over the last week, has addressed the contracts, called "school safety plans," issued to victims of sexual assault.
"The walkout is connected to raising awareness towards sexual assault, and to support victims and their families," Jackson's statement says.
"We expect our school community to act in accordance to our RAISE values (an acronym for school standards that stands for Respect, Achievement, Inclusion, Service and Empathy)," Jackson said in his statement.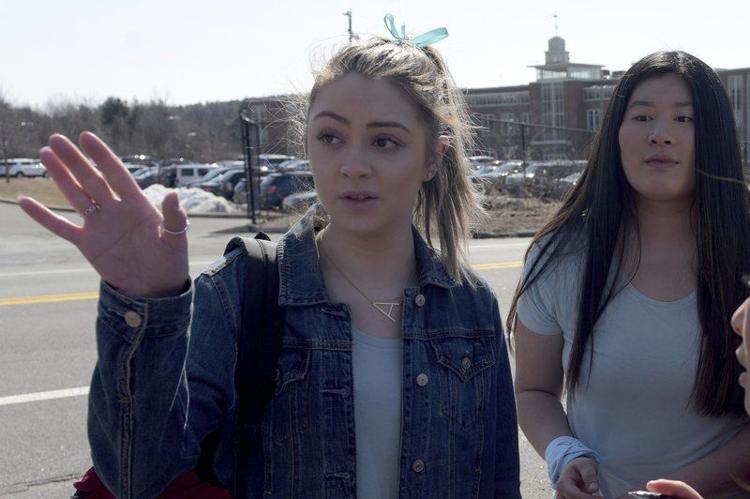 According to Jackson, the police presence was intended "for the safety of all students and staff," as well as "for safety purposes due to the potential large group that could be outside in the courtyard."
The statement does not mention the exclusion of the media.
Parental, community support
Christine Braese, a parent driving by the school Wednesday morning, stopped to tell The Eagle-Tribune that she was texting with her daughter, a senior, who was discouraged about school administrators stifling the intent of the walkout.
"I'm giving her permission to walk off of that campus," Braese said.
Another parent, Steve Gilboard, accompanied his daughter Ava as she told the press about organizing the walkout with her classmates.
She said it was inspired by reports in The Eagle-Tribune over the last week that brought to light school-issued contracts that dictate where in the school victims of sexual assault can be in relation to their attackers, who remain in the building.
The reports started when senior Eliezer Tuttle, 18, was arrested last week in Salem, New Hampshire, for allegedly raping a New Hampshire girl twice in the back seat of his car.
Tuttle was on probation at the time for sexually assaulting a North Andover High classmate in April 2018. The victim was made to sign a contract that dictated where she could be in the high school to keep her away from her attacker. When her grades suffered and she resorted to a night school program to graduate, school officials drafted a new agreement, which kept her away from the gym, where Tuttle had wrestling practice.
"Eli was just the tipping point," Steve Gilboard said. "This wasn't an isolated incident."
Senior Lexie Regan, one of the student organizers, explained that students were outraged after learning about the school safety plans. She, and others, could not say how long they have been used in the school, but mentioned that friends and classmates have spoken up in school also about signing them.
"We want to be heard," Regan said.
Regan and her two fellow organizers, Ava Gilboard and Julie Tschirhart, said hundreds of their classmates left class just after 10 a.m. and gathered in the courtyard.
Reporters could not see the courtyard from their station off school grounds. The organizers provided The Eagle-Tribune with photos and videos of the rally.
"There's a boy who stood on a table and said that he would stay there all day if he needed to," Tschirhart said of a protester.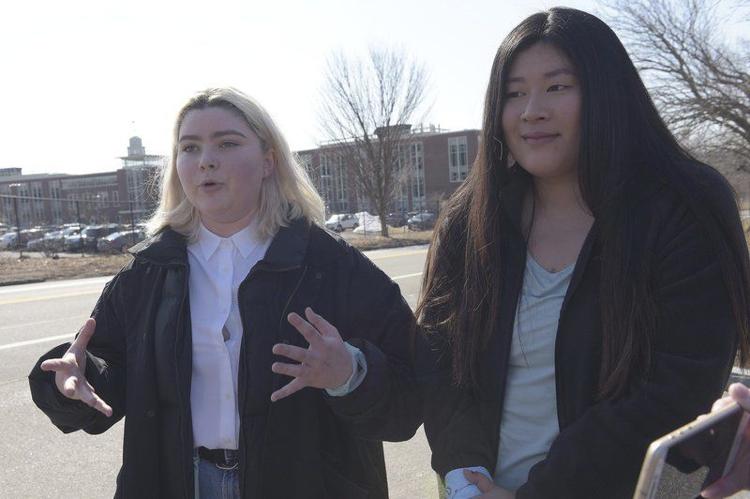 Students carried handmade banners and wore blue, the color often associated with sexual violence awareness.
"Protect the victims," one sign read. "Discipline sexual predators."
Another poster shared this message: "Dear NAHS, Who is next? How will you protect them? Why did you allow it to happen AGAIN? Sincerely, students that are concerned for our safety."
The senior who crafted both signs, Lily Medeiros, told The Eagle-Tribune that during the walkout, she screamed the words written on both large poster boards.
"The walkout lasted during advisory period, about 20 minutes," she said. "But 20 to 30 kids stayed outside for the rest of the day to protest. It was a mix of boys and girls who wanted to support the cause."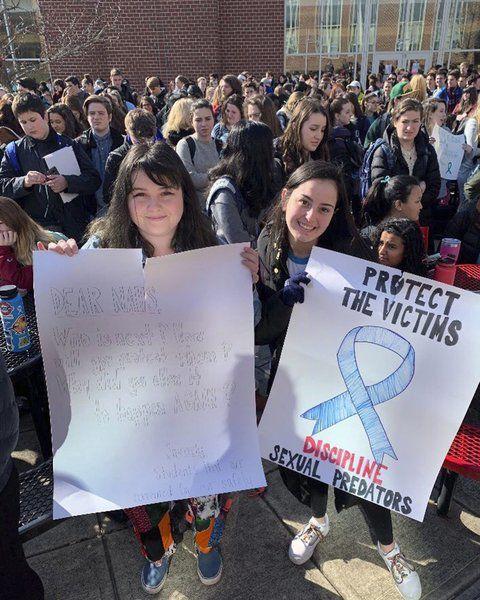 School alumni draft petition
Several students mentioned camaraderie among their classmates, as well as support from alumni who started an online petition demanding the creation of procedures that deal with sexual violence within the North Andover school community.
The petition, dated March 19, was started by North Andover High alum Shannon Hill, now 22, and Abigail Kibler, now 24. It garnered 642 signatures as of 2 p.m. Wednesday. Signers span from members of the Class of 1981 to parents of kids who will graduate in 2030.
"The current procedures are similar to those used for student violence, such as fighting in the hallway, and thus fail to adequately address the needs of sexual assault survivors," the petition says.
It goes on to say: "The looming presence of one's perpetrator in the student's daily school routine creates a hostile learning environment for that student. This is a clear violation of the Title IX amendment which states: 'No person in the United States shall, on the basis of sex, be excluded from participation in, be denied the benefits of, or be subjected to discrimination under any education program or activity receiving Federal financial assistance.'"
Hill and Kibler want the following to come from their petition: Defined procedures for the investigation of allegations of rape, indecent assault and battery by students; focus and priority placed on the safety and care for survivors; immediate expulsion for students found guilty of sexual violence, as well as the removal of said students from all school-related activities such as sports teams; adequate counseling services for student survivors of sexual assault, and community counseling when necessary in large-scale incidents. 
"Finally," the petition says, "under no circumstances should survivors of sex crimes have their rights to a free education denied or limited as a part of the response to their case."
Gilligan issued a statement Tuesday that said the school system would hire an attorney to review its policies and practices.