SALEM, N.H. — Inside three inconspicuous Woonsocket, Rhode Island, storage units were 200,000 bras — fiery reds, lollipop pinks, baby blues, satin, lace and cotton.
A group of women — including Salem's Jenifer Dillingham — has spent the last decade collecting them with the goal of breaking the world record for the longest bra chain.
With so many bras, the organizers couldn't help but turn the hodgepodge into a fundraiser for breast cancer research and awareness, according to Dillingham.
Most donated bras were accompanied by a couple dollar donation. Dillingham said the group raised about $50,000 to date. 
She said some donations have already been spent on new mammogram machines and other updated equipment for New England doctors, along with educational programming focused on breast exams and preventative efforts.
This week, the bras are coming out of storage to be hooked into a massive chain across a Rhode Island field, close to the home of one of the organizers. They will be flaunted in front of a group of judges before the final record-breaking determination is made next week.
Dillingham is confident.
"Ten years this went on and on; collecting bras and raising money," she said. "It became purposeful and life changing."
Some of the bras belonged to women who died of breast cancer. Their families heard of the cause, donated in their memory, and shared stories of loss.
Other women have come forward with their own bras and stories of battling the disease.
"We've met women who have had double mastectomies and don't need them anymore," Dillingham said. "Every one has a story and it's extremely powerful. The fact that this is also all coming together during Breast Cancer Awareness month too is huge."
It started in 2009, after Dillingham and several co-workers gathered at the home of Jennifer Jolicoeur, owner of Athena's, an adult novelty distributor that hosts in-home parties.
Exhausted after a long weekend conference, one woman took off her bra. The others followed suit.
"Someone joked, 'What if we hook them together?'" Dillingham said. 
She recalls someone else laughing, "What if we set the world record?"
They took a photo together with bras in hand. It's a reminder of how far they have come, Dillingham said this week.
The same bra chain record has stood since then.
Robert Bauer, of Australia, linked 166,625 bras with the shared goal of eliminating breast cancer in 2009, according to the Guinness Book of World Records.
If Dillingham and her group succeed in stringing together their 200,000 bras — assuming they have documented the correct number over the years — they will stretch 107 miles, she said.
"So many of the donated bras were brand new with tags on them still," she said.
The ones that are in usable condition will be cleaned up and donated to women's shelters across the region.
Some special bras signed by celebrities — gathered while Dillingham and Jolicoeur were on a  business trip to the Grammys — may be raffled off to raise more money.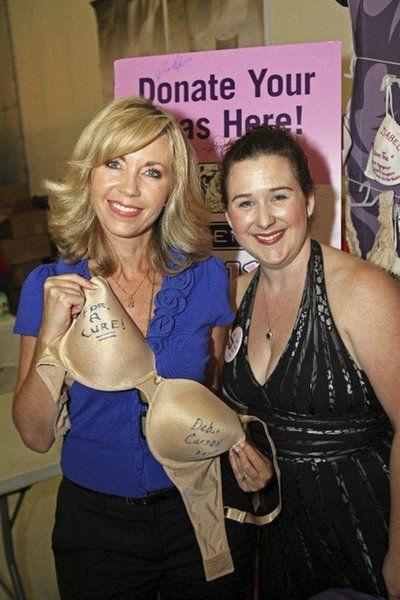 To learn more about the cause, visit athenascup.org.