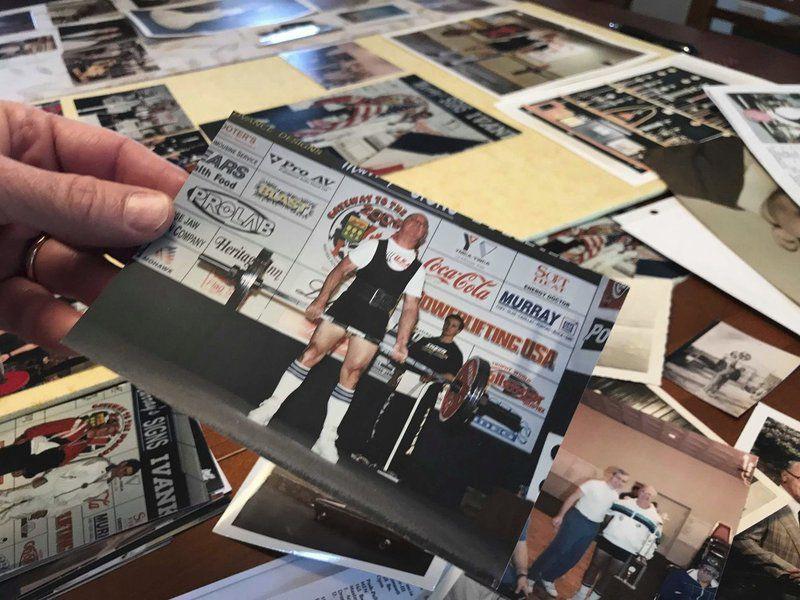 SALEM, N.H. — Fred Archambault Jr. sat down two years ago to write his obituary on a yellow legal pad of paper. With shaky hands and a black pen, the 93-year-old chronicled his Methuen roots, two years of service in World War II, seven decades of marriage and two beloved children.
Before it appeared in the newspaper last week, his son added a bit about his dad's unlikely success in powerlifting after retirement: He set world records and beat them until he put down his last weight at age 87. After that, he opted for more modest leg workouts and 20 pull-ups at a time.
Archambault, lately of Salem, died last week after a brief illness.  
"He didn't have a cane, a wheelchair, he never took a pill," his son John said of the 95-year-old. 
Instead, Archambault kept it simple by staying away from sweets, eating his vegetables and reading Powerlifting Magazine for tips.
Despite the humble regimen, the fitness world had not seen anything quite like him.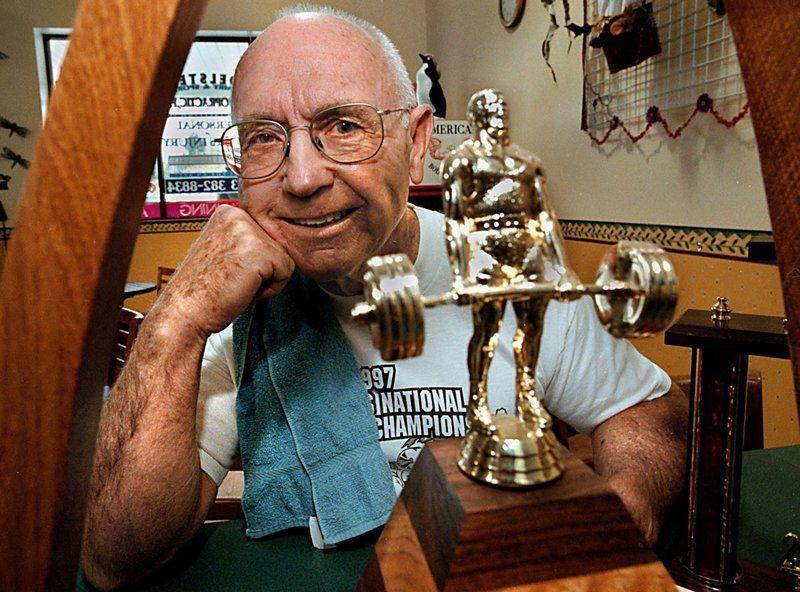 In 2003, The Eagle-Tribune reported Archambault swept 15 other competitors in the 60 and over division at a USA Powerlifting Men's Master Championship in Baton Rouge, Louisiana, by lifting more than 950 pounds. He was 80 at the time and hefted a 407 pound deadlift, 330 pound squat and 215 pound bench press.
The performance led to a new division for folks 80 and older, though Archambault was usually in that league alone.
He was humble and strong, his son recalls, a family man without an angry bone who is sorely missed already.
"Strangers worried when they saw this old guy in the gym lifting really heavy weights," he laughed. "But family knew that he was smart about it...about everything. He was just an extraordinary guy."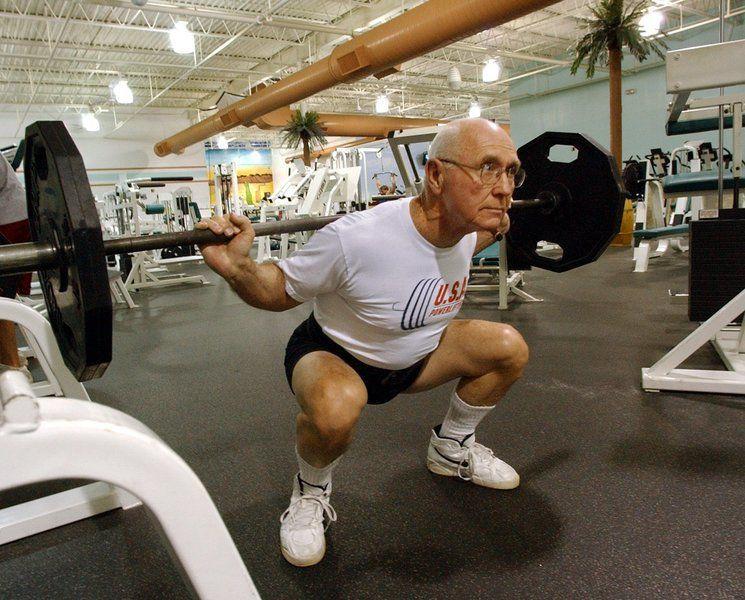 Family members had no idea his obituary was started until they found it tucked inside a desk drawer as they cleaned out some of his things.
"I just added some on to the end," John Archambault said. "The part he was too gracious to talk about himself." 
A native of Methuen, Archambault's family history runs through the Merrimack Valley.
He graduated from Edward F. Searles High School, in Methuen, in 1941. A running back, he was too small to get much time on the football field.
Later in life, crowds would marvel over his average frame: 5 feet, 7 inches and 165 pounds. During his peak performance, at 74, he lifted a combined 1,003 lbs.
An interest in fitness started during his mid-teens in Lawrence, where Archambault joined a weightlifting club on Monmouth Street named after local strongman Oscar Mathes. Archambault would lift at the Lawrence YMCA too, according to his son.
Archambault spent three years after high school in England, Italy and Morocco as an aircraft armorer with the Army Air Corps 31st Fighter Corp, loading guns onto long-range planes with fierce strength. He spent downtime doing one-handed overhead presses with wheels from mining carts.
Shortly after the war ended, a blind date back at home led him to his wife Pat. The couple was preparing to celebrate their 71st wedding anniversary next month.
Life happened fast after John and his sister Lynn came along. Their dad spent his days working as an engineer with Western Electric, which became Lucent Technologies, in North Andover. He stopped lifting weights all together as he focused on his career.
The married couple moved to Florida after reaching retirement age and Pat started going to the gym. Intimated by the young, fit crowd, she asked her husband to tag along.
"Someone walked by and noticed how much he was lifting," John Archambault said. "They told him he wasn't lifting far off the from the world record at the time."
Archambault became careful about conserving his energy during his four and a half hours of weekly exercise. He started competing in 1988. By 2003, he had won 10 first-place finishes at national lifting competitions.
"What he did was smart," his son said. "When he got serious about lifting, he never lifted his max. He saved that for competitions. That's where he found out what he really had in him."
What he "had in him" was an astounding and unwavering physical stamina. At a competition in York, Pennsylvania, at age 82, Archambault deadlifted 410 pounds, squatted 350 pounds and bench pressed 230 pounds.
A longtime friend Ted Curtin attributes the superb strength mostly to a positive mindset.
"He was the No. 1 ranked powerlifter at one point, because of his age and the equation they use to determine it," Curtin said. "He was much better than that. He was the most unassuming and kind — genuinely kind — person I've ever know. That's what I'm going to miss most."
The unconventional friends met when Archambault moved back to New England with his wife in his early 70s and joined a gym in Plaistow. Curtin, in his 30s, took over Hampstead Health and Fitness in 2006, and his friend tagged along.
"I'm planning some kind of memorial for him, maybe by the pull-up bar," he said. "The entire gym is mourning. A lot of them may not even know about the records he set. But they know how good of a guy he was. I have six or seven people around me at all times talking about it. He was the greatest human being I've know in my life. I can't say enough about him."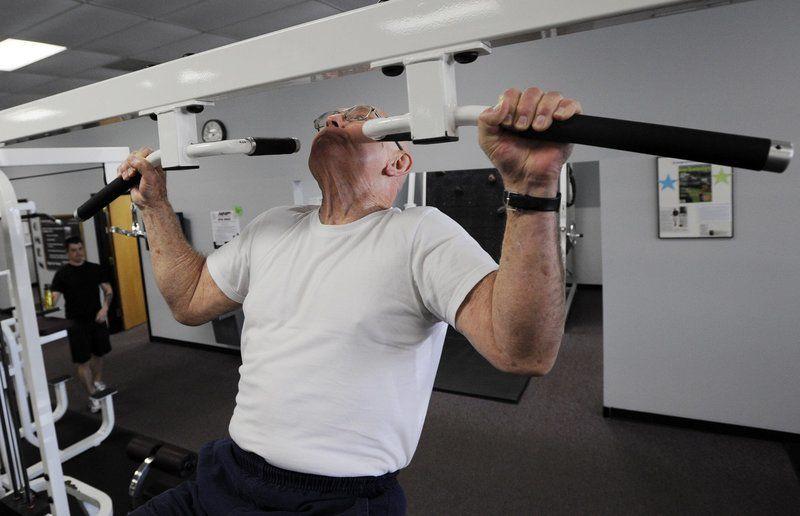 Archambault's son agrees.
"I think it was mostly here," John said pointing to his head, speaking of his father's abilities. 
The only thing stronger than Archambualt, his son and friend agree, is the legacy he's leaving behind.