SAN MATEO, Calif. — You can't miss the sign atop the press box at the home football field of Junipero Serra High, an all-boys Catholic prep school.
"Brady Family Stadium."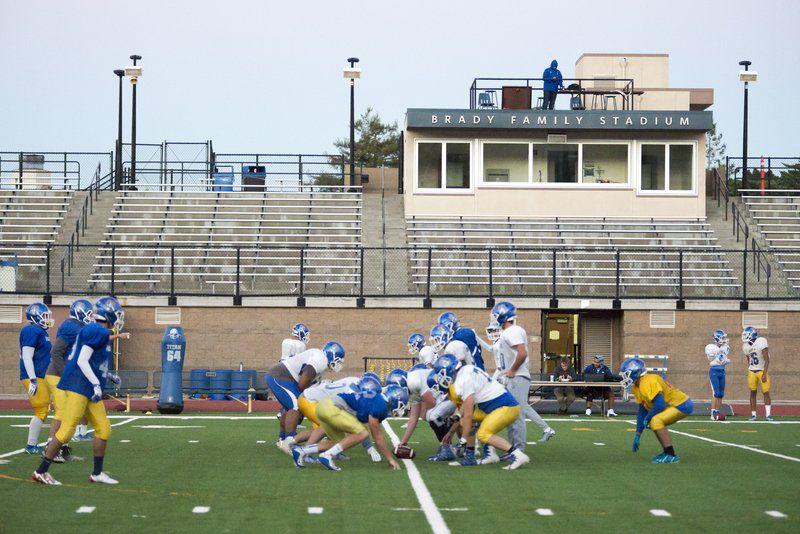 A donation by Patriots quarterback Tom Brady spearheaded the renovations at the picturesque stadium in San Mateo, a Silicon Valley suburb 15 miles south of San Francisco.
But those who know him best in this city of 100,000 say the wording of the sign is appropriate because of the role his family, including his parents and three sisters, played in raising one of the greatest professional quarterbacks who ever lived.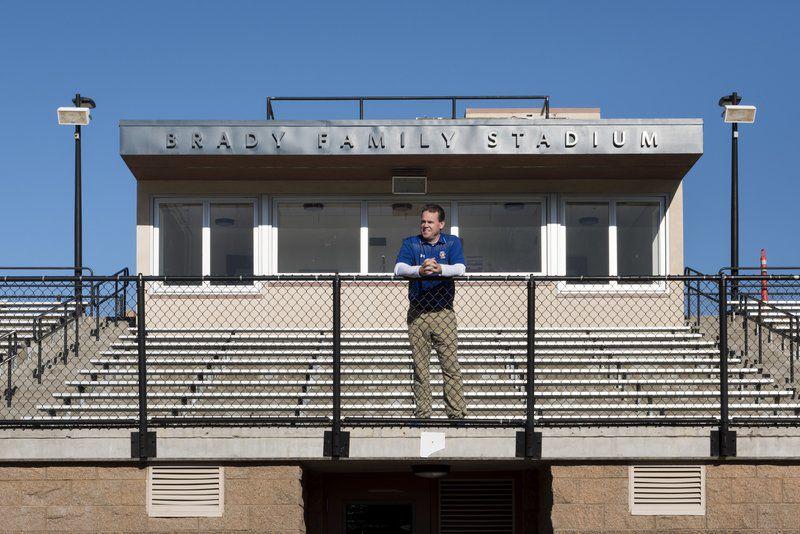 "This is one special family," said Junipero Serra Athletic Director John Kirby, who caught Brady's first-ever touchdown pass on the JV team a quarter-century ago.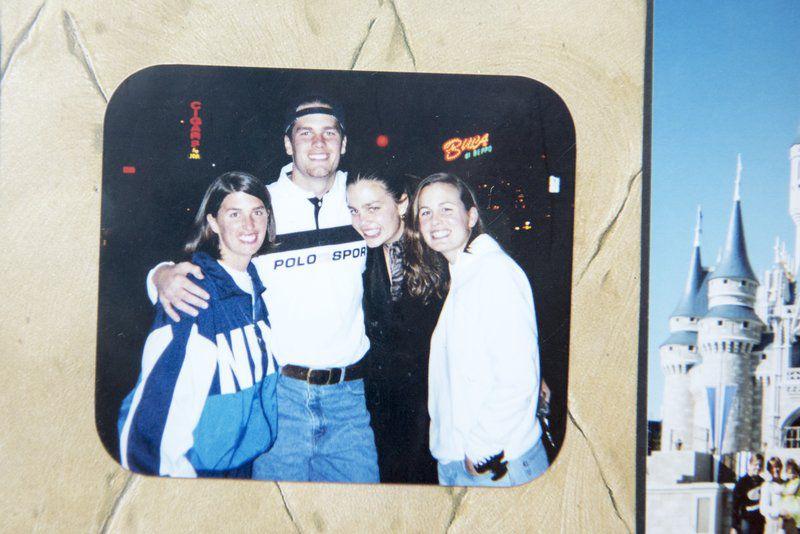 "One thing I always noticed," said Kirby, "is after every game you'd see the entire family, all his sisters, parents and even some aunts and uncles. They really stuck together. Tommy is definitely a product of that environment. His support system was special."
Tommy, as he is known around here, has done and accomplished many things in the 22 years since he left for Ann Arbor, Michigan, and later Foxboro, the kind of accomplishments that lead to statues being built.
But one thing he has never done since graduating from Junipero Serra High, is play a football game before his family and friends in the Bay Area, home of the San Francisco 49ers, whose legendary quarterback, Joe Montana, was Brady's boyhood hero.
RELATED ARTICLE: Brady's alma mater rooting for Pats
Brady has played against every other NFL team in its home city except Tampa Bay — the last Buccaneers "home" game against the Patriots was played in London.
The one visit the Patriots made to San Francisco was in 2008, the year Brady was injured in the first half of the first game.
About three dozen of Brady's family and closest friends will be gathering tonight at a restaurant to celebrate the rare occurrence.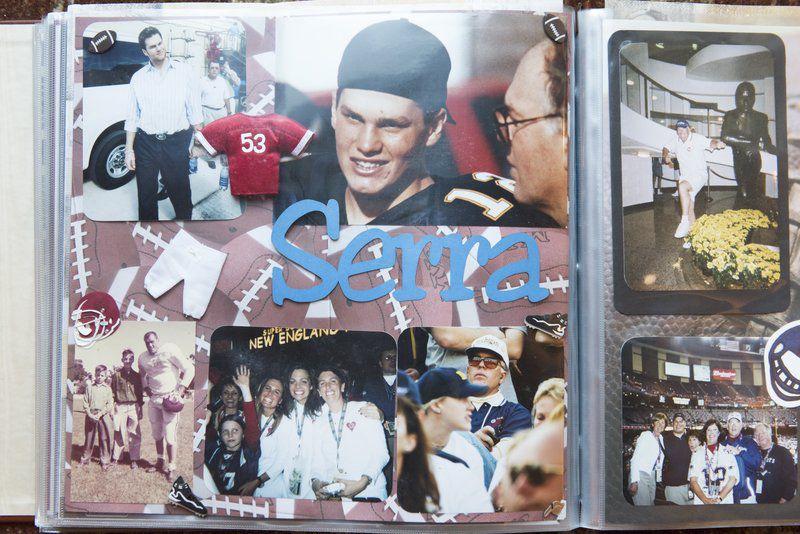 "It's crazy when you think about it," said Maureen Brady, Tom's eldest sister. "To play that many years and this being Tommy's first game back home ... It's special."
Young Tom Brady
Brady grew up on Portola Drive, a tree-lined, upper-class neighborhood where homes are built close together because the land is so expensive. His parents still live there.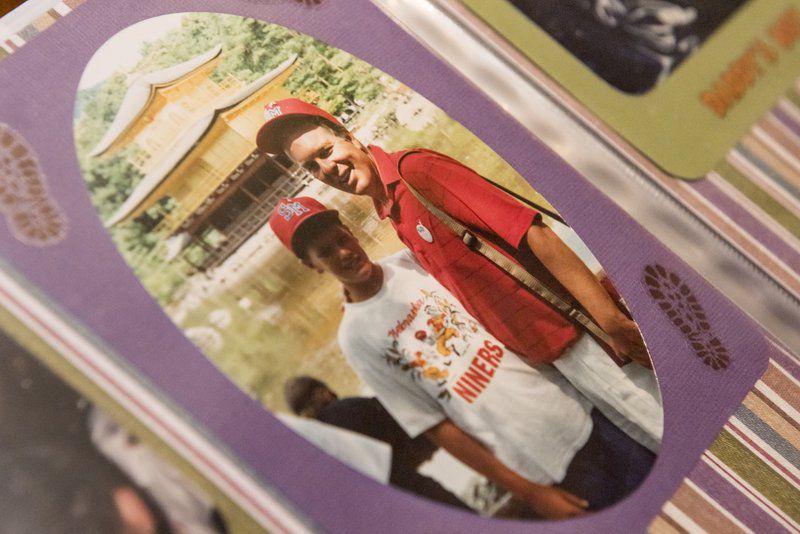 Competition was as much a part of the Brady household as breathing and eating.
"My fault," said Tom Brady Sr. "I started it. Everything we did, and I mean everything, like running home from church, throwing a rock the farthest ... Everything was a competition. I guess it made things really fun, at least for the winner."
Enter young Tommy Brady.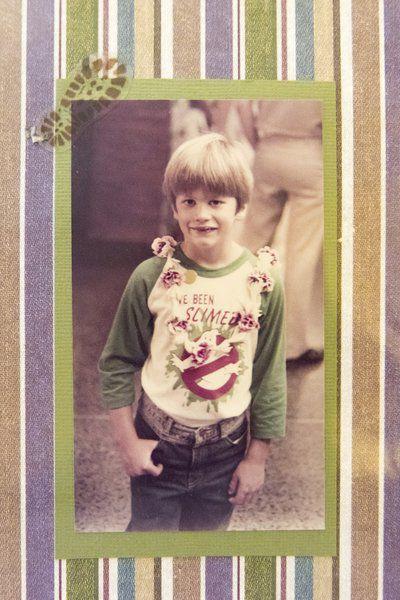 "He was 11 and we're playing golf before going to a San Francisco Giants baseball game," said Tom Sr. "And I've beaten him on every hole. We have these bets where I lose a dollar or he has to wash my car. And about the seventh hole, after several double-or-nothings, he owes me about 50 car washes.
"He hit a bad shot and throws his club halfway down the fairway," said Brady. "I was ticked off. I told him to get his club and go back the car and wait for me until I finished. I get to the car and he's crying his eyes out."
About four hours later, after they had gone to a San Francisco Giants baseball game, Tommy wanted to play golf again before they went home.
"I said we would only on the premise that he absolutely promise that he would be a good sport. And he did," said Brady. "About seven holes later, he threw his club again and we left. His temper got better as he got older, but he hated losing at an early age."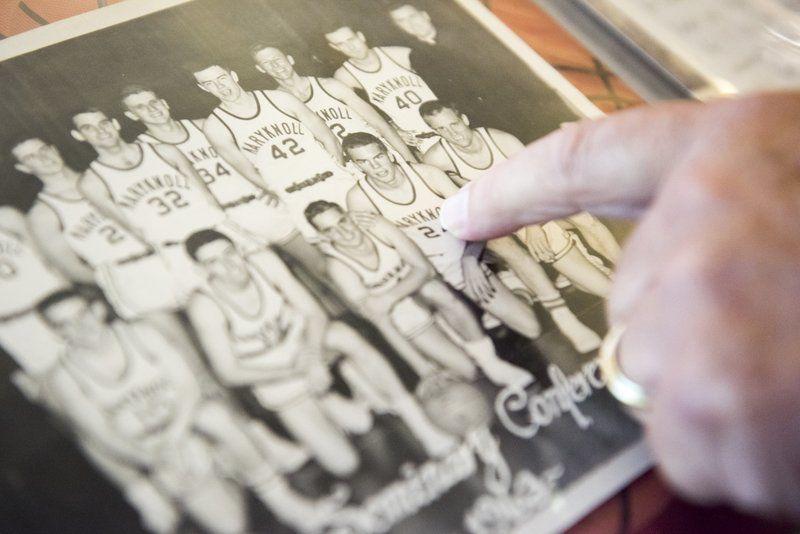 Tom Sr. said early on, he and his wife, Galynn, offered their four children many activities, including sports.
"Whether it was guitar, ballet, piano ... we wanted them to try everything," said Tom Sr. "But all of them always seemed to move toward sports, which was fine with Galynn and myself. We were both sports nuts."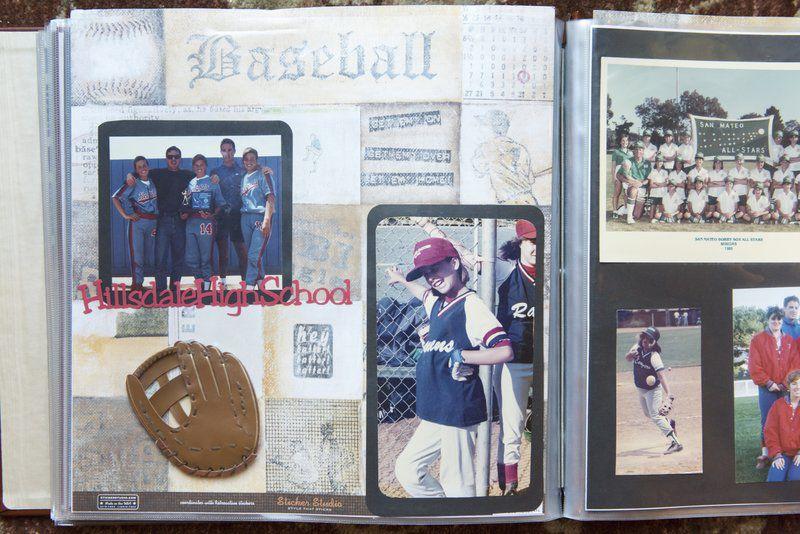 Tom Sr. said in one year they counted 315 games on the calendar involving their children.
"And you know what? Me or my wife was at every one of them," said Tom Sr. "That was always important to us ... to have someone there."
The sisters
Brady, the youngest child, had some impressive role models before him in terms of talent.
Nancy, who is a year older than her brother, earned a scholarship to play softball at the University of California-Berkeley, later deciding to focus on school.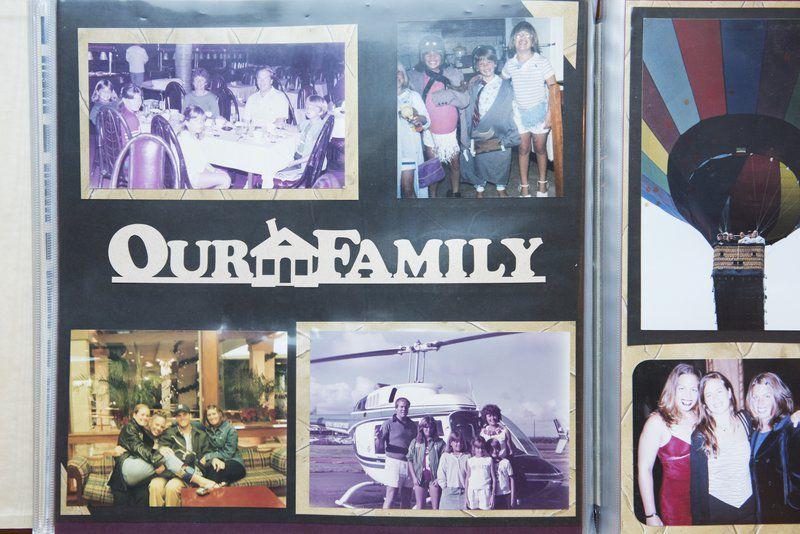 Julie, who was two years older than Nancy, has a story more like her brother's, walking on to play for the soccer team at St. Mary's College, later earning a scholarship.
Last, but definitely, not least, is Brady's eldest sister, Maureen, who still owns records as a pitcher 25 years later. Maureen had a 111-10 career record at Hillsdale High in San Mateo with 29 no-hitters, 14 perfect games and two section titles.
She later became an All-American pitcher at Fresno State, leading the country in wins with 36 in her junior year. She was inducted into the San Mateo County Sports Hall of Fame with her plaque reading: "Maureen Brady set the standard for San Mateo County softball pitchers."
"Tom was very good," said his former teammate, John Kirby. "But in high school, Maureen was the best. She was incredible. I remember hearing so many stories about her dominance, game after game. Even after she was done playing, she was one of the best instructors around."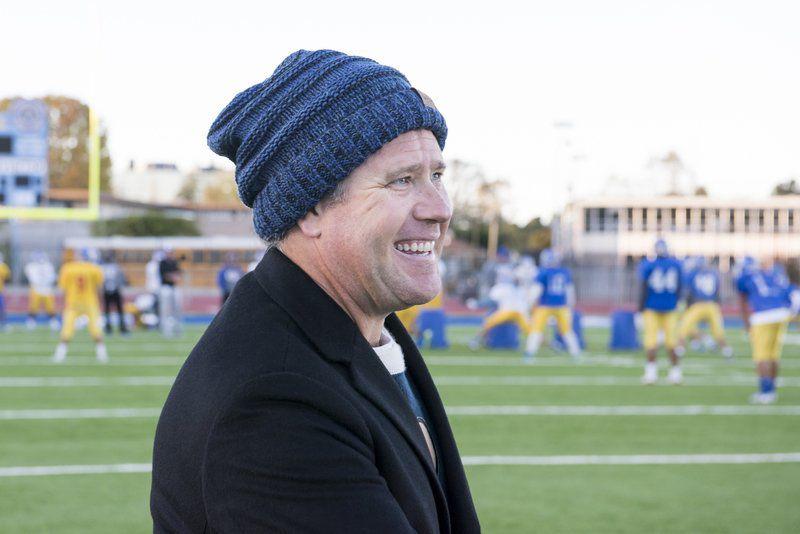 Maureen, now a single mother of two girls, 16 and 9, said her kid brother was there for most of her greatest moments, soaking it all in.
"He was our little brother. It was normal, Tommy always tagging along," said Maureen. "I remember pitching so many time at the park near our house, our whole life was spent there. To this day I remember turning around and he's up on a light post, doing cheers. They are special memories."
Maureen said their block in San Mateo was loaded with about 70 kids within a quarter-mile of each other. Tommy, again, was one of the youngest.
"Tommy would try to fit in," she said. "I remember one time some boys were throwing a football around our street and they told Tommy to go deep. He ran all the way down the street waiting for the football and they turned around and left. They were such jerks."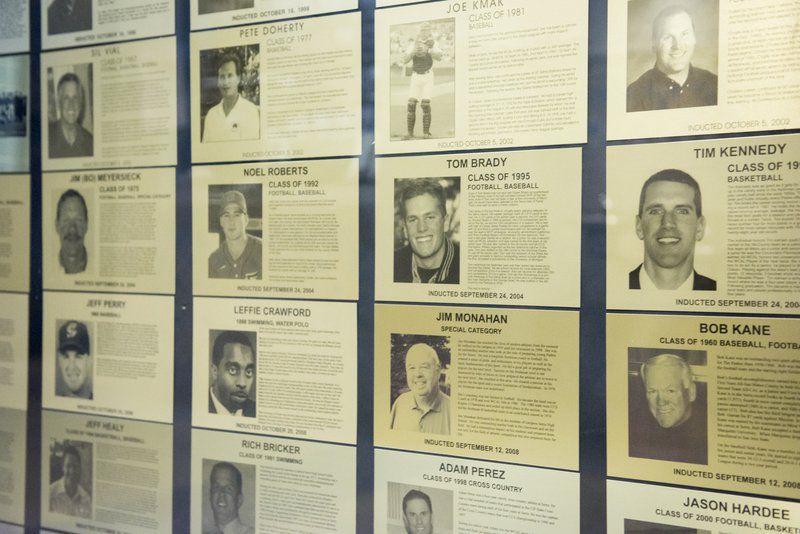 The parents
Maureen Brady said that when you really cut to the chase about her brother's extraordinary success, really all of their family successes, it comes down to two people.
Mom and dad.
"Honestly, I believe all of us kids are pretty kind, sweet, caring people," said Maureen. "You don't lie. You don't cheat. That comes from our parents. They set the foundation. They set our values.
"We all went to Catholic school. We'd all go to church together," said Maureen. "The way you treat other people is very important. Tommy is great that way. That started at home for us."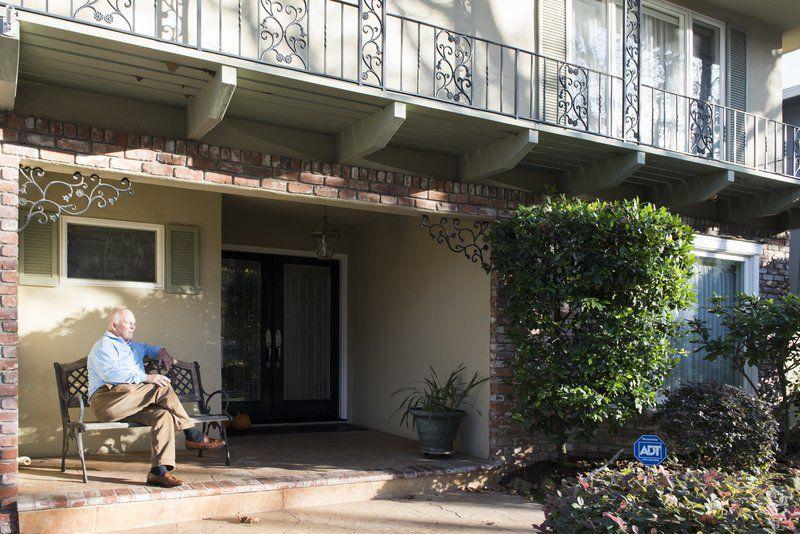 Maureen said she was chatting with her eldest daughter, Maya, a few days about these same values.
"When you go over someone's house for dinner, a party or a sleep-over, you don't go over empty-handed," said Maureen. "You always bring something whether it's a wine or dessert. The point is you are thankful."
Being a single mom, Maureen, a registered nurse in Los Angeles, said she thinks of her mother a lot and the decisions she would make as a mom.
"I was doing the laundry the other day and I was tired and not really into it," Maureen recalled. "I was folding a shirt and it was inside out, but I folded it anyway. When I was about to put the clothes away I realized what I had done, which really wasn't a big deal.
"It hits me, my mom would never do that," said Maureen. "She was special. Everything she did was done the best she could. I said, 'Dammit, unfold it, take it out and do it right.' "
Tom Sr. is humbled hearing stories from his children, almost to the point of tears. He says that all of his children have gone above and beyond as parents.
"On a Monday afternoon Maureen will drive her daughter, Maya, 75 miles, so she can get to work with the best hitting coach around," said Tom Sr. "And then after the session is over, she drives 75 miles home at 11 o'clock at night. Talk about being proud? She's a single mom. That's incredible."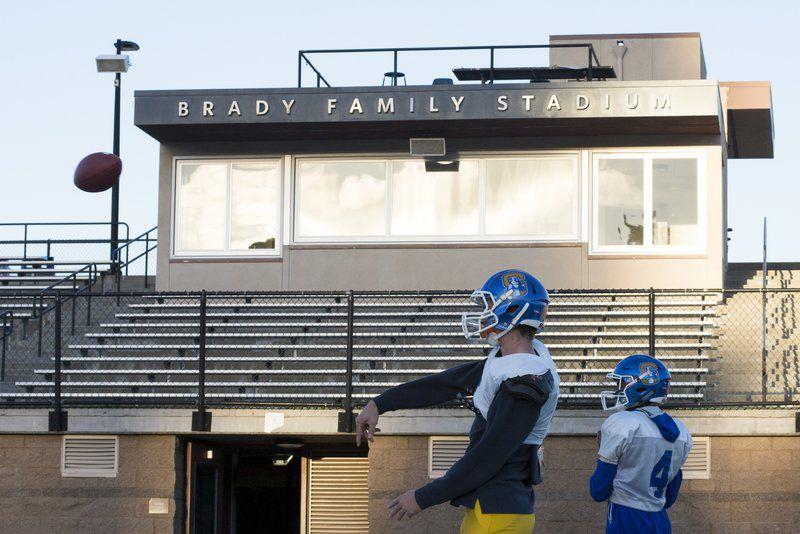 Brady Bunch
For the first time since high school, the "Brady Bunch" will take up nearly 100 seats on Sunday. While most of the 100, particularly those from Portola Drive, grew up as 49ers fans, there is little doubt where their allegiances will be.
"We've always supported each other," said Maureen. "Our family grew up living and dying with wins or losses."
After the Patriots lost to Seattle on Sunday, "I felt like on crap on Monday. I couldn't even turn on the NFL Network to watch the highlights or the analysts talking about it.
"We still live and die with this stuff," said Maureen. "It's how we're built. I know my little brother is."
You can email Bill Burt at bburt@eagletribune.com.