It was a tough week in Andover.
Word quickly circulated last weekend that one of the greatest baseball players Andover High has produced, Joe Iarrobino Jr., passed away in Chicago at the age of 48.
Dozens of friends stopped by the family's home, just off Route 133 near the IRS, to pay their respects to the family, including his dad and long-time area coach, Joe Sr., and his best friend and sister, Jo-Anne Gibson.
Joe Jr.'s exploits as an athlete are well-documented. He was a two-sport captain at Andover High and the cornerstone of the school's first-ever baseball state championship. He later starred at Div. 2 Rollins College, still in the record books thanks to his incredibly sweet, left-handed swing.
If not for a shoulder injury on a freakish play as a sophomore, while playing for Andover High, which affected his throwing motion, he probably would have been drafted.
Joe Jr. is survived by three sons and leaves behind several friends who are still struggling with the news of their former classmate, teammate, uncle, godfather and friend.
Here are six short, personal stories from Joe Jr.'s closest friends, including one of his favorite coaches.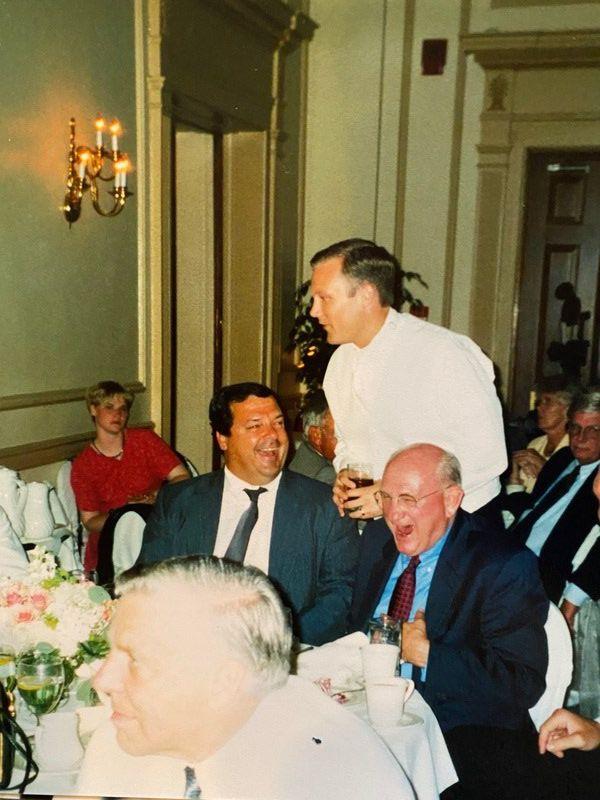 Bettencourt: Joe Jr.among best
Dave Bettencourt has seen and coached them all. At least, it has seemed that way the last four-plus decades.
Joe Iarrobino Jr. is in the top two or three he has ever seen.
"He was a special baseball player," said Bettencourt, now a part-time coach for daughter Katie Bettencourt, head coach at Endicott College.
"He was more mature than other kids at the plate," said Bettencourt. "He was more advanced in figuring out pitchers, having a plan, looking for his pitch. He's as good as I've ever seen."
Bettencourt saw the best of the best of Joe Jr. late one Saturday afternoon in early June of 1991.
Andover was in the state final against Milford High.
Joe Jr. had the game's biggest hit, a tying two-run double in the bottom of the eighth inning, eventually scoring the game-winner for the state championship.
"I remember the moment like it was yesterday," said Bettencourt. "Joe was in the on-deck circle and I was ready to say something. He stops me and says, 'Coach, I got this.' That was Joe. He was ready for the moment and came through. I walked away knowing he was going to do something special."
Andover won the game, 3-2, and Bettencourt basically was a key part of Joe Jr.'s life the rest of the way.
In fact, on Father's Day, the two talked via phone.
"He sounded better than ever," said Bettencourt. "He was a special man. We had a connection with baseball and talked about baseball. But he was more than about baseball. He cared for his family."
Blank: Joe a brother to me
David Blank, like Joe Jr., played all the major sports growing up in Andover.
But baseball was their special bond. Both were all-in at an early age.
"Joe was a stats geek before there were stats geeks," said Blank. "Joe loved to argue about major league players, who is really great and what stats are important. He was into analytics before we even knew what analytics were."
Blank and Joe Jr. were also all-time greats and the one-two punch on Andover High's state championship season in 1991.
"Joe's greatest moment was that state final against Milford," recalled Blank. "We were going against their great pitcher, Rick Betti, who was dominating us. We couldn't get to him. We were all tired. It was the end of a long, long season.
"But Joe finally did, with a single, and that broke the ice," said Blank. "Then he gets that huge two-run double to tie it. He carried us in that game. It was just another game for Joe. He was special."
Blank and Joe Jr. had another connection. Joe Jr. was his daughter Laila's godfather.
As a gift, Joe Jr. bought her a nice cross. A few days ago, Laila put that cross on a bigger chain and is wearing it in honor of her godfather.
"It breaks my heart," said Blank. "When we were both at Florida schools playing college baseball, he would come visit me in Tampa when I was at (South Florida University) and I would go visit him when he was at Rollins (College). We had so many good times together. This is going to take a while."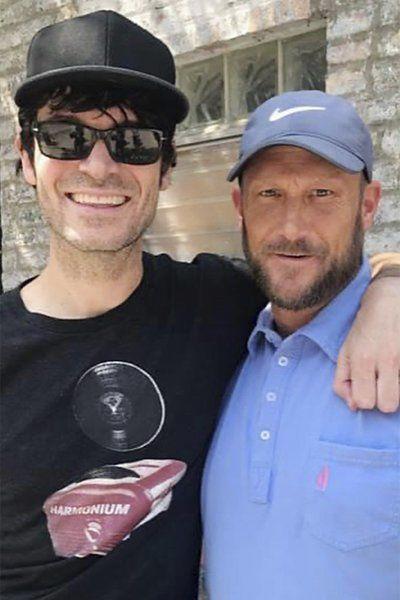 Had love of music
Joe Jr. wasn't all about baseball. In fact, he was a big music buff.
And through music, he had a friend for life from high school in eventual musician Will Dailey.
"In June of 2015, I was playing the biggest concert of my life in Chicago," said Dailey. "It was imperative in Joe's heart that he be there for it. He had been there, supported and encouraged countless peaks and valleys of mine that led to this night over the previous 22 years of friendship.
"Before doors opened that night, I went outside to find him to give him a hug but at that point in his recovery and coping, he physically wasn't able to stick around till show time," recalled Dailey. "I found out in a text when I got off stage that he had to leave. The hug was all that either of us needed."
Dailey was moved that Joe Jr., going through a few personal issues at the time, was very positive in supporting his career.
"His struggles, always present, were never suppressed these last six years. They were on the sleeve," said Dailey. "Every phone called ended with 'I love you,' even the short and hilarious ones. To talk about him in the past tense is difficult, not solely due to the grief and denial but because his love and singular loyalty is so engrained in me now more than ever."
One Jr. to another
Barry Connors Jr. and Joe Iarrobino Jr. had something in common.
They not only had dads with their same names, but they were powerful, Type-A personalities.
The juniors were also very good athletes very early in their lives.
"I've known Joe, literally, since two days after he moved to Andover," said Barry Jr. "I played Legion baseball with him, and was around to watch the unreal athletic run of he and his contemporaries — Brett Hammond, Matt Perry, Dave Blank, Joe Marinaro, Jim Hanning, John Thompson, etc.
"That group of guys was as good, athletically, as any group in MVC history, and Joe was front and center for the ride," said Barry Jr. "I kept up with his exploits on the baseball field at Rollins as well. His All-American looks, talent and personality made him a star."
Barry Jr. said they really became friends after college while both were attending Florida colleges. Their relationship wasn't all about sports.
"I saw the tweet that noted Joe had one of the sweetest swings you ever saw," said Barry Jr. "I agree. But the beauty of that swing couldn't hold a candle to the beauty of his heart, spirit, and soul.
"While many will remember his baseball prowess, his personality, and the way he lit up a room, the thing I will always remember about Joe is how passionately he loved and cared for the people in his life."
If you were Joe Jr.'s friend, you might as well have been a superstar.
"He just felt so strongly about others and was so happy to share," said Barry Jr. "He would say his friend who sang was better than Sinatra. His friend who painted was better than Picasso. And his friend who played hoops was better than Jordan. I felt better every time I talked to him."
Hammond: Friends, teammates for life
Joe Jr. moved to town in 1984 after the start of the 8th grade basketball season and was added to the team.
Brett Hammond was on that 8th grade team and for the next 36 years felt like he never stopped being Joe Jr.'s teammate.
"They had just moved here from Ohio and Joe was really good," recalled Hammond, who now resides in Westford. "We spent the next eight years as teammates and classmates playing football, basketball and baseball in middle school and high school."
One vivid memory was about baseball. Hammond and Joe Jr. entered their season in 1991 as co-captains.
They had fallen just short of the state finals the year before and Hammond recalled Joe Jr. wouldn't accept anything less than going to Holy Cross's Fitton Field and winning it all.
"We had a great team all the way around," said Hammond. "But Joe was the glue. We rallied around him. In that final game, against a pitcher who would later be on the Red Sox major league roster, Joe was unnerved. He got the big hit. He scored the big run."
Hammond said the fact that it was Andover High baseball's first state title meant the world to everyone, especially Joe Jr.
"Joe actually got a tattoo on his leg commemorating the historic win," said Hammond. "Sadly, the last time I saw Joe in person was at our induction into the Andover High School Hall of Fame. He was as proud that night as he was when we won 28 years earlier."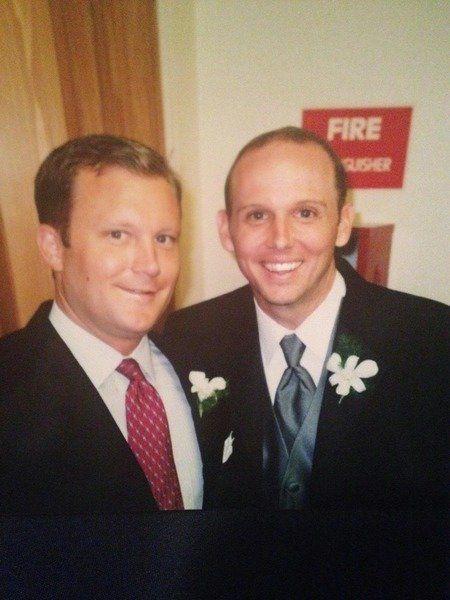 College teammate: Everybody loved Joe
Tom Peck was teammates with Joe Jr. after he transferred from Providence College, which was eliminating baseball.
They were both part of the Class of 1995 at Rollins College.
Baseball-wise, Joe Jr. was as good a hitter as he ever played with. That's saying something. Peck played three seasons of minor league ball in the Toronto Blue Jays organization after graduating college.
"Joe had a laser-quick bat," recalled Peck who, like Iarrobino, is all over the Rollins College record books.
As a person, Joe Jr., said Peck, owned the room he was in.
"He was the life of the party," said Peck. "He was funny, witty and kind. Everybody loved Joe. He could relate to so many different types of people."
Peck said he and Joe Jr. had a corny handshake before their at bats.
"We joked about it for years," said Peck. "But it was our thing. He wrote 'Heart + Balls' under the brim of his hat. That's how he played. Honestly, every one of our teammates loved Joe."
Peck said he saw a side of Joe that really moved him during his rehearsal dinner in 2002.
"We had someone playing the guitar and singing for entertainment," said Peck. "During a break, Joe jumped on stage, grabbed the guitar, and played and sang a perfect rendition of 'Boulevard of Broken Dreams' by Greenday. The crowd went wild!"
Peck said that was Joe Jr. to a T.
"Joe was just awesome. I loved everything about him," said Peck. "I already miss him terribly. He was a very special guy. Anybody that knew him would say the same. They would say they were lucky to know him and that he made them laugh. I will never forget him and I carry him with me. I loved that guy."