"It was crazy. It was a good weekend."
Those were Dom Keegan's words after Vanderbilt University swept through the Nashville Regional with three straight wins, advancing to this weekend's Super Regional, hosting East Carolina in a best of three matchup. Winner goes to Omaha, Neb., home of the College World Series.
A good weekend?
It was better than good. Much, much better for Keegan, a Methuen native and Central Catholic graduate.
When they handed out the Most Outstanding Player Award for the four-team region, there were good options from Vanderbilt University, the winning squad.
Including the No. 3 ranked player in the upcoming MLB Draft, Jack Leiter, who allowed one run and three hits while striking out 11 in the 4-3 win over Georgia Tech, and the No. 5 ranked player in Kumar Rocker, who gave up only two hits, while not allowing a run over seven innings, including nine strikeouts in the 10-0 win over Presbyterian.
Nope.
That honor went Keegan, who was 5 for 11 with three homers, seven RBIs and four walks.
Keegan entered the weekend ranked somewhere around 180th. That number is no doubt different now.
But that's a discussion for another day.
This is Vanderbilt, which is like the New England Patriots and Alabama Crimson Tide football team – win or bust.
One word that resonates with all three programs is consistency. And Keegan has fit the mold.
He has hovered between .350 and .400 the entire season, sitting comfortably at .379 with 14 homers and 53 RBI.
"That's been my focus this year, stay consistent," said Keegan, who had a walk-off single the week before in the second round of the SEC Tournament against Ole Miss.
"You can't ride the highs and lows," he said. "You have to find a way to not go too up or too down. This game can be tough. Everybody we play is tough. I've learned this year, more than anything, you have to show up every day ready to play."
The difference, though, is what's at stake. At Vandy, right now, everything is at stake.
In the previous six years, Vandy has been to Omaha three times, winning the national title twice (2014, 2019).
So you see, dealing with pressure is a big part of the deal when you go to Vandy.
"Coach [Tim] Corbin and our coaches put us in position in our training. A lot of the time they create an atmosphere that it's crunch time."
Keegan's early time at Vandy was nothing like 2021.
Freshman year he only had 22 at bats, hitting .227.
Sophomore year was strange because of a strange shoulder injury and then COVID-19 ended his season short with only 33 at bats and .242 average.
But Keegan remembers watching the national championship team his freshman year, taking mental notes that he still follows.
"I would watch how the older guys would carry themselves, how they'd react in big situations," said Keegan.
"Now I'm in their position and I want the younger guys to learn from me and my experiences," said Keegan. "I want to be seen as a leader in the program."
Keegan and Vandy face East Carolina at 11 a.m. today in Game 1.
"This is why I chose Vanderbilt, for moments and games like this," said Keegan. "I thought I knew how great this program was, but to be honest, it's even better."
You can email Bill Burt at bburt@eagletribune.com.
Summer in Nashua huge
When the Cape Cod Baseball League cancelled its season last year, Dom Keegan was concerned.
After two years at Vandy in which he wasn't able to show his wares, he was hoping a summer on the Cape would be his stage.
Instead, it was Nashua, N.H. with the Silver Knights of the Futures Collegiate Baseball League. The Futures League was the only summer league in New England that didn't cancel.
Keegan ended up putting on a show and finding the confidence so many Merrimack Valley people had seen during his middle school and high school years.
He led the Futures League in RBI (38) and extra base hits (19) in just 26 games.
"That really helped get me going for this year," said Keegan. "There were a lot of D1 guys there. It was a memorable summer for me."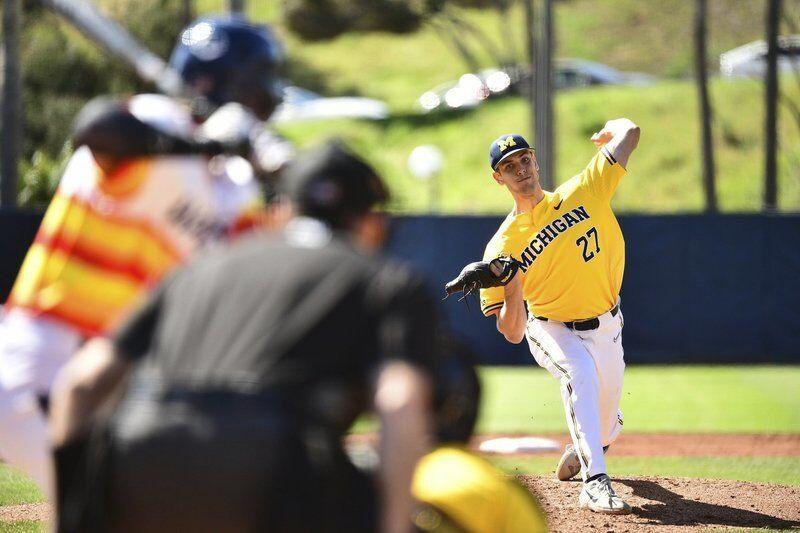 Hajjar good, but loses final start
North Andover native Steven Hajjar, who played AAU and high school ball with Dom Keegan at The Show Baseball Academy and later Central Catholic High, also played in the NCAA Div. 1 Regionals in South Bend, Ind.
Hajjar, a first-time All-Big 10 pitcher, faced off against UConn and their top pitcher, Austin Peterson.
It proved to be, as expected, a pitchers' duel with the score only 1-1 through five innings. UConn got to Hajjar for four singles in the sixth to get a lead the Huskies never relinquished.
To that point, Hajjar had allowed only two hits and one run. He finished with nine strikeouts.