One Perry, on top of his game, in between the white lines, in a packed stadium, is tough enough.
Most sports fans in the Merrimack Valley, and throughout Eastern Mass. over the last four decades, would attest to that fact.
But two Perrys?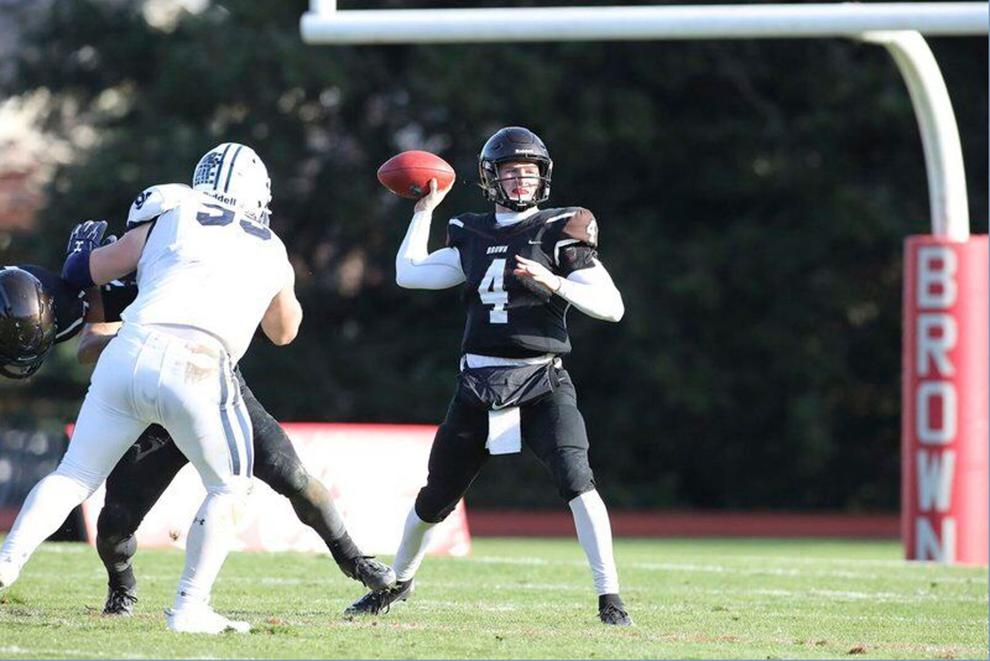 When Brown University opens its 2021 football season on Saturday, hosting the University of Rhode Island, fans and opponents will getting the first dose of two Perrys.
Brown head coach James Perry, the uncle, and starting quarterback E.J. Perry IV, the nephew.
Technically speaking, this isn't their first rodeo together. The James-E.J. combo started together in 2019.
While there were some individual accolades for E.J. two years ago — All-Ivy first team, finalist for Ivy League Player of the Year — Brown finished 2-8, dead last in the Ivy League.
But that was not a normal season. E.J. transferred to Brown in August, four weeks before the opener, and Brown found ways to lose a lot of close games.
And the Perrys, as many people know, aren't about stats. and close games don't count.
This newer version, the 2021 duo, is different.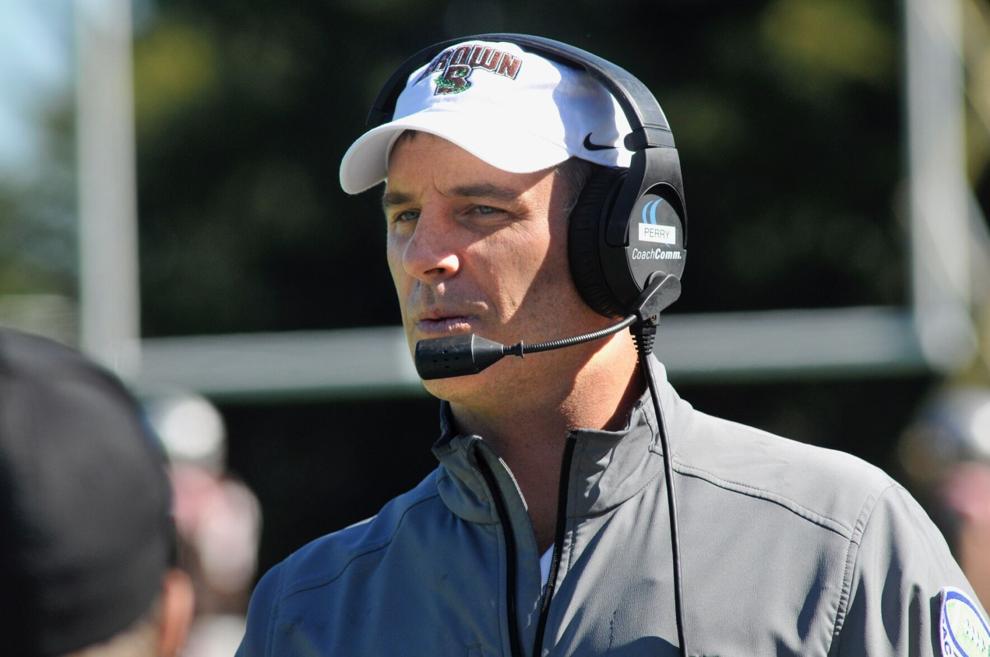 E.J. and "Coach Perry" — E.J. calls him "Coach Perry" went it pertains to Brown football and "Uncle James" in all other situations — have been at this, particularly in the off-season, for 22 months preparing.
"Now, when I look back at the season E.J. had in 2019, and what he was able to accomplish (leading the country with 367.8 yards per game), despite being here less than a month in terms of preparation," said James, "and then seeing how hard he works on the playbook, understanding the game so much better ... His growth physically and even more so mentally have been remarkable — off the charts."
While E.J. will be followed by the NFL's draft gurus, Ivy League coaches aren't so enamored with Brown when it came time for the preseason poll.
Brown was picked sixth out of eight teams.
Sixth?
"It doesn't matter," said E.J. on Tuesday night. "The only thing that matters is practice the next three days and the game on Saturday against URI. That stuff is meaningless."
Brown apparently has some proving to do. James, whose name is dotted throughout the Brown football record book (he was Ivy League Player of the Year in 1999), was hired nine months before E.J.
James arrived at his alma mater after two decent years as a first-time head coach at nearby Bryant University in Smithfield, R.I., finishing 6-5 each year.
There is excitement in Providence and on the Brown campus about football for the first time in a few years. Outside of the Brown bubble, though, the Perry tandem have a lot to prove.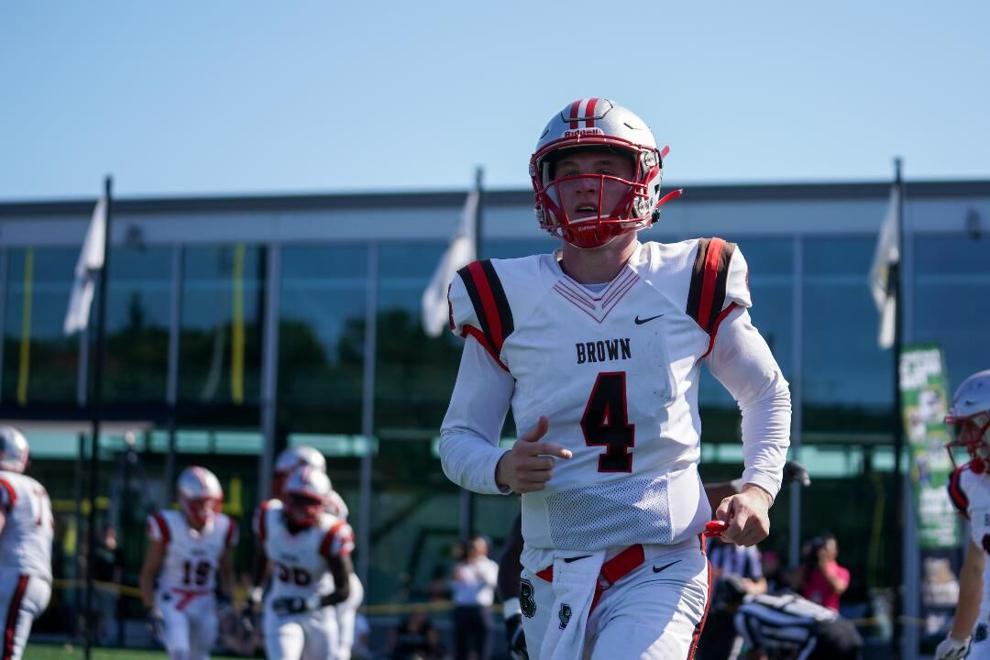 TEAMING UP AT BROWN
While this Brown experience is the first with James officially teaching E.J. some of his old QB tricks, they had an opportunity to work together at Princeton University where James was the offensive coordinator and working their summer camp for prospects.
There was one particular exchange that may have changed the course of E.J.'s career. He was watching film in James house. James asked E.J. a question and apparently E.J. wasn't paying full attention.
"I didn't know the answer. He got all over me. He was upset," recalled E.J. "If I want to be a leader of a team I need to be prepared. I need to take notes and write things down. It was a wakeup call. I remember driving home five hours with my dad the next day. It really affected me that I wasn't prepare for Uncle James. and I believe it changed me. I vowed I would always have a notebook and pen with me."
E.J. was 15 at the time.
"What I got from him when I was growing up, I'd be walking around the campus I'd hear him talk to players about their grades and what subjects they liked," said E.J. "What I got from him was he was looking for a well-rounded person, especially if you want to go to an Ivy League school. He had a big impact on my life long before I got here."
When James would stop by his mother's home in Andover, E.J.'s grandmother, during a recruiting visit in the area, E.J. made sure to stop by.
"I just loved being around him and hearing him talk about players and football," said E.J.
It is not a coincidence that when people talk about the "best" Perry of them all, over a few generations, it usually ends with James and E.J.
James, the youngest of the Andover Perry boys — E.J. III (Colby), Tim (Harvard), John (UNH) and Matthew (Northeastern) — went to Malden Catholic, starring in football and basketball, and then of course his star-studded career at Brown.
E.J. IV was a three-sport star the moment he walked onto the Andover High campus as a freshman, later offered a baseball scholarship at Boston College before changing his mind for a football scholarship.
"My mom won't pick anybody, but we joke about it a lot," said E.J.'s dad, E.J. III. "I can see why people look at James and E.J. They have had great careers. As quarterbacks? I guess they are get the nod."
The bond the James and E.J. would later form at Brown was never intended or expected.
Three falls ago, James was still a newbie head coach leading the Bryant University football program and E.J. was the backup quarterback at Boston College.
Basically, two young talented football guys passing in the night.
But Boston College had basically implied E.J., despite admitting his athleticism, would be a backup. They were also grooming a few freshmen. It was about that tumult at B.C. that James agreed to coach at his alma mater, which hadn't won a game in two years in the Ivy League while giving up an average of 46 points over its final three losses.
E.J. was told he'd have to compete for the job, as the starter quarterback from 2018, who led the Ivy League in yards per game (220) and would be a junior in 2019. But E.J. knew James' spread offense, the opportunity to throw often and run, which is also a strength of E.J.'s, would be available him.
Their relationship made this a no-brainer.
Brown lost three league games 37-35 (Cornell), 38-36 (UPenn) and blew a 23-14 lead in the fourth quarter to lose to Dartmouth, 29-23, to end the season. There was also a 31-28 loss to Saturday's foe, URI.
"We had opportunities in a lot of games," said E.J. "I need to be better. and I am better. But it's important winning those close games at the end."
FOOTBALL AFTER COVID
The pandemic obliterated sports in the Ivy League for a year. There were no sporting events from the fall through the spring. Football, the No. 1 sport in the famed conference, was canceled.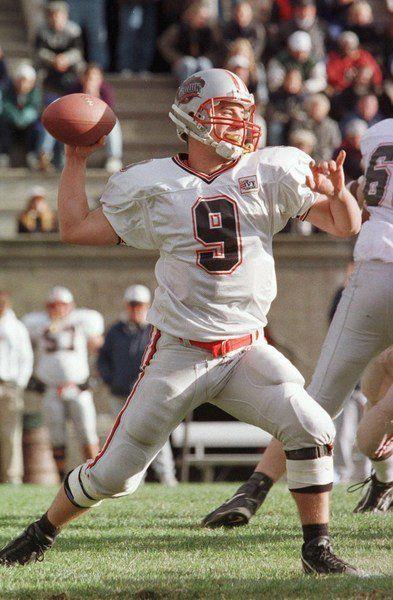 It led to some opportunities as players, particularly those deemed to be big-time Division 1 talent, could transfer without penalty. The issue for those that decided to remaining in school, which was about 98% of all student-athletes in the Ivy League, was that if they took classes, including those offered virtually, student-athletes would lose that year to play a sport.
E.J., after his All-Ivy League season in 2019, could've gone elsewhere, where football rules.
But then he got talking to some of his teammates, those of whom were going to be seniors in 2020. There were 17 seniors, five either opted to transfer or finish classes and graduate.
There were 12 seniors who decided to sit out a semester, thus reclaiming their four year, including E.J.
Despite going 1-20 over their careers in the Ivy League, they wanted another year.
"When I first heard the (2019) season was cancelled the first call I got was from Tucker Barns, our starting left guard, a senior," recalled E.J. "Tucker says, 'I'm coming back. I taking a year off (of classes).' Then it was other guys. Next thing you know it was 12 guys that decided to take their fifth year and stay. I was so struck by their passion to come back. I had to come back. This is a special group and we have a lot to accomplish ... together."
Then, E.J. got a call from his uncle.
"I told him I was coming back, too," said E.J. "We knew there would not be a season, but we also knew it would be another year to connect, including myself and coach Perry."
Coach Perry was flabbergasted by the entire group.
"For them to believe in this program, to believe in Brown, sitting on a 1-20 record, was special for me," said James. "That group of fifth year seniors, the leadership they brought last year and especially this summer has been incredible. It's a belief that those guys know we are going to do everything we can to put them in position to succeed. We can say the same thing about the true seniors — their leadership, too — and it has rubbed off on the juniors. It makes you want to work harder."
These two Perrys, in particular, are achievers.
They would also be candidates for each other's fan club.
"I've coached three players that won four Ivy League Player of the Year Awards," said James. "All were highly competitive, gifted in different ways. E.J. is off the charts, even among the three different quarterbacks. His arm is special. His speed is unmatched. Now, after two years of so much studying and hard work, he can do some special things ... Things I could never do."
E.J. says he thought he had a high football IQ before teamed with his uncle. Since August of 2018, he can't put into words what he has learned from his coach and uncle.
"His coaching style, the way he explains things is unlike anything I've ever experienced as an athlete," said E.J. "When you ask Coach Perry a question, like, 'Why do we run this play against this defense,' he explains the concept behind the decision so you understand completely how he thought it out. I can't explain it other than to say it allows you to play fast, no second-guessing. It allows you to play much more free, never thinking twice."
The happiest of all the Perrys, though, might E.J. III, the proud dad/proud brother and E.J.'s high school coach. The bonding they been able to do, thanks to football, is something you can't put a price tag on.
"We are a very close family," said E.J. III. "And this is exciting. But James and E.J. are both about getting the 'W's.' and that hasn't started yet. But I'd be lying if I didn't say this is really cool."
Yup. Really cool.
You can email Bill Burt at bburt@eagletribune.com.